Posted on
Tue, Apr 10, 2012 : 12:15 p.m.
After eviction, Wild Swan Theater finds temporary home on Jackson Road
By Jenn McKee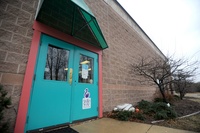 Angela J. Cesere | AnnArbor.com
When
Wild Swan Theater
suddenly learned, at the end of February, that it
would have to find a new home in 30 days
—the foreclosed building in which the company had rented office, rehearsal, and storage space had been purchased by a church—members of the community stepped forward to help.
"Two dozen people gave up their Sunday (April 1) to help us move," said WST co-founder Sandy Ryder. "Peter Schork, who's president of Ann Arbor State Bank, lent us a truck. He personally went out of his way to help us. … And the Purple Rose offered us rehearsal space and office space, to help us with the transition."
For now, though, the company, which specializes in live theater productions for young people, has temporarily set up shop in a business complex at 4844 Jackson Road, about half of a mile east of Zeeb Road.
"Someone's moving in here at the beginning of June," said Ryder. "So this is a sublet, in a way. We're able to use it while it's not being leased. … The space would normally be too expensive for us, but they're being kind to us. … And the space is great. There are lots of offices, great rehearsal space, and lots of parking."
However, since the Jackson Road space will not be WST's permanent home, the company has about 80 percent of its materials (per Ryder's estimate) in storage, and they're struggling to make time—during a very busy time of the theater season—to look at places that might work as a long-term home.
"Nothing has stopped," Ryder said. "All 28 shows that we had scheduled for March were done, including our classes and touring shows. A lot of people out there seemed to think that we weren't going to continue, but that's not true at all." (Locally, most of Wild Swan's performances take place at Washtenaw Community College.)
While the company was having a good year in terms of ticket sales, the unexpected move has been a financial setback.
"This was definitely financially difficult for us," said Ryder. "We needed this like a hole in the head. The season was going great in all ways, so this was like a trap door that took us by surprise."
Nonetheless, Ryder firmly believes that WST will endure.
"We're very resilient as a company," Ryder said. "We've weathered a lot in 32 years. This is definitely one of the hardest things we've gone through, but we're not going away."
Jenn McKee is the entertainment digital journalist for AnnArbor.com. Reach her at jennmckee@annarbor.com or 734-623-2546, and follow her on Twitter @jennmckee.