Posted on
Mon, Feb 6, 2012 : 5:57 a.m.
Hospice of Michigan providing care that honors veterans
By Alan Caldwell
We take every opportunity to promote hospice care on our weekly radio show — it's such an important, wonderful and frequently-misunderstood service.
This past weekend we were especially pleased to have two terrific guests from Hospice of Michigan. Dr. Michael Paletta is the vice president of medical affairs and chief medical officer. Dr. Paletta was joined by Kim Fix, the marketing representative for the Ann Arbor community. This nonprofit organization is the largest provider of hospice services in the state of Michigan, with an office in Ann Arbor on South State Street (across from Busch's).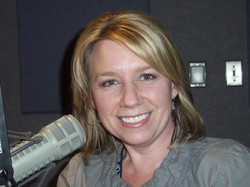 The staff at Hospice of Michigan is trained and certified in the We Honor Veterans program, developed through the Veterans Affairs department. This effort helps educate those providing care of veterans on their special needs. Many World War II-era veterans are presently facing end of life and may be dealing with unique issues. As young adults, these veterans likely experienced trauma and very tough situations that may cause additional stress in the last stages of their lives.
The organization also has an innovative caregiver kit for those helping with end of life care. The kit is available at no charge through the hom.org website. Included is information on services, equipment, and community resources as well as advice and educational material.
Dr. Paletta stressed that "hospice care is not giving up, it's about changing tactics". Hospice is about identifying pain symptoms and making your loved one as comfortable as possible. This allows those in the final stages of life to focus on their family and friends, to express and share their love and have meaningful healing conversations. To listen to our 13-minute talk, click the audio link:
To get in touch with Hospice of Michigan, call 888-247-5701 or visit the website hom.org.
Photos by Sheila Doeden
Callan Loo, president of Peaceful Crossings, joined our discussion next. Cal is very much following his heart in his working life. His company "helps people find peace and balance in life's major transitions". Among their services, he and their staff of life coaches help people develop their personal legacy plan.
Cal shared that the February issue of the Best of Aging magazine features the concept of leaving a legacy. The articles speak to what it means to plan your legacy and how to achieve your goals.
One of the core services at Peaceful Crossings is the Legacy Kit, which promotes the completion of appropriate legal papers, documents your end of life wishes, and better ensures your personal legacy is captured for your family and those close to you.
Many of us in our Senior Helpers office recently completed our personal legacy plan using the Peaceful Crossings service. It was a very useful and satisfying process to complete the legacy kit. A key element was the discussions with the life coaches who gently guided and prompted us through the various steps.
The cost for the legacy planning including the kit and three hours of coaching is $329 for one person and $499 for a couple. Cal has found that with couples, the woman may be more interested in the process initially, but the man becomes more actively engaged as the discussions continue. From Cal's experience, those completing the legacy plan feel a genuine relief — important aspects have been documented and are no longer nagging worries. To hear this 13-minute discussion, click the audio link:
To contact Callan or Peaceful Crossings, please call 888-732-2346 or you may visit the website peacefulcrossings.com.
Alan Caldwell and Sheila Doeden co-host Everything Elderly every Saturday morning at 8:30 on 1290 WLBY. In their day jobs, Alan and Sheila co-own and co-manage Senior Helpers, providing in-home care services, primarily to the elderly. Both can be contacted at homecareexcellence@seniorhelpers.com, or at 734-927-3111.