Posted on
Mon, Nov 26, 2012 : 3:15 p.m.
Patients fight back when the FDA refuses to review a new cancer therapy
By Betsy de Parry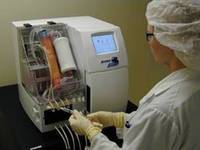 Biovest International
Michael Wolfe
, whose story recently
aired on CNN
, was diagnosed with glioblastoma multiforme (GBM), a deadly form of brain cancer from which most people die within a year of diagnosis. Michael has survived, disease free and healthy, for an unprecedented six years, thanks to a cancer vaccine known as
ICT-107
, which is still in clinical trials.
The development of cancer vaccines began more than 25 years ago. In the early days, success was elusive, but vaccines are at last proving to be an important weapon in the fight against cancer, borne out by maturing data from years of clinical trials and patients like Michael who are living longer.
So what are cancer vaccines? Unlike vaccines that are given to prevent illnesses such as measles or mumps, cancer vaccines are given to eradicate cancer or to prevent its recurrence. Some are given alone. Others are given following chemotherapy.
How they work varies, depending on the type of vaccine and the type of cancer, but all enlist our own immune systems to attack diseased cells. And because our immune systems have "memory," it's hoped that they will keep cancer from recurring.
To date, one vaccine — Provenge for some men with metastatic prostate cancer — has been approved by the FDA. Vaccines for many other types of cancer — from breast to bladder to kidney to pancreatic and others — are being investigated in active clinical trials.
But before any drug is widely available, it has to gain approval from the FDA. And that's not an easy process.
Take the case of the BiovaxID vaccine. Its history dates back to 1994 when Dr. Larry Kwak, then a scientist at the National Cancer Institute (NCI), developed a vaccine against follicular non-Hodgkin lymphoma (FL) for which treatments then were both harsh and not very effective.
Dr. Kwak tested the vaccine in 20 patients and in 1999 reported that it could induce deep remissions.
Earlier today, I spoke with the first person who received the vaccine. Still in remission, she credits Dr. Kwak and the vaccine for giving her all the years of good health that she's since enjoyed.
Like her, a third of the patients in that early trial remain disease free, remarkable for a disease that is marked by recurrence.
In 2000, the NCI partnered with Biovest International, a small biotechnology company, to commercialize the vaccine, now known as BiovaxID. Earlier this year, Biovest submitted a request to the FDA to apply for approval under the agency's Accelerated Approval Program.
This program allows for earlier approval of drugs that treat serious disease and that fill an unmet need. As defined by the FDA, "unmet medical need simply means providing a therapy when none exists or providing a new therapy that may be superior to or less toxic than an existing one."
Companies that receive accelerated approval for their drugs are required to conduct post-approval studies, known as Phase 4 confirmatory trials. If the additional trial confirms that the drug provides clinical benefit, traditional FDA approval is granted. If not, the drug could be removed from the market.
In other words, the Accelerated Approval Program gives patients quicker access to treatments for serious illnesses.
The BiovaxID vaccine seemed like an ideal candidate to be reviewed for accelerated approval. Data from three clinical trials spanning 18 years shows that the duration of response increased, on average, by over a year, although some patients have remained disease free for many years. And importantly, not a single patient has experienced a serious, adverse vaccine-related event, which makes the vaccine less toxic than existing treatments.
But the FDA turned down the request, so the vaccine never made it to first base in the approval process.
Instead, the FDA told the company to conduct another clinical trial and then come back with another request for approval. That will take years. Just as troubling, will investors be willing to lay out the millions of dollars that it will take to conduct the trial for a "maybe"?
Even acknowledging this, the FDA's reason for denying the request was that the vaccine does not fill an unmet need. But the FDA never heard from patients. We tell a different story.
In the interest of full disclosure, I say "we" because I am an almost 11-year survivor of FL, thanks to radioimmunotherapy (RIT), a treatment that has shown to provide the longest periods of remission and the only treatment that has so far shown to be potentially curative. But few patients ever get RIT because it is sorely underutilized for all the wrong reasons, a subject about which I have written extensively.
The remaining treatment options that are almost always used — and there are several — only slow the disease. Invariably, it returns and requires stronger treatments. Remission periods and response rates decrease with each successive treatment, and every additional treatment increases the risk of serious side effects and secondary cancers. Wouldn't you want to use treatments that have the potential to prolong remission periods and thus reduce your risk?
Recent improvements in therapies, including the BiovaxID vaccine, have shown to increase remission periods, so it's not the only treatment that has that ability. But there's a notable difference in this vaccine: every existing treatment is known to have the potential for serious side effects, including suppressing the immune system, which leads to increased risk of infection, and even death.
Unlike the other therapies, no deaths, no immune suppression, and no other serious vaccine-related side effects were experienced by patients who received the BiovaxID vaccine.
How, then, can there possibly NOT be a need for a treatment that is both effective and — by the FDA's own definition — less toxic than current treatments?
And there's another important consideration. Not every patient responds to every available therapy, nor is there a way to predict which patient will respond to which therapy. That's why we need every available option and why the BiovaxID should be one of them.
In contrast to the FDA, regulators in Europe and Canada recognized the unmet need for the vaccine and support Biovest filing applications to seek its approval. Meanwhile, people here in the U.S. won't be able to get it, even though it was developed in large part with NCI funding — our tax dollars!
And what, if any, implications will this have for vaccines or other therapies that are in the pipeline?
No one knows, but one thing is certain. Behind every statistic that the FDA looks at is a real live person — a mother, a father, a husband, a wife, a friend — who, when faced with cancer, desperately wants every available chance to go on living their lives and loving their families after cancer.
That's why a group of survivors has started a petition asking the FDA to exercise its ability to allow the BiovaxID vaccine a chance for accelerated approval. The petition will be submitted to the FDA as well as to members of Congress who oversee the agency.
If the FDA agrees, that would undoubtedly give investors confidence to commit to the additional trial, and if ultimately approved, patients would then have access to the therapy while the trial is conducted. In other words, the future of a safe, effective treatment for cancer patients will be far more secure if only the FDA will give it a chance.
I encourage you to sign the petition by clicking on this link.. You'll be helping to remind the FDA of its responsibility to patients by agreeing to review therapies that have shown safety and effectiveness during years of clinical trials.
Personally, I hope the petition is successful. As someone who has known the terror of not responding to two therapies prior to getting the one that worked, I can assure you that I desperately wanted every option on the table. Wouldn't you?
Betsy de Parry is the author of Adventures In Cancer Land. Find her on Facebook or email her.