Posted on
Tue, Jun 29, 2010 : 7:08 p.m.
Garden walks: Small cost, big ideas
By Monica Milla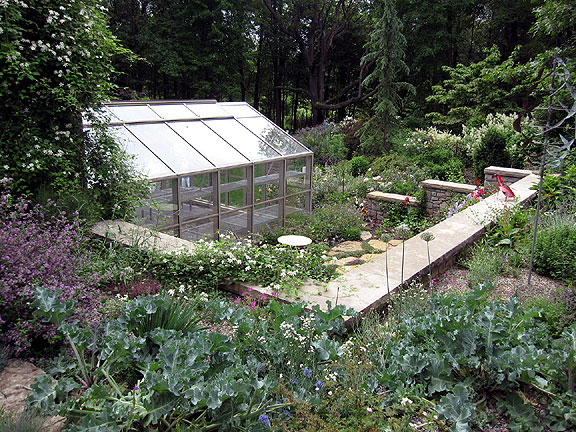 Monica Milla | Contributor
Garden walks are a fun, inexpensive way to see some great plants and get some great ideas. Now, I know what you're thinking: "But, Monica, there is no way I'm ever going to have a greenhouse or a garden anywhere near as nice as those on walks!" Yeah, well, neither will I. But ideas, my friends, are always free.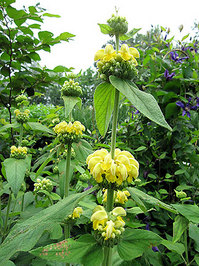 On June 12, I attended this year's Ann Arbor Garden Walk. I really like visiting other people's gardens because I appreciate the gardens as they are. Unlike my home garden, my head isn't full of all the things I want to change and all the improvements I want to make one day! I enjoy what I see.
And I always get some great ideas.
Mostly, these ideas come in the form of plants I've never seen before, like this wonderful Jerusalem sage (Phlomis russeliana) to the right. I was aware of the pale purple version, Phlomis tuberosa, but I love the bright yellow more. They are tall, impressive flowers.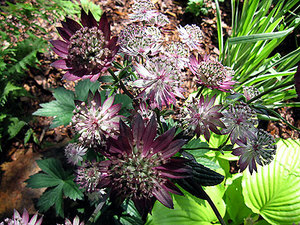 Just days before the walk, a few blogging friends of mine in different areas of the country were raving about astrantias, and I thought to myself, "I've never seen those in Michigan." And then,
hey bam presto!
, there was one in one of the gardens on the walk,
Astrantia major

'
Venice.' It's always nice for the universe to keep you on track.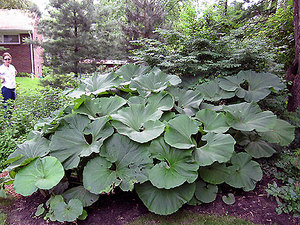 I had never seen butterbur (
Pedasites japonicus
) before either. Check out those leaves — they are huge. (You are seeing the person to the left as a size reference, right? Huge!) The plant likes shade and is a great solution to fill in space under a tree.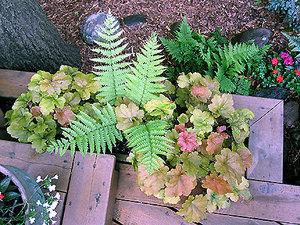 I also like getting ideas for combinations, both for plants and for colors and textures. I really like how these coral bells look with these ferns.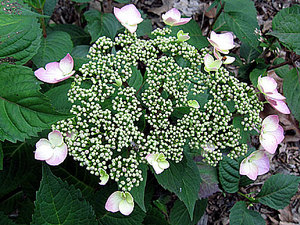 Sometimes you just see something fairly common, like this garden hydrangea, in a new way. I always like how the flowers on the edges open first, while most of the center buds are still clasped shut.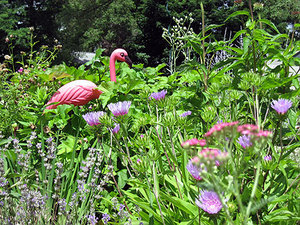 And remember the first photo of the greenhouse? Did you happen to see a pink flamingo on the ledge to the right? It was a one-of-a-kind, artist-made work of metal, and it was nice. While it is also too expensive for me, the idea of a piece of funky pink garden art is not! Just look at how nicely Pinky fits into my garden.
(And if you like flamingos, you'll love next week's entry!)
Remember to keep your eyes open wherever you go, and it's amazing what you'll find.
Upcoming garden walks in the area include:
Original Northville Garden Walk, July 7, $10, tickets at Gardenviews.
Chelsea Garden Walk, July 17, $10, tickets at the Garden Mill, the Potting Shed, and Aberdeen Bike.
Belleville Garden Walk, July 18, $8, tickets at Belleville Area District Library, Antiques on Main, Belleville Area Chamber of Commerce, Main Street Flowers and Garden Fantasy Greenhouse & Florist)
Ypsilanti Garden Walk, Aug. 21, $10, tickets at Norton's Flower's & Gifts, Mantis Pet Supply, Salt City Antiques, and Apple Annie's Vintage Clothing & Jim MacDonald Antiques
To see photos from the 2009 Ann Arbor Garden walk, click here and page down a bit.
To see photos from the 2008 Ypsilanti Garden Walk, click here.
All photos by Monica Milla | Contributor
Monica Milla, the Garden Faerie, is a master gardener volunteer, garden speaker, garden coach, and author of "Fun with Winter Seed Sowing."