Posted on
Tue, Mar 30, 2010 : 12:30 p.m.
More signs of springtime native plants are emerging
By Rick Meader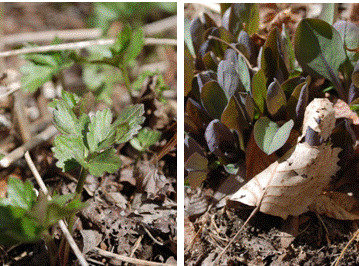 Rick Meader|Contributor
I told you
last week
about some native plants in my yard that are starting to emerge. Of course, many others are probably stirring beneath the soil, getting ready to sprout, but these two have actually taken the brave step toward coming out of the ground. Green-headed coneflower (
Rudbeckia laciniata
) and Virginia bluebells (
Mertensia virginica
) have pushed the brown leaves upward on their way to very different heights and blooms.

Green-headed coneflower (also known as Cutleaf coneflower for its leaf shape) is a native for which I have mixed feelings. On the one hand, it is a very pretty, tall flowering plant that forms a nice, colorful backdrop in my little prairie. In a good situation, it can grow to five to six feet tall, it supports numerous species of moths and butterflies and forms yellow, daisy-shaped flowers whose seeds are popular with birds. It is normally found in soils that are somewhat moist, but they grow pretty well in my yard, which is far from any wetland. It likes partial to full shade and also grows well in my partially shaded, somewhat dry front yard.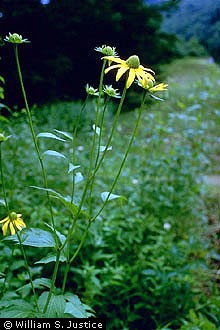 Photo by: William S. Justice @ USDA-NRCS PLANTS Database
And here is where my "love-not so much" feelings for it kick in. It likes to spread. In my prairie, it dukes it out with Woodland sunflower (Helianthus divaricatus) for space. In that situation, they're pretty equal in the area that gets runoff from my garage roof, but the woodland sunflower has the advantage in the drier areas, where it aggressively spreads via runners across the vast expanse of my prairie. A lot of work is put in to keep that plant in its place. I'll talk more about it in a later blog.
In the front yard, which is much shadier (but still gets infrequent direct and lots of spackled sunlight and light shade), it has tried to dominate an area it shares with Golden ragwort (Senecio aureus), Dutchman's breeches (Dicentra cucullaria), Wild ginger (Asarum canadense) and some pesky non-native Lilies-of-the-valley (Convallaria majalis) and Snow-on-the-mountain (Aegopodium podagraria) that refuse to go away. Its height is a real advantage in this situation, and its runners help it spread. Pulling also happens in this location.
It's probably a good time to talk about something that may seem like heresy to some native plant aficionados (although probably not to those with experience in gardening with them), but it's a topic that must be broached. Sometimes, especially in areas with limited space, you may have to (gasp!) pull some natives. Yes, even natives can be weeds. Given the right space, conditions and gardening goals, you can let things work things out for themselves as they do in nature, but if you desire a more "finished" product, or value some plants that may not be competing too well, you may have to be the enforcer.
It doesn't mean you have to get rid of the dominator, just step in for the little guy and control its spread. Many native plants can do very well in a more formal arrangement, but that arrangement will require work. It probably won't require fertilizers, or as much watering as non-natives would, but lines don't stay straight (or gently curved) without some care. Sorry, but it's true. On the other hand, if you want to see what nature will do, feel free to let things go and enjoy the educational experience.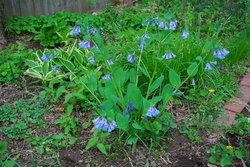 Rick Meader|Contributor
Another native that is pushing its way out of the ground is Virginia bluebells (Mertensia virginica). This spring ephemeral (a plant that grows, blooms, and completely disappears relatively soon afterward) grows to a height of about six to nine inches with big, spinachy leaves and a cluster of light blue flowers. This is a really nice plant and always gets comments from my neighbors. Although it's growing now, it probably won't start blooming for another few weeks to a month, depending on the weather. There's a very nice cluster of them in front of the Forest Plaza apartments on South Forest, near the intersection of Forest and Willard. It likes mesic (somewhat moist) conditions, and shady conditions.
According to Bill Schneider, owner of Wildtype Nursery in Mason, Mich., he has noticed them in the wild in western Michigan but not really in the woods around here. So, while it's a Michigan native, it doesn't seem to be a southeastern Michigan native (although, in the interest of full disclosure, the USDA Web site does show some southeastern Michigan counties on its distribution list (but not Washtenaw County). Between the two, I'd go with Bill's experience and knowledge).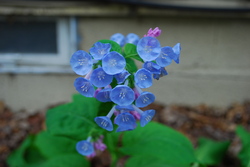 Rick Meader|Contributor

Here's a point about Virginia bluebells, and other natives that aren't really native to a region. You have to be careful about where you use them if you want to avoid adding new plants to a native ecosystem. Of course, there aren't many, if any, truly intact native ecosystems around here, as humans have had a profound impact on them through logging, farming, burning, not burning, developing, and introducing non-native plants to them. In any case, I try not to make an ecosystem any worse through my actions.
Seeds can be dispersed a long way, so, in my opinion, this care is especially important if you're near a forest, prairie, meadow, wetland or stream/river. There's a good chance that what you grow will be dispersed to that area. If you're in the middle of a city, the chances are less, but there's still a chance that your plant's seeds will migrate to a place where they're not welcome, ecologically. So, try to learn the habits of a plant you're considering, and where they're from, to see if you might be helping or hurting the natural world. See some of the information sources I listed in my Feb. 16 entry, and some of the additional information sources in helpful comments in the March 16 entry to learn more about a plant you're considering.
There is one other landscaping point I'd like to make about using spring ephemerals in your yard. Since they are ephemeral, if you don't have something planted in the vicinity of the ephemeral that will carry on into the growing season after it's gone, you'll have a bare spot, or a weed-ridden spot. So, consider that as you plan your native garden.
Thanks again for reading. Next week I'll talk about local places to enjoy spring wildflowers. In the meantime, enjoy nature, everyone!
Rick is a local landscape architect with a special interest in all things natural, including native plants and the critters that eat them. You can contact him at yourland1824@gmail.com.