Posted on
Tue, Mar 26, 2013 : 5:58 a.m.
10 things you should know about University of Michigan's multibillion dollar endowment
By Kellie Woodhouse
The University of Michigan has one of the largest college endowments in the country and it's often academically-ranked as a top public university.
U-M's chief investment officer Erik Lundberg says it's no coincidence that the school performs well both financially and academically.
"It helps to have an endowment to do [academic] things and do them excellently," said Lundberg, a 14-year veteran of the university. "If you look at the highest ranking universities they all have big endowments. I think there's a relationship there."
Lundberg visited U-M's faculty senate advisory committee on university affairs Monday afternoon to talk about the endowment. He explained, in general terms, the workings of U-M's investment office at the corner of Huron and Main streets in Ann Arbor and tried to lift the veil on an endowment that, in fiscal 2011-12, was valued at $7.7 billion.
Here's 10 things you should know about U-M's growing endowment:
Melanie Maxwell I AnnArbor.com
1) The endowment is on track to reach at least $8 billion when this fiscal year wraps up on June 30, according to Lundberg. At the close of last fiscal year
the endowment was $7.7 billion
, down from
$7.8 billion in fiscal 2010-11.
2) The endowment has grown significantly during the past 25 years. In 1988, the endowment totaled about $300 million. By 1994 it was $1 billion, in 2000 it was $3.5 billion and in 2005 it was $4.9 billion.
3) In 2012, the endowment was ranked the seventh-largest of any university in the country and second-largest among public universities. In 1999 the university's endowment was ranked 17th-largest among universities and in 1991 the endowment was ranked 27th. The University of Texas system is the only public institution that has a larger endowment than U-M.
4) The endowment is made up of approximately 7,600 separate funds managed, as Lundberg puts it, "like a big mutual fund."
"They all pool together in one vehicle," he said. "Everybody gets exposure to the same investment."
Many of the funds have been earmarked for specific uses by donors. Examples include program support —the school's philosophy library operates through an endowed fund gifted by a donor— scholarships and professorships.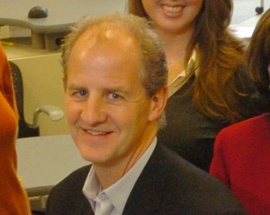 Booth file photo
5) While the university is meticulous in how it invests its money, it's equally as disciplined in how it spends endowment returns.
"The point of having an endowment is not to grow it, it's to spend it," Lundberg said Monday.
Endowment distributions are capped at 4.5 percent of the endowment value, averaged over a seven-year period. In 2012 the university distributed $270 million from the endowment, up $4 million from the year before.
The university had been tapping into the endowment at a rate of 5 percent, but lowered that rate to 4.5 percent in 2010.
6) The endowment lost 0.5 percent of its value in 2012. The average investment return over the past five years has been 2.5 percent and over the past decade the return averaged 9.6 percent.
7) The university doesn't let social or political factors influence its investments.
"The regents have said the investments should be done based on the merit of return," Lundberg said. "We try to be blind to [social factors]."
At recent Board of Regents meetings, students and citizens have urged the university to stop investing in fossil fuels and HEI Hotels. Regents haven't publicly responded to the concerns.
Historically, interventions by regents have been limited. In the late 1970s regents disinvested in funds related to South Africa and in the early 2000s the board voted to disinvest in tobacco companies.
8) Donors are more generous when the endowment performs well. When Lundberg was recruited to the university in 1999, endowments returns had been lackluster and, for many years, were below their peer average. The effect, he said, was apparent among donors, who "weren't so excited" because many felt "they could do better on their own."
As the endowment performs well, donors feel comfortable that their gifts are well stewarded, Lundberg said.
9) The university's investment office was established in 1999 and now has a staff of 13 investors who oversee the school's financial assets and develop investment strategies, which focus heavily on longterm commitments and diversification.
"A lot of strategies take many years [to] pay off," Lundberg said Monday.
Separate from the investment office, the university has an investment accounting manager with a staff of about three people, according to Lundberg. They're tasked with keeping track of U-M investments and reporting their success to the school's chief financial officer, Timothy Slottow.
10) The school's endowment is placed in a mix of traditional and alternative investments. Here's a breakdown:
Natural resources: 9.3 percent
Real estate: 15 percent
Venture Capital: 11.5 percent
Private Equity: 15.4 percent
Cash: 2.8 percent
Absolute Return: 15.5 percent
Fixed Income: 8.6 percent
Non-U.S. Equity:12.7 percent
U.S. Equity: 9.2 percent
Correction: U-M does not plan to revert endowment distributions to 5 percent. Distributions will remain at 4.5 percent.
Kellie Woodhouse covers higher education for AnnArbor.com. Reach her at kelliewoodhouse@annarbor.com or 734-623-4602 and follow her on twitter.