Posted on
Wed, Sep 28, 2011 : 7:35 p.m.
4 finalists chosen for proposed public art installation inside Ann Arbor police-courts building
By Ryan J. Stanton
Four finalists have been identified as the city of Ann Arbor looks for an artist to complete a $150,000 public art installation in the lobby of the new Justice Center building
Commissioner Margaret Parker announced the news at Wednesday night's meeting of the Ann Arbor Public Art Commission. She said a 10-member selection committee sifted through submissions from more than 90 artists before arriving at the four finalists.
The four artists, who are not being identified until after references are checked, will be asked to make formal proposals with models and plans soon.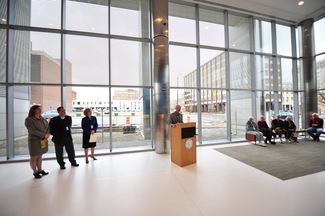 Ryan J. Stanton | AnnArbor.com
Parker said the committee considered submissions from artists both locally and from places afar and ultimately chose four who demonstrated an impressive body of work.
"We looked at Michigan artists, we looked at people from all around the country, and we looked at artists from other countries, and the ones that were selected were not from Michigan but they were from other parts of the country," she said.
The lobby of the Justice Center — informally known as the police-courts building — measures 3,160 square feet and has a ceiling rising more than 21 feet. Blue glass spans the length of the northern wall and floor-to-ceiling windows are on the remaining three walls.
The city is looking for artwork to be permanently installed in the southwest corner of the lobby — either a ceiling-mounted or suspended piece that would be visible and make an impression looking in from both Fifth Avenue and Huron Street.
"The artwork should complement the building and surrounding site environment," reads the request for proposals sent out to artists. "The artwork should speak to the public purposes of the building, which include public safety, justice, equality and security."
Detailed proposals from finalists are due Dec. 1. The Ann Arbor Public Art Commission is expected to make a recommendation to the City Council in January, followed by a council decision in February. The city would like the installation done by June.
The commission also took action Wednesday to approve creation of a task force to explore a public art installation as part of the reconstruction of the East Stadium Boulevard bridges. No budget for that project has been set yet, and a wide range of ideas are being considered, including murals, sculptures and lighting effects.
Aaron Seagraves, the city's public art administrator, also relayed a report Wednesday showing the financial effect of recently proposed changes to the city's public art ordinance.
City Council Member Sabra Briere, who has been critical of the city's Percent For Art Program and attended Wednesday's meeting, is proposing ordinance changes to exempt the city's street millage from contributing to the public art program.
Under an ordinance approved by the City Council in 2007, 1 percent of the budget for all city capital projects — up to $250,000 per project — is set aside for public art. In the past four years, more than $2.2 million in city funds have been channeled toward public art.
According to the report from Seagraves, money from the street millage represents about 55 percent of new revenue for public art in the last two years.
Nearly $120,000 in street millage funds were channeled to the pooled public art fund in 2010-11, and that's up to nearly $134,000 in this year's budget. The report shows more than $555,000 in street millage dollars remain waiting to be spent on public art.
In addition to stopping future transfers from the street millage, Briere's proposal includes a new stipulation that any money that hasn't been allocated for an art project for three fiscal years must be returned to the source funds.
The report from Seagraves offered a look at what would happen if the three-year time limit were to go into effect this year. It showed $172,321 would go back to the street millage fund, $10,464 would go back to the solid waste fund, $8,889 would go back to the stormwater utility fund, and $6,520 would go back to the airport fund.
Ryan J. Stanton covers government and politics for AnnArbor.com. Reach him at ryanstanton@annarbor.com or 734-623-2529. You also can follow him on Twitter or subscribe to AnnArbor.com's e-mail newsletters.