Posted on
Mon, Mar 29, 2010 : 4:30 p.m.
9 Hutaree members face federal charges of conspiracy, attempting to use weapons of mass destruction
By Lee Higgins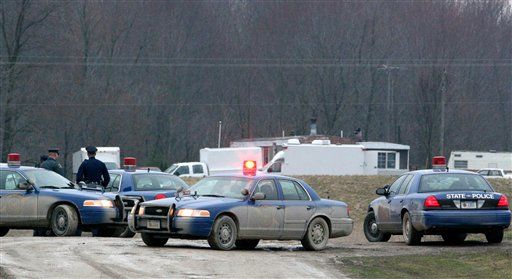 Madalyn Ruggiero | The Associated Press
A local militia group that twice helped Washtenaw County sheriff's deputies search for missing people had discussed killing a law enforcement officer, then attacking officers who attended the funeral, a federal indictment alleges.
Instead, militia members say the Hutaree militia group was raided Saturday night by federal law enforcement agents during a memorial service in the Ann Arbor area for one of its members.
Asked about that particular raid, FBI spokeswoman Sandra Berchtold said this afternoon, "I can't confirm or deny the events of the arrests." Berchtold said five arrests were made in the Washtenaw/Lenawee county area.
Nine members of Hutaree - described by authorities as an anti-government extremist organization - have been indicted on charges of attempting to use weapons of mass destruction. All are in custody.
At least one member charged lives in Washtenaw County. Hutaree members, who trained in Lenawee County, where the group has a small headquarters, "conspired to levy war against the United States," the indictment says.
The indictments were unsealed this morning,two days after FBI agents conducted raids in southeast Michigan, Ohio and Indiana. Among those charged are six Michigan residents, two Ohio residents and one Indiana resident.
According to the indictment, the leader of Hutaree, David Brian Stone (known as RD), was plotting to kill an unspecified member of law enforcement, then attack law enforcement vehicles in the funeral procession motorcade with Improvised Explosive Devices (IEDs). Militia members say that Stone also is the group's pastor. According to the indictment, his son, Joshua Matthew Stone, provided materials to manufacture such devices. David Stone had researched the devices on the Internet and emailed diagrams of them to someone he thought could build them, the indictment alleges.
Charged in the indictment are:
David Brian Stone (RD) of Clayton, Mich.
David Brian Stone Jr. (Junior) of Adrian (the son of David Brian Stone)
Joshua Matthew Stone (Josh) of Clayton (the son of David Brian Stone)
Tina Mae Stone of Clayton (the wife of David Brian Stone)
Joshua John Clough (Azzurlin) of Blissfield
Michael David Meeks (Mikey) of Manchester Township
Thomas William Piatek of Whiting, Ind.
Khristopher T. Sickles (Pale Horse) of Sandusky, Ohio
Jacob J. Ward (Jake) of Huron, Ohio
All are charged with seditious conspiracy, attempting to use weapons of mass destruction and two counts possessing a firearm during a crime of violence. Some face additional charges. If convicted, they could spend the rest of their lives in prison.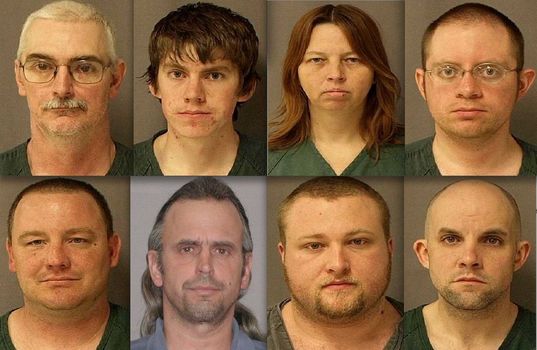 Joshua Stone, sought since the raids, was arrested tonight in Hillsdale County, the FBI said at 9 p.m. Details of the arrest were not released.
Seven others are being held without bail after making their first appearances in federal court in Detroit this morning. Arraignment and bond hearings for the seven were set for 1 p.m. Wednesday.
Local militia leader Jimmy Schiel told AnnArbor.com on Sunday that five Hutaree members were taken into custody during Saturday's raid. Eight Hutaree members were at the memorial service, he said. Schiel, who is not a Hutaree member, didn't know who organized the service. He was invited, but did not attend. He spoke to a Hutaree member who was there, he said.
Donna Stone, 44, of Adrian, divorced David Stone, Sr. three years ago after he started taking the movement too far, she said during an interview prior to today's court hearing. He lured her son, 19-year-old David Stone, Jr. into Hutaree, she said.
"He dragged a lot of innocent people down with him," she said. "It started to get worse when they were talking about the world's gonna end and the Bible."
Law enforcement agents raided David Stone's trailer in Dover Township in Lenawee County about 7 p.m. Saturday, looking for bombs and explosives, she said.
The indictment says Stone established a rank structure for the unit and created words that only Hutaree members would understand for "various military formations and maneuvers."
David Stone Jr.'s fiancee, Brittany Bryant, 18, of Adrian, said at least 10 FBI agents raided her home Saturday night. They told her to leave her 6-month-old on the couch and come outside, she said.
"They had guns pointing at my head when I opened the door," said Bryant, who also attended the court hearing. "They were looking for weapons, documents, anything they could find for evidence."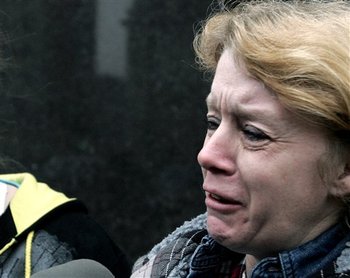 Jerry S. Mendoza | The Associated Press
Michael Meeks, of Manchester Township, was among three Hutaree members to participate recently in the search for a missing Bridgewater Township woman on Jan. 13. About six militia members assisted in that search after Bridgewater Township Supervisor Jolea Mull contacted Schiel and asked for help from the militia. They worked with sheriff's deputies, firefighters and other volunteers. A Hutaree member also assisted in a search for a missing Bridgewater Township man on Feb. 17. AnnArbor.com reported Thursday that Hutaree members were involved in those searches. Meeks' family members could not be reached for comment on Sunday.
The indictment says Hutaree advocates violence against local, state and federal law enforcement. Members are sometimes recognizable by their tiger stripe camouflage uniforms with a distinct shoulder patch that contains a black cross, two brown vertical pillars that form the letter "H" with the black cross, two red spears, a brown "V" shape at the base of the cross symbolizing the supporting hands of Hutaree, and the initials "CCR." At least four of the group's members live in Washtenaw County, including three in Manchester Township. Another member lives in Scio Township. The unit trains with AR-15s. The group claims to have between 25 and 30 members. It had a unit in Texas that disbanded a year ago that had at least six members, militia members said.
Since at least 2008, members have been meeting regularly and conducting military-style training in Lenawee County to prepare for "war with their enemy," the indictment says.
The documents describe enemies as state and local law enforcement officers who are deemed "foot soldiers of the federal government," as well as federal law enforcement officers and anyone who does not share their beliefs.
According to the indictment, the group had also discussed, "killing a member of law enforcement after a traffic stop, killing a member of law enforcement and his or her family at home, ambushing a member of law enforcement in rural communities, (and) luring a member of law enforcement with a false 911 emergency call and then killing him or her."
After the attack, Hutaree members would retreat to one of several "rally points" to wage war against the government and be prepared to defend with "trip-wired and command detonated anti-personnel improvised explosive devices, ambushes, and prepared fighting positions," the indictment says. That action, Hutaree believed, would serve as a catalyst for a more widespread uprising against the government, the indictment says.
According to the indictment, several Hutaree members attempted to travel to Kentucky for a summit of militia groups on Feb. 6. David Brian Stone solicited a person to provide four IEDs to take to the summit, the indictment alleges. The indictment also alleges that Stone and David Brian Stone Jr. taught other Hutaree members how to make and use explosives.
It's unclear whether Hutaree was capable of executing any of their alleged plans. The indictment does not detail what was recovered during the raids. U.S. Attorney Barbara McQuade of the Eastern District of Michigan said in a statement that the Hutaree had "planned a covert reconnaissance operation for April, which had the potential of placing an unsuspecting member of the public at risk."
Because of the risk to the public and law enforcement, it "demanded intervention," McQuade said. According to the indictment, anyone who "happened upon the (reconnaissance) exercise" who did not comply with Hutaree members' demands could be killed.
Michael Lackomar, a spokesman for the Southeast Michigan Volunteer Militia, which was not targeted in the raids, said today that there's a "sense of relief" in the militia movement that the law enforcement operation appears to be limited to Hutaree. He has received phone calls from militia members across the country who have been on alert, he said.
The raid has effectively dismantled Hutaree, he said.
"This is a devastating raid," he said. "Anybody that's left from the group is probably gonna be keeping a low profile for a long, long time."
Lackomar said he views Hutaree as a cult. His group had a falling out with Hutaree in February 2007, he said, because his unit's members wouldn't follow Hutaree's leaders.
"They wanted to take control of the militia movement as a whole," he said. "They wanted us to become subservient to their unit."
The arrests come as watchdog groups including the Anti-Defamation League and Southern Poverty Law Center have expressed concerns about the growth of the militia movement. In the past year and a half, the number of militia groups in the United States has quadrupled to 200, the ADL said. The growth of the movement has been attributed to fears of economic collapse and the potential for a crackdown on gun rights under the Obama administration, watchdog groups say.
Andrew Arena, the FBI's special agent in charge in Detroit, said in a prepared statement, "This is an example of radical and fringe extremist groups which can be found throughout our society. The FBI takes such extremist groups seriously, especially those who would target innocent citizens and the law enforcement officers who protect the citizens of the United States."
News Director Amalie Nash contributed to this report. Lee Higgins is a reporter for AnnArbor.com. He can be reached by phone at (734) 623-2527 and email at leehiggins@annarbor.com.