Posted on
Fri, Nov 9, 2012 : 5:59 a.m.
AATA shifts focus to expanding transit in urban core after Ann Arbor shoots down countywide plan
By Ryan J. Stanton
The Ann Arbor City Council delivered the final knockout blow Thursday night to plans for a new transit authority called the Washtenaw Ride.
The council voted 10-0 to opt out of the countywide authority, which would have replaced the Ann Arbor Transportation Authority, following the lead of most of the municipalities in the county. Without Ann Arbor at the table, the current countywide transit plan is now dead.
City officials stressed they remain interested in having the AATA continue talks with the cities of Ann Arbor and Ypsilanti and four townships — Ypsilanti, Ann Arbor, Pittsfield and Scio — to come up with a better way to improve transit in Washtenaw County's urban core.
"This is not so much the end of this discussion of expanded transit, but a restart and a reboot of a discussion including the local partners," said Mayor John Hieftje.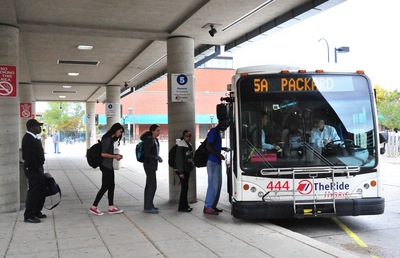 Ryan J. Stanton | AnnArbor.com
Immediately after Thursday's vote, the AATA sent out a news release announcing its intention to shift its focus to transit upgrades in the urban core.
"Efforts to extend the benefits of transit to a greater number of Washtenaw County residents will continue," said AATA CEO Michael Ford. "This issue is a high priority for our region's economic vitality and growth. Public transit enjoys broad support in Washtenaw County."
AATA officials said all communities will be invited to participate in any new public transportation model that evolves, but initial efforts going forward will focus on communities that have thus far expressed strong interest in being part of a regional transit network: the cities of Ann Arbor, Saline and Ypsilanti, the townships of Pittsfield, Scio, Superior and Ypsilanti, and the village of Dexter.
"Leaders from these urban core communities still want to partner with AATA on expanding public transportation services to both businesses and constituents," Ford said.
Debating the costs
The AATA has been working aggressively over the last few years toward the goal of expanding transit services throughout Washtenaw County. There was some debate Thursday night among council members about whether those efforts have been a waste of time and money.
Council Member Jane Lumm took issue with others who suggested it was fine that the plan for the Washtenaw Ride didn't work out.
"This is not fine," said the 2nd Ward council member. "I think this whole process has been a colossal waste of resources and we should be honest about that."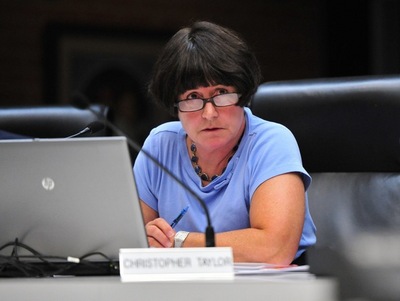 Lumm said she hopes the AATA refocuses its attention where it should be: making Ann Arbor's transportation system the most effective and efficient it can be.
Council Member Margie Teall, D-4th Ward, said she doesn't think the efforts that have gone into having discussions with the community about expanding transit have been a waste.
"It's all been something that has certainly raised the awareness of transportation and its possibilities for Ann Arbor and for the surrounding communities, of which I think we are a part," she said. "We are part of a region. We aren't in a bubble here, and I don't think we should view ourselves that way."
Teall said she's looking forward to the start of new discussions about expanding transit services in the county's urban core.
Council Member Carsten Hohnke, D-5th Ward, said he's disappointed in the townships that opted out because a countywide transit system would have added a lot of value to the community.
"And I think we should be careful not to confuse outcomes with decisions," he said. "I mean, the fact that this seems to have not gone the direction that many of us had hoped is independent of whether it was a good decision to try. And I think that it was the exact opposite of a waste of resources."
AATA officials said they don't have a tally of the costs to date associated with the countywide transit planning process, but it likely reaches into the seven-figure range when factoring in staff time, money spent on attorney fees and consultants, and other costs along the way.
Since April 2010, the AATA has entered into contracts totaling $780,623 with one consultant — Steer Davies Gleave — to assist in planning and implementing countywide transit services. The AATA also has contracted with CJI Research Corp. for survey work related to countywide transit.
In July, the AATA's governing board approved spending up to $500,000 over five years for professional marketing and public relations services through Quack! Media and Pace & Partners Inc. The contract covers public relations, education, community outreach and other communication services in support of the AATA's initiatives, including but not limited to its expansion efforts.
"I think, as we've all said here, regional transit is going to happen," Hohnke said. "And so it was absolutely appropriate to begin exploring how to do that. Whether it happens sooner or later, it's going to happen, and so I'm grateful for the efforts that the AATA and other members of the community undertook to explore this, and I think we gained a lot of value that will serve us well in the future."
Hieftje said he doesn't think it's fair to criticize the AATA for crafting a plan that didn't work out. He noted the Ann Arbor District Library, which had its bond proposal for a new library rejected Tuesday night, was criticized for the exact opposite: going to voters before coming up with a detailed plan.
"I think when you take something to voters and you want people to accept something, you have to fill out the details, and that's what the AATA did," Hieftje said. "That doesn't mean that plan is no longer useful. There are whole areas of the urban area of the county for which that plan is useful."
Lumm said she's believed all along that there's a more incremental and less risky way of expanding transit services, possibly through purchase-of-service agreements.
"The important lesson learned here is that we can't impose either our vision or our will on Ann Arbor residents, let alone other jurisdictions in the county," Lumm said. "And I think we should stop trying to do so much of that and perhaps start listening a bit more."
Council Member Stephen Kunselman, D-3rd Ward, said the out-county communities are very tax-averse and have always been that way, so it was no surprise when they started opting out.
A new focus
Council Member Tony Derezinski, D-2nd Ward, tried to call Michael Benham, the AATA's strategic planner, to the podium Thursday to hear his perspective before the council voted.
Marcia Higgins, D-4th Ward, and Kunselman objected and tried to block Benham from speaking, but they were overridden by their peers in an 8-2 vote.
"While we're disappointed with the possibility of kind of being taken off our strategy … we're very heartened by the language in the resolution that says keep going," Benham told council members.
"And so whatever your action tonight, we're committed to continuing to work with you, with the other communities in this county — particularly those in what we call the urban core — and we're very optimistic that we can arrive at the vision of expanded transit for those who need it the most."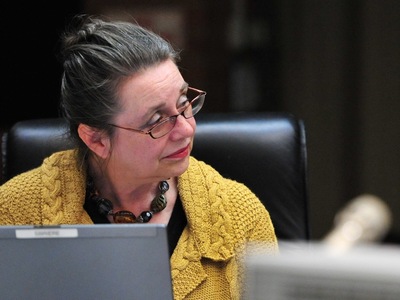 Ryan J. Stanton | AnnArbor.com
Council Member
Sabra Briere
, D-1st Ward, said many council members and others want to see discussions continue for expanding transit.
"We feel quite strongly that some form of improved transit system that makes it possible for people to commute between Ann Arbor, Ypsilanti, Pittsfield and Ann Arbor Township in a reasonable length of time is extraordinarily desirable," she said. "Many of us also feel that it's very important that we include services within and between our neighborhoods."
Members of Partners for Transit also encouraged council members to stay focused on expanding transit services. Ann Arbor resident Joel Batterman, who has been working with Partners for Transit, said it's sad that Ann Arbor is ending the current initiative, though.
"It would have been substantially better transportation for people in Ann Arbor, including extended hours of bus service, increased transit frequencies, and new, more direct routes serving the neighborhoods on the west side of town," he said.
Batterman said it also would have meant the transit service area would be expanded to better match where people are living today.
"When the AATA was formed about 1970, 56 percent of the county's population lived in the cities of Ann Arbor and Ypsilanti," he said. "Today only 39 percent do."
Batterman concluded rural townships might not be ready to participate in a transit authority, but the more urbanized areas that did choose to opt in would have brought a majority of the county's people and the great majority of transit-dependent residents within reach of the services they need.
"I encourage the council to take the initiative in the coming year and work toward a new accord on expanded transit," he said. "Ann Arbor residents overwhelmingly support better transit."
Carolyn Lusch, Partners for Transit coordinator at the Michigan Suburbs Alliance, agreed it's important that Ann Arbor keep moving forward.
"Over the past few months I have spoken with so many people — families, seniors, businesses, churches, young people and students — both in Ann Arbor and across the county who all are interested in and have great need for significant transit improvements," she said. "They tell me about how they have to call taxis to get groceries. They have to miss doctor appointments, call up favors from family members or just walk two miles to Meijer. The need for transit still exists."
First Ward resident Mike Garfield, executive director of the Ecology Center in Ann Arbor, said he's been advocating for regionalizing transit for a while now.
"There have been a lot of twists and turns along the way, but I think what's going on right now might ultimately be the best thing for expanding transit in the Ann Arbor area," he said of council's move Thursday to refocus on the urban core. "We need to reboot this thing."
The AATA was counting on voter approval of a countywide transit tax to fund some of the services it already has started to implement under its five-year countywide plan. AATA officials said they'll now be reviewing the feasibility of continuing to provide some of those services.
That includes increased bus service along Washtenaw Avenue between Ann Arbor and Ypsilanti, the AirRide shuttle between Ann Arbor and Detroit Metro Airport, ExpressRide routes connecting Ann Arbor with Canton and Chelsea, and an expanded NightRide service area east to Ypsilanti.
"We understand these services enjoy widespread popularity with AATA passengers," Ford said. "We hope to avoid any reduction or elimination of AATA operations."
Ryan J. Stanton covers government and politics for AnnArbor.com. Reach him at ryanstanton@annarbor.com or 734-623-2529. You also can follow him on Twitter or subscribe to AnnArbor.com's email newsletters.