Posted on
Wed, Jan 25, 2012 : 2:32 p.m.
Need-to-know details about Obama's speech at the University of Michigan on Friday
By Kellie Woodhouse
Update: If you didn't get tickets to watch Obama's speech, the University of Michigan will be streaming it in five of its facilities and the White House will be offering a live stream on its website. Read more here.
Ann Arbor has been abuzz this week with news that President Barack Obama is coming to the University of Michigan on Friday to give a speech.
But with U-M officials mum about the event because they hadn't received official White House confirmation, firm details were hard to find.
The White House has made its official announcement about the Obama visit, releasing key security details and entry information, and tickets will be distributed early tomorrow morning.
AnnArbor.com has a rundown of the need-to-know information: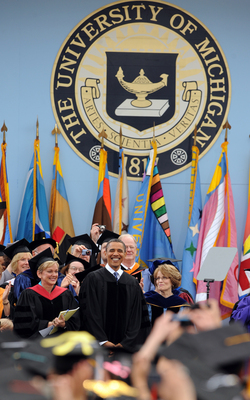 Lon Horwedel | AnnArbor.com
Who: Obama. It will be his second address given at the University of Michigan since assuming office. In May 2010 he gave the school's commencement address.
What: A speech on college affordability.
When: 9:35 a.m. Friday
Where: At the Al Glick Field House at 1200 South State Street, just south of Yost Ice Arena. That area of State Street will be closed to traffic. Attendees are encouraged to walk and are not permitted to bring bags, water bottles, chairs and umbrellas. Signs or banners are also prohibited. Expect to go through airport-like security.
Why: Obama recently convened higher education leaders and advocates from around the country at a Dec. 5 forum to discuss affordability. U-M President Mary Sue Coleman was invited to attend, but declined citing a busy schedule. However she addressed an open letter to Obama two weeks later imploring him to seriously tackle the issue of high college costs and decreasing public university funding.
How: You'll need a ticket to get in. Roughly 3,000 tickets will be distributed starting at 9 a.m. Thursday at the Michigan Union Ticket Office. They are free, but limited in supply. They will be distributed on a first-come basis, according to U-M, and you can't get multiples. Doors to the Union open at 7 a.m.
Read previous coverage about Obama's upcoming visit to Ann Arbor:
State Street to be closed for Obama visit to Ann Arbor; AATA routes detoured
Obama scheduled to speak at University of Michigan on Friday
Obama's second visit to Ann Arbor shows he's 'not taking Michigan for granted'
Obama in Ann Arbor: College affordability theme will resonate with University of Michigan students
President Obama: 'Higher education can't be a luxury - it is an economic imperative'
U-M president 'could not agree more' with Obama's remarks on college affordability
Kellie Woodhouse covers higher education for AnnArbor.com. Reach her at kelliewoodhouse@annarbor.com or 734-623-4602 and follow her on twitter.