Posted on
Thu, May 24, 2012 : 1:40 p.m.
Groups launch ballot initiative in Ypsilanti to direct police efforts away from marijuana enforcement
By Katrease Stafford
Two groups have launched a campaign to put a measure on the November ballot that would redirect police efforts away from enforcing laws against marijuana use in the city of Ypsilanti.
An Eastern Michigan University student organization, Students for Sensible Drug Policy, and Chuck Ream, political director of the Ypsilanti Lowest Law Enforcement Priority initiative, held a press conference Wednesday afternoon announcing the campaign.
The two groups need to secure 1,000 signatures from registered voters by the end of July in order for the initiative to be included on the Nov. 6 presidential election ballot in the city.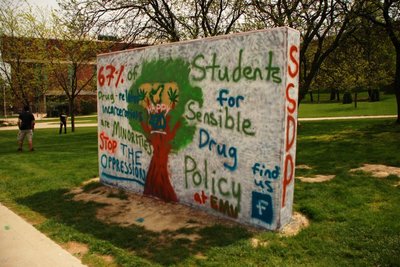 Courtesy of Students for Sensible Drug Policy
If they are successful, Ypsilanti residents will be asked to vote on the following question:
"Shall the Ypsilanti city charter be amended such that the use and/or consumption of one ounce or less of useable marijuana by adults 21 years or older is the lowest priority of law enforcement personnel?"
Ream said he believes if enacted, local law enforcement would have to "reprioritize" their resources. Ream cited the city of Detroit as an example of what he thinks should serve as proof of a need for fundamental change.
"The city of Detroit has 11,000 unprocessed rape kits," Ream said. "They don't have enough time or money to process rape kits but have enough to chase us around and put us in jail for cannabis? This is absolutely ludicrous and absurd and everyone knows it. This vote is not necessarily about marijuana but about police priority."
Ream's medicinal marijuana dispensary MedMar on Packard Street in Ann Arbor was raided by police in August of 2011, a day after the Michigan Court of Appeals released its ruling that sales of marijuana at dispensaries was illegal.
Last October, prosecutors sought forfeiture of more than $110,000 from the dispensary.
Ream and SSDP believes police resources should be used elsewhere.
Antonio Cosme, who is a former president of EMU's student government, serves as the campaign organizer and manager. Cosme said the initiative will provide people an opportunity to "speak up."
"We stand at the edge of a historic moment," Cosme said. "National support for marijuana legalization has hit a historic high with over 50 percent. Our communities should have the right to determine where our resources are being allocated."
Ream said in November of 2011, Kalamazoo voters by a nearly 2-1 margin voted to make the crime of the possession of less than once of cannabis by adults, the lowest priority of their law enforcement employees.
"We're going to top that," Ream said. "We're going to have at least 75 percent of the vote. There's no question. I won't let it fail."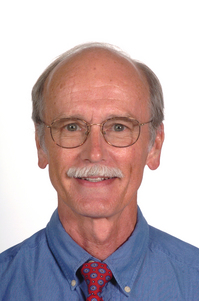 File photo
The very fact that Ypsilanti voted in favor of medicinal marijuana dispensaries is proof enough that voters will vote for the LLEP initiative, Ream said.
"Ann Arbor is still a chicken to license for the dispensaries," Ream said. "Ypsilanti is way ahead."
In May 2011, an Ypsilanti medical marijuana dispensary, the 3rd Coast Compassion Center, was the first in the state to receive a dispensary license from a local municipality.
In December, Ypsilanti city staff relicensed all four Ypsilanti dispensaries.
LLEP initiatives have been passed in Seattle, various California cities, Eureka Springs, Arkansas and Missoula, Montana.
Having residents vote in favor of the initiative on a local level might increase the likelihood of it being voted in favor on a national level, Cosme said.
"We have the opportunity to set an example in Washtenaw County and Southeast Michigan and the entire state and progress has to begin somewhere," Cosme said. "So why not start in our own backyard here in Ypsilanti where we have greatest potential to enact change in the lives of our friends and neighbors."
Miles Gerou, an EMU student and president of SSDP, said his group began last fall semester and is based on the concern of how drug uses impacts the local community. The group has 13 members.
"We believe individuals have the right to decide what they want to do and we want to encourage honest conversation about drug use and look for progressive law reform," Gerou said. "EMU SSDP 100 percent supports the drug initiative. We support it because we believe it protects responsible college students who use cannabis as well as all our responsible users in the community."
Gerou said he there's "no possibility" that the campaign for signatures and subsequent vote will fail.
To gain signatures, Gerou and Cosme said the group plans to go door to door in an effort to garner votes.
Ream presented the group with a $1,000 check in order for them to pay potential petition signers $1 per signature.
Cosme said the group does not plan to use the funds for that but instead for publications, literature and to support the mission.
"We don't think we need to pay people for the vote," Cosme said.
Cosme said the group has yet to receive any opposition, but he expects that to change soon.
"We have not spoken officially to [officials,]" he said. "Today was our big come out day but I imagine we will."
Cosme said the organization plans to go door-to-door to seek signatures.
"We're also thinking about petitioning in the Ypsilanti Farmers Market and in local businesses," he said.
Ream, who says he has smoked marijuana every single day for over 40 years, said the LLEP initiative will be a huge issue going forward and leading up to the November elections.
"It's great to be part of history and on the right side of history," Ream said.