Posted on
Sun, Dec 11, 2011 : 6:38 a.m.
415 W. Washington not a good site for 24-hour warming center, Ann Arbor officials say
By Ryan J. Stanton
Supporters of an effort to open a new 24-hour warming center for the homeless in Ann Arbor say they now have an operational plan and volunteers lined up.
But they still don't have a building.
Ann Arbor resident Alan Haber, one of the supporters of the project, called on the City Council this past week to make space available at 415 W. Washington, a city-owned property on the west edge of downtown across from the YMCA.
The two-story building there — now more than 80 years old — has been vacant for several years, and it remains in a state of disrepair.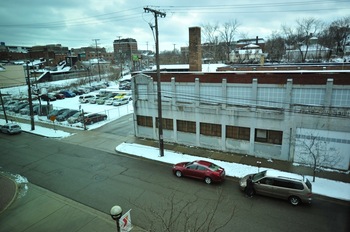 Ryan J. Stanton | AnnArbor.com
Haber suggested the city could allow volunteers to transform the site into a warming center through the winter at no extra cost to the city.
"No person should have to be out in the cold Ann Arbor winter — hundreds are," he said. "There should be a 24-hour, seven-day-a-week, warm place for whomever needs."
Mayor John Hieftje said the warehouse-style building, which includes office space on the second floor, probably isn't the best place for a warming center, though.
For nearly two years now, the city has been exploring the creation of a greenway park and arts center at 415. W. Washington with the nonprofit Arts Alliance and Allen Creek Greenway Conservancy. But those efforts have been slow to progress.
"One of the largest hurdles that we have faced — and that we can't get around — is the condition of the 415 W. Washington building," Hieftje said. "The building is filled with asbestos. There are jagged pieces of metal. I have no idea whether the plumbing there works anymore."
But probably the most daunting task, Hieftje said, is that "you're talking about a seven-figure number to make that building usable."
The site originally was home to the Road Commission in the 1920s and later was used by the city as a headquarters for forestry, park operations, signs and signals, the city's radio shop and parking enforcement. Many of those operations moved to the city's new Wheeler Service Center on Stone School Road in 2007, and 415 W. Washington has been vacant since.
Hieftje said city officials and members of the Arts Alliance have spent time inside 415 W. Washington over the past two years and have held meetings there. At the next meeting of the group, he said, the Arts Alliance is probably going to announce it can no longer afford to expend resources to stay involved in the arts center project.
"We've had a grant writer going after grants, we've been searching and doing everything, but the major hurdle to that dream is the building's condition," he said.
Hieftje said the greenway vision for 415 W. Washington, which includes transforming the eastern edge of the property into a green space, will be easier and less expensive.
AnnArbor.com toured 415 W. Washington on Friday with Rob Millett, field operations supervisor for the city, who used to work inside the building.
Among the items a reporter spotted during the tour was a stack of University of Michigan football schedules from 1978 and a box of outdated downtown parking maps.
Even when the building was operational, Millett said, the city still dealt with leaking pipes and heating issues.
"It's an old building and I'm surprised it's still standing," he said. "It's tired. It's in poor shape. I don't even know, at this point, if it's really a safe site."
Windows remain boarded up. Shards of broken glass and other discarded materials linger on the ground. Water is leaking from a damaged ceiling.
And outside, the exterior walls are starting to crack.
"It also has no heat or water, so that is something to consider. And I mean no ability to connect heat or water," said Lisa Wondrash, a spokeswoman for the city.
"All of the infrastructure is still there, but it's 30-year-old boilers and inoperable equipment," she said. "And the boiler on one of the floors had ruptured and it hadn't been winterized, so it does not operate and it would constitute a fire hazard."
Wondrash said the building, though not officially condemned, is not fit for occupancy from a building permit standpoint or from a fire marshal standpoint.
The effort to open a new 24-hour warming center this winter originates from the Occupy Ann Arbor movement.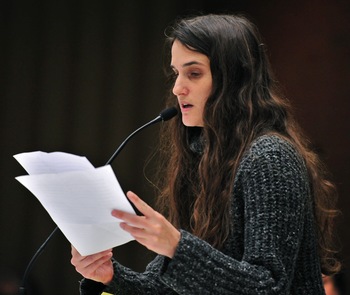 Ryan J. Stanton | AnnArbor.com
Orian Zakai
, a U-M graduate student, has been communicating the group's concerns to the city and again asked the City Council for help in locating a space this past week.
"Winter is already here," she said. "We do not want to look back in anger and sorrow come April and know that we could have prevented people's death and we haven't."
She said the group has been in contact with Avalon Housing, the Washtenaw Housing Alliance, U-M's School of Social Work, U-M's Community Scholars Program and Project Outreach.
"We plan to collaborate with these organizations, as well as others, and hope to receive their guidance, advice and active support in running a safe community with focus on rehabilitation and growth," she said.
In order to gain better insight about the needs of the homeless community, five members of the team started volunteering at the Delonis Center, Zakai said. Others have attended meetings of Camp Take Notice and have reached out to the homeless community at Liberty Plaza and St. Andrew's Church.
She said the group also is in the process of planning the program for the warming center and has agreed on several principles that will guide it, including a strict policy of no drugs, no alcohol, no violence and no threatening behavior of any kind.
She said the operators of the warming center will work with Ann Arbor police if needed, as well as with professional organizations dealing with drug and alcohol addictions.
There would be a constant presence of volunteers both day and night at the warming center to monitor and facilitate a safe environment, Zakai said. There also would be sensitivity to gender issues and separation between men and women during the night.
"We have developed a model for a daily schedule for the center that includes group meetings and communal programs, and workshops geared toward empowerment and personal growth, such as arts and crafts, life skills, creative and analytical writing, and critical reading," she said.
Ryan J. Stanton covers government and politics for AnnArbor.com. Reach him at ryanstanton@annarbor.com or 734-623-2529. You also can follow him on Twitter or subscribe to AnnArbor.com's e-mail newsletters.