Posted on
Tue, Sep 13, 2011 : 5:59 a.m.
Ann Arbor businesses to get help financing energy upgrades under new $4M program
By Ryan J. Stanton
Ann Arbor business owners looking to make energy efficiency upgrades on their properties soon will have a new option for financing the costs.
The city's new PACE program — standing for Property Assessed Clean Energy — is getting read to roll out, making available an estimated $4 million in its first phase.
"The program is pretty much ready for prime time," said Mayor John Hieftje, who believes it will be a boon to economic development and job creation in Ann Arbor.
Qualifying businesses will be able to borrow money for energy efficiency projects ranging from $10,000 to $350,000 and then pay back the loans through special assessments.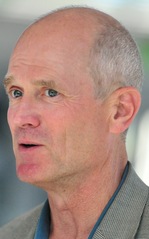 Wendy Barrott
, a
Clean Energy Coalition
employee being paid right now to serve as the city's community energy coordinator, gave a detailed presentation on the program at Monday night's Ann Arbor City Council meeting.
The city is contracting with the Clean Energy Coalition to implement new community energy programs, including PACE.
Ann Arbor officials fought for the passage of the state's new PACE law, which was signed by former Michigan Gov. Jennifer Granholm last December. State Sen. Rebekah Warren, D-Ann Arbor, sponsored the legislation that made it possible.
The new law gives local governments authority to issue revenue bonds to pay for upgrades on private commercial property, ranging from high-efficiency furnaces that can cost a few thousand dollars to solar-panel systems that can cost tens of thousands of dollars.
Property owners are responsible for repaying the loans from their local governments over a period of several years through special assessments added to their property tax bills. Barrott said the length of the assessments would be either five or 10 years.
City officials said the PACE program is being set up so the estimated energy savings must be greater than the cost of the special assessment — meaning it'll be an immediate cost savings for the property owner.
The way the state law is currently worded, it only applies to businesses, but Ann Arbor officials hope it can be expanded to residential properties.
Barrott said Ann Arbor's PACE program will help fund projects ranging in cost from $10,000 to $350,000, including any work that fits into the following categories:
Energy analyses
Insulation, weather sealing
Lighting
Heating, ventilation and air conditioning
Energy Star appliances
Doors and windows
Cool roofs
Solar photovoltaic, thermal and water systems
Geothermal
Combined heat and power systems
Biomass thermal
The City Council voted back in March to establish a $482,800 loan loss reserve fund — using federal energy grant dollars — to be used in conjunction with the PACE program.
"Essentially, when we go out for a bond … we estimate that we can leverage the dedicated amount to loan loss reserve about 10 to 1," Barrott said. "So we're expecting to be able to raise about $4 million in funding for Phase I. It might be less. We don't know yet."
Barrott said 27 states have passed PACE legislation allowing local governments to establish energy financing districts. She said several cities like San Francisco and Berkeley now have programs up and running, and more are considering implementing them — including Oakland County, Sterling Heights and Highland Park in Michigan.
Barrott said there's a strong case for a PACE program. It creates jobs, keeps money in the local economy, supports economic development, reduces energy use and energy costs, increases or maintains property values, and reduces greenhouse gas emissions, she said.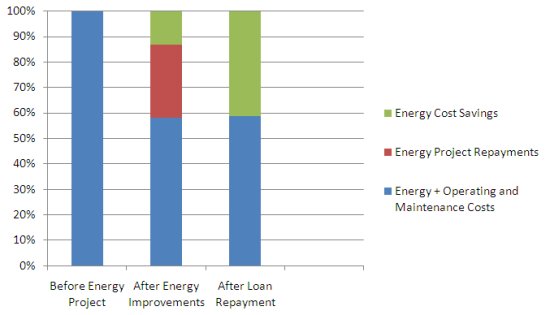 She pointed out there's nearly 31.3 million square feet of commercial floor area in Ann Arbor spread across 1,694 parcels. She said the users of those properties spend an estimated $130 million a year on building energy — money that leaves the community.
"If you assume that you could increase the energy efficiency by 20 percent in every building, you would have an additional $26 million circulating in the economy per year," she said, noting that would save 164 million kilowatt hours of energy, or the equivalent of 39 Barton Dams.
Barrott provide council members with a summary of the results of a PACE program started in Boulder County, Colorado. She said the program has helped finance 598 projects totaling $9 million — creating 85 short-term jobs, $5 million in earnings and $14 million in economic activity in the county alone. Outside of the county, it created 41 short-term jobs, as well as $2 million in additional earnings and $6 million in economic activity, she said.
"Participants have saved so far $125,000 in utilities," she said, noting again the idea is the annual savings will be greater than the annual costs of the assessments.
Ann Arbor now has PACE applications available at www.a2energy.org. The application fee a business must pay is $554, which includes technical review, title search and recording fee.
Among the requirements for a business to apply is that it must be current on its property taxes, mortgages and utilities and it cannot be in bankruptcy. Also, the proposed energy improvements must be less than 20 percent of the state equalized value of the property.
A resolution stating the city's intent to establish a PACE program, including setting of boundaries for the financing district, is expected to come before the council next week. A public hearing and a formal resolution establishing the program is expected to follow on Oct. 3.
The city expects to officially launch the program sometime within the fourth quarter of 2011. For more information, visit the city's website.
Ryan J. Stanton covers government and politics for AnnArbor.com. Reach him at ryanstanton@annarbor.com or 734-623-2529. You also can follow him on Twitter or subscribe to AnnArbor.com's e-mail newsletters.