Posted on
Tue, Jan 10, 2012 : 5:59 a.m.
Ann Arbor City Council delays approval of AATA countywide transit agreement
By Ryan J. Stanton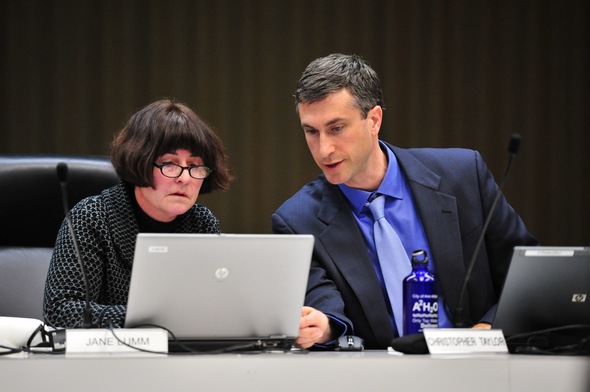 Ryan J. Stanton | AnnArbor.com
The
Ann Arbor City Council
delayed taking action Monday night on a
four-party agreement that lays the framework
for creation of a new countywide transit authority.
But that didn't stop council members from discussing the issue for nearly three hours and asking several questions of Ann Arbor Transportation Authority CEO Michael Ford.
Council Member Jane Lumm, a 2nd Ward representative who has been hesitant about the AATA's countywide push, said she wanted to wait until after funding recommendations from the AATA's financial task force and a five-year countywide service plan are completed.
"It feels like ready, fire, aim — not ready, aim, fire — without having the specifics of the funding plan and the five-year program," Lumm said.
The countywide expansion of the AATA — an agency chartered in 1969 by the city of Ann Arbor — has been talked about for more than two years.
AATA leaders now are approaching the cities of Ann Arbor and Ypsilanti, as well as Washtenaw County, asking them to enter into a four-party agreement that's seen as the first step toward creation of a new countywide transit authority replacing the AATA.
The council decided Monday to postpone consideration of the four-party agreement until Jan. 23, when it also will hold a public hearing on the issue.
Lumm said there still are too many unanswered questions. She tried unsuccessfully Monday to postpone consideration of the agreement until April, but only Stephen Kunselman, D-3rd Ward, and Mike Anglin, D-5th Ward, backed her on that.
Council Members Marcia Higgins, D-4th Ward, and Sabra Briere, D-1st Ward, were absent.
Ford encouraged council members to move the process along and expressed concern that delaying consideration of the four-party agreement that long would be a problem. He said the reason the AATA is asking for council support now — before the five-year plan and funding recommendations are out — is to get the city's buy-in upfront.
"We've got work to do, sure," Ford said. "But it would not make sense, in my mind, to come to you after all this is done."
"What's the rush?" Kunselman said, asking Ford whether there's any desire to get a countywide transit millage on the November ballot.
"Nobody's trying to jam anything down anybody's throat," Ford responded, telling Kunselman any decisions about a millage will be up to the countywide transit authority board.
Lumm told Ford she still wanted more details.
"I hear what you're saying, and I know you mean well," she said. "But we're being asked to consider a fundamental restructuring of our public transportation system."
Mayor John Hieftje suggested at one point that Lumm might be better informed if she wasn't new to council and had attended previous meetings.
Lumm took offense to Hieftje's comments.
"I've been trying to do my homework," she said. "And, frankly, I feel that was a little bit patronizing, Mr. Mayor."
Council Member Christopher Taylor, D-3rd Ward, responded to Lumm's "ready, fire, aim" comment, arguing it unfairly suggested a lack of thought on the AATA's part.
"I think it's useful to make very clear that AATA and all members who are interested in this have worked very hard over a long period of time to put together a diligent, transparent, open, methodical process," he said.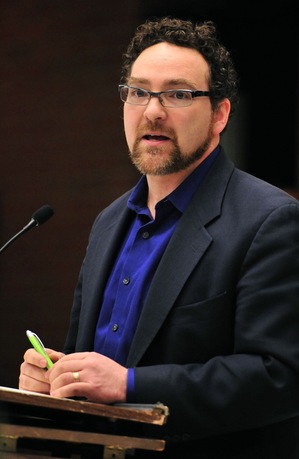 Ryan J. Stanton | AnnArbor.com
The AATA released a new Transit Master Plan last year that identified literally hundreds of millions of dollars in planned service improvements over the next 30 years. The release of that plan was followed up in August with a 61-page report detailing possible funding strategies.
"We've spent over 18 months listening to concerns and the needs of the county, and we've engaged thousands of people in the process," Ford said.
Ford reminded council members that a special task force made up of local financial experts is working to provide funding recommendations.
"The task force is comprised of some of the most prominent and knowledgable business people in the community and also in the state," he said.
A countywide millage isn't guaranteed to be part of the equation, but it's one option for funding the countywide expansion of transit services.
The most-talked-about scenario involves layering a new 1-mill countywide transit levy on top of the 2 mills Ann Arbor residents currently pay for AATA service. That equates to a little more than $100 in additional taxes for the average Ann Arbor homeowner.
The city of Ypsilanti also has a 1-mill transit levy that pays for AATA services and would be transferred to the new authority under terms of the four-party agreement.
Ford stressed the four-party agreement does not create an operational countywide authority or obligate Ann Arbor to participate, nor does it jeopardize the city's transit services.
Rather, Ford said, it simply outlines a process to follow.
After more public input, Ford said, an unincorporated countywide transit authority board is expected to publish a five-year service plan and ask the county to file articles of incorporation.
After that happens, each municipality in the county, including Ann Arbor, will get to decide whether to participate or opt out. At that point, Ford said, the new countywide authority would exist as an entity with no assets, while AATA service and assets would remain in place.
"If taxpayers approve additional transit funding for local and countywide service, then the process will continue to move forward," he said, noting that's when the Ann Arbor and Ypsilanti transit millages would be transferred over to the new authority.
The council voted 9-0 Monday night to approve an amendment to the four-party agreement offered by Taylor. It gives Ann Arbor voters additional say in the countywide expansion.
"This amendment is intended to give Ann Arbor voters control over the disposition of the Ann Arbor millage," Taylor said. "If the voters of Ann Arbor choose to transfer it by way of approval of the new funding authority, then that's their decision and that's the way it shall be."
But if Ann Arbor voters fail to approve funding for a new countywide authority — even if a majority of county voters favor it — then the city maintains the right to withdraw from the agreement without penalty, veto any attempt at termination of the current transit operation agreement with the AATA and refuse to transfer the city's millage to the new authority.
Ford said he had no problem with that.
Kunselman said he was concerned the 15-member countywide transit authority board being contemplated includes only seven representatives from Ann Arbor. He said he'd like the city to have at least eight voices at the table since it's likely to pay a majority of the costs.
"We're creating an authority that takes away Ann Arbor dominance, so to speak, because we only have seven members on this proposed board," he said. "So we are giving up something. Ann Arbor is the one that's giving up in this new authority."
Kunselman also expressed doubts that a countywide transit millage would win approval from county voters given the state of the economy and the financial situation facing some municipalities like the city of Ypsilanti and Ypsilanti Township.
"I think we all know the city of Ypsilanti is having some significant financial problems," he said. "There's talk of an emergency manager in the years ahead … and obviously they are also going to have to go to their voters for additional millages just to keep their city afloat."
Adding a new countywide transit millage into the mix only further complicates matters, Kunselman said.
He asked why instead of going through the process of forming a new countywide authority the county doesn't just ask voters to approve a countywide transit millage and then use that money to contract with the AATA for service to the outlying townships.
Michael Benham, strategic planner for the AATA, said that wouldn't allow individual municipalities the opportunity to opt out, but the Act 196 incorporation process does.
Out of 27 cities, villages and townships in the county, four have declined to participate in the AATA's countywide discussions so far: Salem, Saline, Sylvan and Bridgewater townships.
Hieftje praised the AATA for the work it has done to seek public input on proposed service improvements as part of the countywide expansion.
"I know the responses I've seen at public meetings where this has been presented were extremely enthusiastic," he said.
Council members heard from a handful of community residents Monday night, including Conan Smith, chairman of the Washtenaw County Board of Commissioners.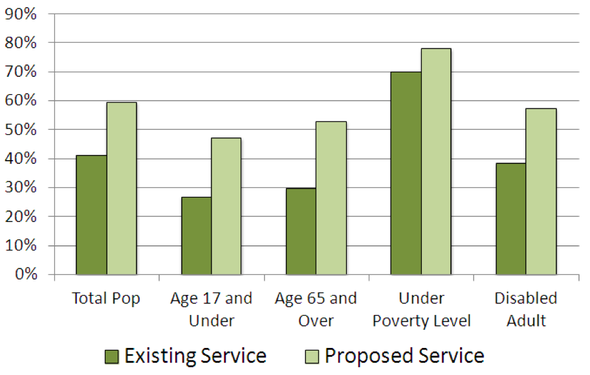 Courtesy of AATA
Smith recalled his decision to get rid of his car in 2008 and said it's been a challenge getting to points beyond Ann Arbor, including his offices in Ypsilanti and Ferndale where he works as executive director of the Michigan Suburbs Alliance.
He said the county will be considering the four-party agreement in a couple of weeks and wants to partner with Ann Arbor on expanding transit services.
"I hope you'll give fair and robust consideration to this four-party agreement and let us all — as a larger Washtenaw community — take a walk down a path together that helps the AATA realize their bright future," he told council members.
Lumm said it seemed apparent from Monday's discussion that even council members remain confused about what's being asked of the city.
Anglin also expressed hesitations.
"The finances of this seem to be quite complicated," he said. "Right now the AATA is kind of simple: We pay our millage, other jurisdictions join in, there's a service provided."
He brought up the fact that a number of other transit modes, including rail services, are being contemplated. He said that's a concern.
"Buses can easily be rerouted. Rail can never change — it's set and that's it," he said. "You collapse perhaps with rail. That could be our stumbling block of the future: We planned it, we built it, and no one took it. It's an extremely expensive way to go."
Ford gave a presentation in which he said the proposed improvements include significant increases in services along key corridors and connecting routes.
"The bottom line is that Ann Arbor residents will see faster, more direct, more frequent service that is available early and later in the evenings and on weekends," he said. "With more routes having higher frequency, more residents will have access to services that run more often."
Ryan J. Stanton covers government and politics for AnnArbor.com. Reach him at ryanstanton@annarbor.com or 734-623-2529. You also can follow him on Twitter or subscribe to AnnArbor.com's email newsletters.