Posted on
Sun, Mar 27, 2011 : 5:58 a.m.
Ann Arbor conference center proposal: Some say it'll work, some say it won't, City Council must decide
By Ryan J. Stanton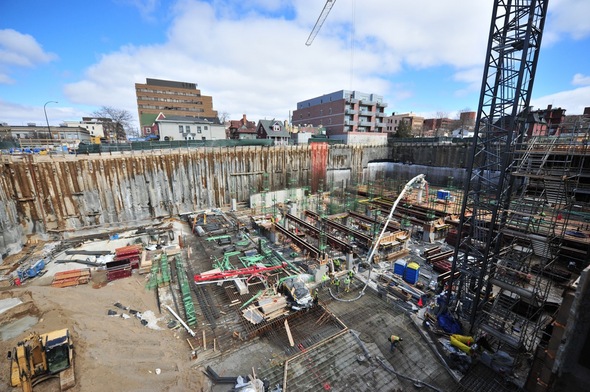 Ryan J. Stanton | AnnArbor.com
A downtown Ann Arbor
hotel and conference center project
several years in the making is facing an uphill battle as the
Ann Arbor City Council
prepares to decide its fate.
Many questions surround New York-based Valiant Partners' proposal to build a 150-room hotel and 26,000-square-foot conference center on a slab of city-owned real estate.
Is it feasible? Could it turn a profit? What's happened in other communities with similar conference centers? Would the city be on the hook financially if it doesn't work out?
Chuck Skelton, a nationally recognized hotel industry expert, recently issued a 51-page report that makes a case against the project. Skelton claims the conference center is not economically feasible and would just steal business from existing hotels.
That differs from a 25-page demand study by PKF Consulting, a New York-based firm hired by Valiant. PKF found the project appears viable, and while it's true it would compete with existing hotels, it would offer a product not currently found in the downtown area.
"This is a hotel with a fairly large amount of meeting space," said John Fox, PKF's senior vice president. "We think this is potentially viable here. I point to the strength of Ann Arbor, in both geography as well as what's near it, meaning the University of Michigan."
Another voice in the debate is the Roxbury Group, a consultant hired by the city. The firm has studied Valiant's proposal and is recommending the City Council vote next month to enter into a non-binding letter of intent with the developer to negotiate a development agreement.
Roxbury has advised council members they should take any studies done by either side with a grain of salt, since each carries some bias.
Meanwhile, a coalition of residents is lobbying the city to reject Valiant's proposal, suggesting there are better uses for the site. Some argue it could be turned into an urban park, while others want to see more affordable housing downtown.
The towering facility, as proposed by Valiant, would take shape atop the underground parking deck the city is building at the Library Lot on Fifth Avenue, between Liberty and William.
Valiant's mixed-use project includes a public plaza and a small number of luxury condo units, as well as retail, restaurant and office spaces.
City officials have been in talks with Valiant for the last few years, and the parking deck is expected to be finished early next year. Valiant has said it's willing to assume all risk and guarantee the city won't be on the hook financially if the hotel isn't successful.
But the idea that the city would own the conference center after it's built still has some council members unconvinced it's as risk-free as it sounds.
Conflicting reports
Skelton, president of Ann Arbor-based Hospitality Advisors Consulting Group and owner of the Comfort Inn in Chelsea, reviewed conference centers in small and mid-sized markets.
His report found the Lansing Center experienced a $1 million loss before debt service in 2009, while DeVos Place in Grand Rapids lost $557,000. Meanwhile, Monona Terrace in Madison lost more than $4.5 million, while the Century Center in South Bend lost more than $1.6 million.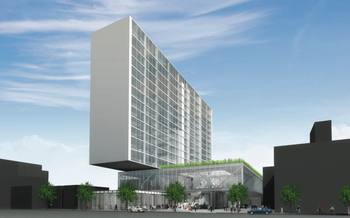 Skelton concluded a 32,000-square-foot conference center in Ann Arbor, which is what Valiant originally proposed before scaling it back, would lose $512,000 annually, plus require $592,772 in debt payments, meaning a total shortfall of $1.1 million a year.
Unless Valiant builds a 45,000- to 50,000-square-foot center, Skelton said, it's just going to directly compete with what's already in the market, and it's going to lose money.
"If it were big enough to actually bring in new business, that would be one thing," he said. "But what they've proposed there is really kind of pie-in-the-sky."
Skelton's report differs from what Valiant has claimed, which is that the operation would turn a profit and potentially kick back more than $270,000 a year to the city's general fund. But it seems those payments would be dependent on the success of the project.
The report from PKF Consulting, paid for by Valiant, concludes the proposed conference center "appears viable." However, PKF didn't quantify demand or project actual operating results or financial feasibility. Its findings were based on a review of similar facilities in comparable markets, review of industry trends, and an identification of potential users.
At the time of PKF's report, Valiant had a 30,000-square-foot conference center in mind, with 22,000 square feet of meeting space. The conference center more recently has been reduced in size for economic reasons, since the city won't help finance it.
PKF said Valiant's facility, with a banquet capacity of 500, would compete with a number of local venues, including the Marriott Ypsilanti at Eagle Crest with a 640-person banquet capacity, the Sheraton Four Points with a 550-person capacity, and Kensington Court, Weber's Inn, Campus Inn and the Holiday Inn off Plymouth Road with capacities ranging from 300 to 390.
PKF found that no single property is positioned competitively to accommodate multi-day group conferences downtown, so Valiant likely would do well in the market.
Valiant is assuming U-M will drive use of its facilities, and says interviews with members of the university community confirmed demand is there. But the university has said it won't make any upfront commitments to a private development hoping to attract university business. Some, including Skelton, argue U-M already has plenty of its own meeting space on campus.
PKF acknowledges the Michigan Union, with a banquet capacity of 400, offers 22,000 square feet of meeting space and is available to university and non-university users. The same is true for the Michigan League, which is about the same size and offers banquet capacity of 350.
There's also a 415-seat auditorium inside the Towsley Conference Center on U-M's medical campus and a 230-capacity banquet room at the business school. The university also now owns the former Pfizer complex on Plymouth Road, which has a 700-person banquet space.
One of Valiant's weaknesses, PKF states, is that construction costs and debt obligations may necessitate positioning the conference center at the top of the local market in terms of price. PKF also acknowledges the economic downturn has led corporations to shift away from higher-profile venues to more discreet or moderately priced ones.
Having only 150 hotel rooms also could turn away larger groups looking to lodge more people under one roof, PKF states. Eagle Crest, for instance, has 235 rooms.
But the new conference center's cutting-edge communication technologies should enhance its competitiveness for academic and business-oriented conferences and meetings, PKF states.
What others say
One of the most staunch supporters of the Valiant proposal is Jesse Bernstein, former president of the Ann Arbor Area Chamber of Commerce. Except for Eagle Crest, Bernstein said, there isn't another hotel with conferencing capabilities in the entire county that comes close to the level of quality the area needs, and certainly not in downtown Ann Arbor.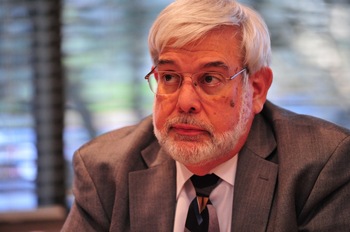 Ryan J. Stanton | AnnArbor.com
"There would be a need that would be filled by having a four-star hotel downtown," Bernstein said, adding it would give those who come to Ann Arbor for multi-day events a chance to venture outside their hotel on foot and explore downtown shops and restaurants.
"While we have two hotels downtown that are wonderful properties, they don't have the conference space to provide the level of service that we need," he said. "In three years at the chamber of commerce, I had folks come to me who were looking for a facility that we didn't have, and this facility is like that. I've spoken to people who run conferences at the university and related organizations, and they have trouble finding conference spaces."
Joe Sefcovic, president of the Washtenaw County Hotel/Motel Association and an Ann Arbor Area Convention and Visitors Bureau board member, said he and several local hoteliers have formed a task force and plan to submit a report to the city soon.
"There's a lot of people opposed to this project for a lot of good reasons," said Sefcovic, general manager of the Holiday Inn on Plymouth Road. "I just think that, based on the track record of city-owned conference centers and hotels, that they're not making any money. And the meetings business is down since 2001 all across the United States, so it doesn't make sense."
With the rise in video conferencing and cutbacks in corporate travel, Sefcovic said hotel occupancy rates in the area are hovering around 60 percent — or barely "break even." Valiant's project, he said, would just pick the pockets of the current hotel community.
Valiant ultimately will need at least eight votes from the 11-member City Council for any kind of deal to happen. As of right now, it doesn't appear to have those votes.
At least four council members — Sabra Briere, Mike Anglin, Stephen Kunselman and Carsten Hohnke — appear unconvinced, and Mayor John Hieftje isn't sold, either.
"I'm not a fan of that proposal," Hieftje said, adding he doesn't think it would work without a commitment from U-M. "I just don't see this conference center proposal being successful without the biggest organization in town committing to using it."
Hieftje's still willing to let the proposal work its way through the process.
"I think it deserves another day here in front of City Council," he said. "Something could come of this that the city could use. But at this point, from what I know about it, I have not been in favor of this and don't see a way for it to be successful."
Council Member Stephen Rapundalo, D-2nd Ward, chaired the advisory committee that recommended the city give further consideration to Valiant's proposal.
"The fact that they're taking on all the risk, I think, is feasibility enough," he said. "They're going to have to get it financed and, if the market doesn't believe that there's a demand, then they're not going to finance the project."
Ted Annis, former treasurer of the Ann Arbor Transportation Authority, said he'd prefer the city reconsider the town square proposal submitted by the Dahlmann Campus Inn last year. Even if Valiant is willing to finance its project without city dollars, he said, he'd hate to see the city hand over such a prime piece of real estate for what he considers a risky project.
"I love my downtown," Annis said. "I have a vested interest. And if the developer fails, I really don't want to see a white-elephant shell sitting on a nice piece of public land that could have been put to a much better community use."
Ryan J. Stanton covers government and politics for AnnArbor.com. Reach him at ryanstanton@annarbor.com or 734-623-2529. You also can follow him on Twitter or subscribe to AnnArbor.com's e-mail newsletters.