Posted on
Tue, Jan 15, 2013 : 5:59 a.m.
New hotel and conference center idea re-emerges for downtown Ann Arbor
By Ryan J. Stanton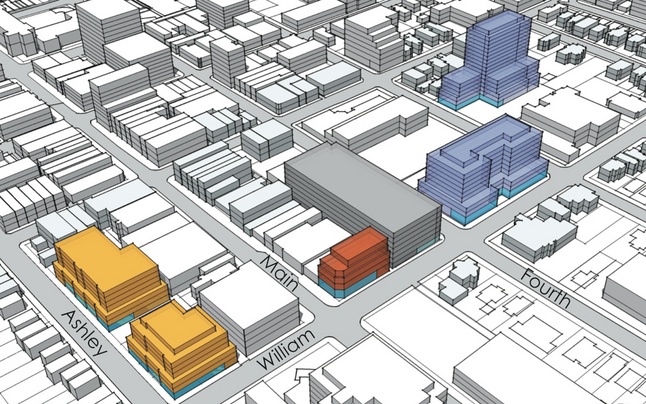 SmithGroupJJR
Related coverage: Ann Arbor DDA lays out plan to make 2 downtown properties a package deal for redevelopment
A longstanding debate about whether downtown Ann Arbor needs a new hotel and conference center re-emerged Monday night during a special City Council work session.
The topic came up when representatives from the Downtown Development Authority presented a new plan for encouraging private redevelopment of five city-owned properties downtown.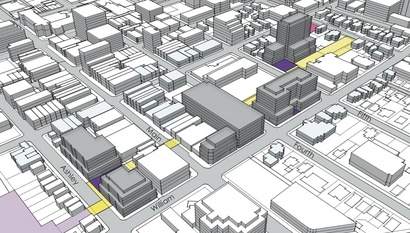 SmithGroupJJR
The final version of the DDA's so-called
Connecting William Street
plan was revised from a
draft released last month
. It now recommends packaging and marketing two properties together — the Y Lot and the Library Lot — with a focus on "lodging or office" for those sites.
DDA Executive Director Susan Pollay introduced Todd Poole, a land-use economist from 4ward Planning LLC, the consulting firm that helped craft the plan.
Based on his firm's analysis, Poole said, it looks as though Ann Arbor might be underserved in terms of hotel rooms and conference center space relative to other Midwestern cities.
"We took a kind of deep-dive look at the inventory that you have in the area," he said. "I'll tell you that you have a number of hotel facilitates that are — I won't call them substandard, but they're old, and they're not the facilities that are going to attract what is not now coming to your downtown."
Poole said he's had conversations with university professionals and industry planners — people who book large events — and there are a number of "society-type meetings" that can't come to Ann Arbor right now simply because the city doesn't have the appropriate size facilities.
"You don't have the scale of facilities necessary to accommodate really large conferences that would come to your downtown and spend money and that sort of thing," he said.
Pollay cited a recent Ann Arbor Area Convention and Visitors Bureau report that indicated Washtenaw County is enjoying its highest hotel occupancy rate in 25 years. In fact, Pollay said, the occupancy rate in Washtenaw County is the highest in the Midwest, including Chicago.
Based on those findings, the DDA suggests in its report that downtown tourism could increase and additional downtown lodging could be supported.
Mayor John Hieftje said he thought the city already settled the debate when it rejected a private developer's proposal for a downtown hotel and conference center in April 2011.
"There was a lot of work done in the community, and I came to the conclusion — and I think other council members, too — that just wouldn't work here," he said.
Hieftje said a conference center might draw activity 60-70 days of the year, but in order to make it viable there really needs to be 300 days a year of activity.
"So I don't think that's going to be a path that we go down," he said, adding the University of Michigan would have to commit to make a downtown conference center work, and he doesn't see that happening since the university already has enough meeting space of its own.
"They have a very big space up at the North Campus Research Complex that they took over from Pfizer, a room that will hold hundreds and hundreds of people," he said.
Poole said he's talked to U-M about that.
"I'm not recommending that you build it," he said of a conference center. "What I'm recommending, though, is that you do a really strong due-diligence study to settle the issue once and for all."
Hieftje said as soon as it became apparent nearly two years ago that the city wasn't going to participate in financing a conference center on the Library Lot, the proposal from New York-based Valiant Partners quickly evaporated, which suggests its viability depended on a city subsidy.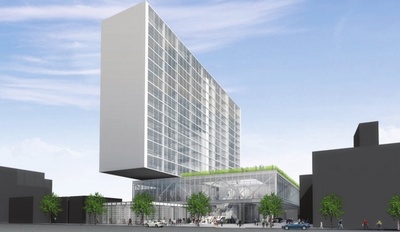 Ryan J. Stanton | AnnArbor.com
Council Member
Margie Teall
, D-4th Ward, said she was in favor of the conference center proposal two years ago and she still thinks it could be "a very exciting development downtown." She wondered if there's a way it could happen without the city being on the hook financially.
Poole said the city shouldn't put out anything more than a "token incentive" such as helping finance project elements that provide public benefits.
"If there is no developer standing in line to do it, then certainly the city shouldn't be trying to incentivize that to happen in a forceful manner," he said.
Hieftje said he already decided a long time ago that a conference center wasn't going to work, and he wondered where Poole's remarks were coming from.
Poole said his firm performed a "cursory lodging analysis," though he said they're "not specialists in lodging." He said there are "demand drivers" and "anecdotal support" coming from people interviewed, such as CEOs of corporations and representatives of educational institutions.
"Ann Arbor is probably underrepresented when it comes to having not just lodging facilities," he said, "but lodging facilities that also have conference space to go with them — again, based on both the corporate presence that you have, as well as the size of your university."
Council Member Sumi Kailasapathy, D-1st Ward, expressed concerns that if a new hotel was built downtown, other hotels could see a drop in business.
Poole said it's not unreasonable to speculate that "maybe one would go under," but he said that's the natural course of events in all businesses.
Council Member Stephen Kunselman, D-3rd Ward, pointed out one of the city's past consultants, the Detroit-based Roxbury Group, said the same thing in 2010 that's being said now — that a hotel and conference center could fill an unmet need in the downtown market.
Ryan J. Stanton covers government and politics for AnnArbor.com. Reach him at ryanstanton@annarbor.com or 734-623-2529. You also can follow him on Twitter or subscribe to AnnArbor.com's email newsletters.