Posted on
Fri, Jul 5, 2013 : 5:55 a.m.
Ann Arbor DDA launches $200K initiative to develop streetscape plan for entire downtown
By Ryan J. Stanton
The Ann Arbor Downtown Development Authority believes an enjoyable pedestrian experience is one of downtown's principal attractions and a necessary element in its social and economic life.
Building on that thinking, the DDA is launching an initiative to develop a Downtown Streetscape Framework Plan, taking a look at what works and what doesn't work on different streets.
"When we've done streetscape improvements in the past, we've looked at a single street or a few blocks of a street," said DDA Treasurer Roger Hewitt.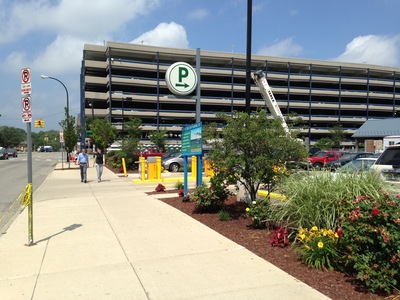 Ryan J. Stanton | AnnArbor.com
"We thought it would be appropriate to step back and look at the entire downtown — how the streets are used by both cars and pedestrians — and come up with a plan identifying what those streets should look like."
The DDA's governing board took action this week to establish a $200,000 project budget for the effort to develop the new streetscape plan over the next two fiscal years.
The money, which is coming from downtown property tax revenues that go to the DDA, is intended to pay for consultants, contingency costs and other related items.
The plan is expected to address "quality of place" in streetscape design, ongoing maintenance issues and matters relating to private development.
Essentially, Hewitt said, the streetscape plan will take a broader look at the downtown and identify what sort of look and feel is desirable on different streets.
Hewitt said that doesn't mean looking at what materials might be used or where every lamp post, sign or bench might go — but what sort of streets they should be.
"Should there be parking on those streets or not parking?" he said. "Should the sidewalks be wider or narrower? Where should loading zones go? Where should taxi stands go?"
He added, "So we would identify four or five perhaps different types of streets in the downtown, and identify which streets would be in which category."
The DDA has reinvested millions of dollars in downtown property tax revenues over the years in transforming downtown streetscapes, including new concrete and brick sidewalks, pedestrian-scale lights, benches, and dozens of new trees and sidewalk trash cans.
Streetscape improvements have been made on Liberty, Washington, Main, Fourth Avenue, Fifth Avenue, Division, State, Maynard, Church Forest, East University, and other streets.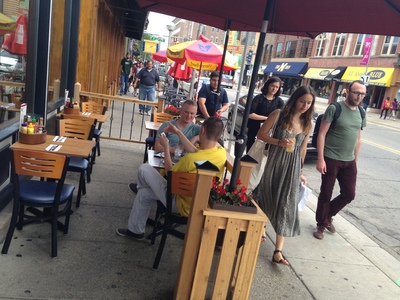 Ryan J. Stanton | AnnArbor.com
DDA officials more recently have talked about
streetscape improvements along William Street
as part of the Connecting William Street Plan, which calls for a more active sidewalk experience.
Though there's been talk of another possible streetscape project on South University Avenue, Hewitt said that's not something the DDA is planning to plunge into right away.
Sandi Smith, who took over as chairwoman of the DDA board this week, said she hopes the larger streetscape planning doesn't keep the DDA from moving forward with streetscape improvements on South Main Street in conjunction with the 618 South Main development.
DDA board member John Splitt said it's his understanding the South Main streetscape work would be done next summer and it's unlikely anything is going to stand in the way of that.
A fair amount of the work on the streetscape plan would be done in-house by DDA and city staff, Hewitt said, though some money would go toward consulting fees.
"We'd certainly be working very closely with city staff, who are also I think very interested in this idea, as well as AATA and the University of Michigan," he said. "This will give us a blueprint, and probably some priorities, on where we should go with streetscapes in the future, and what the general guidelines of particular improvements on a particular street should look like."
Ryan J. Stanton covers government and politics for AnnArbor.com. Reach him at ryanstanton@annarbor.com or 734-623-2529. You also can follow him on Twitter or subscribe to AnnArbor.com's email newsletters.