Posted on
Thu, Nov 29, 2012 : 5:59 a.m.
Ann Arbor DDA in final stages of Connecting William Street plan for five downtown properties
By Ryan J. Stanton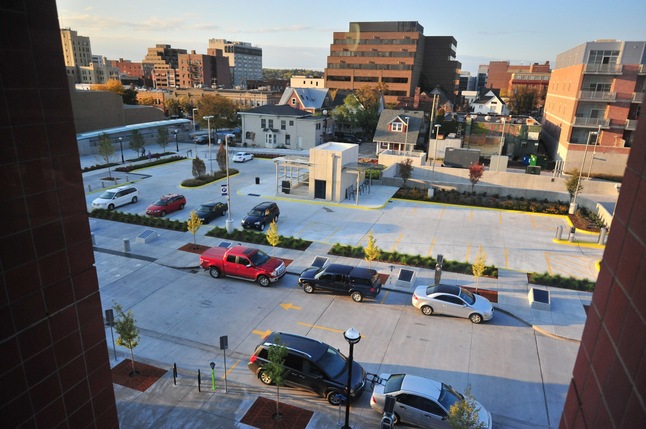 Ryan J. Stanton | AnnArbor.com
After a year of
planning and public outreach
, efforts to devise a strategy for redeveloping five city-owned properties in downtown
Ann Arbor
are nearing the finish line.
A draft framework will be presented at the Downtown Development Authority's meeting on Wednesday, and included will be a recommendation to put the former YMCA property at the corner of Fifth Avenue and William Street up for sale first, said DDA Director Susan Pollay.
"We will be recommending we need to pursue that as quickly as possible as the first site. That includes hiring a broker," Pollay said this week.
That's an idea first put forward by City Council Member Stephen Kunselman, D-3rd Ward, earlier this year. At the time, other council members wanted to wait to hear from the DDA, which has been overseeing a major planning process known as Connecting William Street.
The name derives from the fact that all five properties being studied either directly abut or closely connect with William Street, which the DDA hopes to transform into a more active, pedestrian corridor with ground-floor retail and restaurant spaces topped by new offices and other development.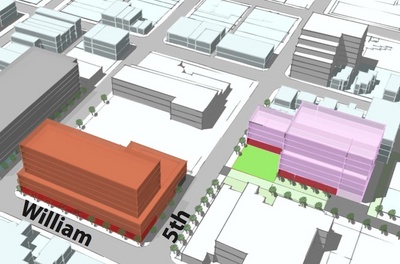 Courtesy of Ann Arbor DDA
The DDA's work on the Connecting William Street initiative this past year has progressed well, Pollay said, and emerging now is a broad vision for what to do with the five city properties. DDA officials believe the Y Lot is a good candidate for a large floor plate office building.
"What the Y Lot contributes to the overall plan likely will be the commercial piece of it — ground-floor retail or restaurant and commercial uses above," Pollay said. "Everything about it seems to work well to have that. Having an office on that location probably will be a good use."
The other properties being looked at include the Library Lot atop the city's new underground parking garage off Fifth Avenue, the ground floor of the Fourth and William parking garage, the smaller Palio Lot at Main and William, and the larger Kline Lot at Ashley and William.
In addition to restaurant, retail, office, residential, lodging and open space uses, the DDA has identified support for some type of cultural or performance arts venue. Pollay said the Kline Lot and the Library Lot are the two properties where the public has indicated that might be best suited.
The DDA and its consultants, working under the direction of the Ann Arbor City Council, are refining a set of recommendations for all five properties. After additional input from the DDA's board and more feedback from the public, a final plan is expected to be presented to council in early 2013.
Pollay said it's likely the DDA's governing board will vote on a set of recommendations on Jan. 2 and those will be presented to the City Council during a Jan. 14 work session.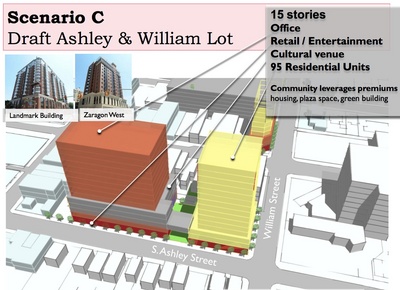 Courtesy of Ann Arbor DDA
"I'm very proud of the DDA and the community," Pollay said. "We obviously are still not done. We need to go to council and hear what they want, and ultimately they are the deciders."
DDA board member Joan Lowenstein, a member of the Connecting William Street leadership and outreach committee, said there have been some surprises during the outreach phase.
"One thing that was interesting was that the people who participated really seemed to want more density than I would have thought," she said. "For example, on the Palio Lot, most people wanted to see a building there and I kind of thought more people would want it to be a very small building, kind of leave it the way it was, but more people wanted kind of a mid-sized building there."
Lowenstein said having some kind of really active retail use on the bottom floor is going to be key for all of the Connecting William Street properties.
"And other than that, it will be just what the market will dictate," she said. "We really don't want to see any more student apartment buildings. Workforce residential, large floor plate office space — those are the things we're really focusing on."
First focus is Y Lot
Given that a $3.5 million balloon payment is due on the Y Lot next December, Pollay agreed with Kunselman's arguments from earlier this year that it makes sense to focus first on selling that property, which the city bought in 2003 with the intention of seeing it redeveloped.
The City Council passed a resolution in October that stipulates the net proceeds from the eventual sale of the Y Lot, after recouping costs, will go to the city's affordable housing trust fund.
Map courtesy of DDA
Hypothetical scenarios the DDA presented to the public back in September showed as many as eight stories of office development with ground-floor retail on the Y Lot. A more ambitious scenario included a 13-story development with 74 housing units and a 330-room hotel.
Pollay said those scenarios are being refined, taking into account a broad range of feedback received over the past several months from various stakeholders. The DDA is aiming to have one or two more opportunities in December for members of the public to provide input.
Lowenstein said the exact process for selling the Y Lot hasn't been decided yet, but she said there would have to be some kind of restrictions on what could happen with it.
"For instance, we would want someone to build pretty quickly," she said. "We wouldn't want somebody to buy it and just hold on to it for years and years."
As for the Library Lot across the street, a grass-roots group called the Library Green Conservancy, which has been at odds with the DDA, still has a goal of seeing a downtown central park developed there. The group argues the DDA in its surveys and scenarios as part of Connecting William Street has excluded the option of a true park space from consideration by the public.
"When people ask for a park in response to a rare open-ended question, their responses are not counted by the DDA," Mary Hathaway, a member of the group, wrote in a recent email to AnnArbor.com. "The time to correct this sham process is now."
The group conducted its own analysis of the open-ended responses in a DDA survey to show there actually is strong support for a public park or open space.
DDA officials say they're cognizant of the need to balance new development and open space. But rather than using the exact word "park," Pollay said, the DDA has been consistent in arguing there should be a substantial amount of "open space." She said that might be better in the form of a plaza space that's open to the public but maintained by private business.
She pointed to Campus Martius Park in downtown Detroit, which is managed by a nonprofit conservancy that secures private funding from the park's neighbors and supporters to operate year-round activities, including a popular outdoor ice skating rink in the winter.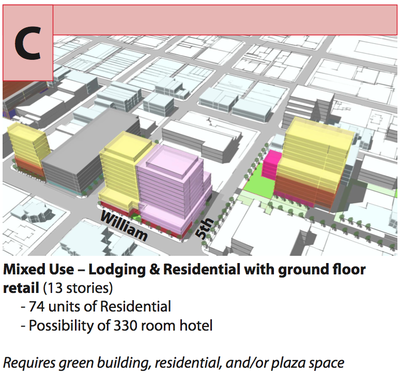 Courtesy of Ann Arbor DDA
No matter what is developed on the Library Lot, DDA and city officials maintain a "no-build zone" on the southwest corner of the site will be a public plaza about 5,130 square feet in size — or 1.25 times the size of Sculpture Plaza at the corner of Fourth and Catherine in Kerrytown.
"A pretty large plaza is going to be planned no matter what, and hopefully whoever purchases that property will be in charge of that so we will have a public space there at no public cost," Lowenstein said, noting Library Lane also could be closed down during events to create more space there.
The three hypothetical scenarios proposed for the Library Lot earlier this year included (a) four stories of office and ground-floor retail, (b) a seven-story hotel development with ground-floor retail, and (c) a 14-story project with office space, 72 housing units and an anchor retail tenant.
Lowenstein said she thinks the Library Green group is overstating the community's desire for a large central park on the Library Lot.
"I think they're kind of drumming it up among themselves," she said. "No one has ever wanted that to be a park — except when we started looking at development there, then that group emerged. I think it's a very small group and I don't think it has widespread support."
Lowenstein said there would be major opportunity costs if the city made the Library Lot a park since millions of dollars already have been invested in foundational support for a large building.
"And these properties are worth millions and millions of dollars to the city," she said, "so the city would have to look at what opportunity would be lost if any of these properties were not developed."
Streetscape improvements needed
While the plan for Connecting William Street counts on private developers investing in new projects on city-owned lots, the DDA knows some public investment will be required, too.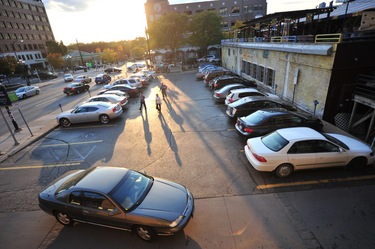 Ryan J. Stanton | AnnArbor.com
"From our side, the DDA has a commitment to making that area development-ready," Pollay said, adding there already have been major upgrades to water and electrical capacity in the area.
Pollay said William Street now could use some streetscape improvements to make it more walkable, and the city might consider adding bike lanes. She said the city also might need to increase the sanitary sewer capacity before a dense housing development could occur along the street.
The DDA might hire a landscape architect firm in 2013 to help come up with a design to improve the streetscape, including adding lights and replacing trees, Pollay said.
Though the Ann Arbor District Library's plans to build a new library at the corner of Fifth Avenue and William Street were shot down by voters on Nov. 6, Pollay said the downtown library will continue to be the prime anchor on William Street and will help attract investment on the city lots.
"It is a library that continues to be an absolute center of gravity in the downtown," she said, adding what the city and DDA do must be supportive of the library's vision.
As for discussions around transforming the Palio Lot or other areas into public plaza spaces, an idea Mayor John Hieftje expressed support for recently, Pollay noted the city's Park Advisory Commission recently held a retreat and one of the topics of discussion was more public open space in the downtown. She said the DDA welcomes any advice from PAC on that.
Ryan J. Stanton covers government and politics for AnnArbor.com. Reach him at ryanstanton@annarbor.com or 734-623-2529. You also can follow him on Twitter or subscribe to AnnArbor.com's email newsletters.