Posted on
Tue, Jan 15, 2013 : 5:58 a.m.
Ann Arbor DDA lays out plan to make 2 downtown properties a package deal for redevelopment
By Ryan J. Stanton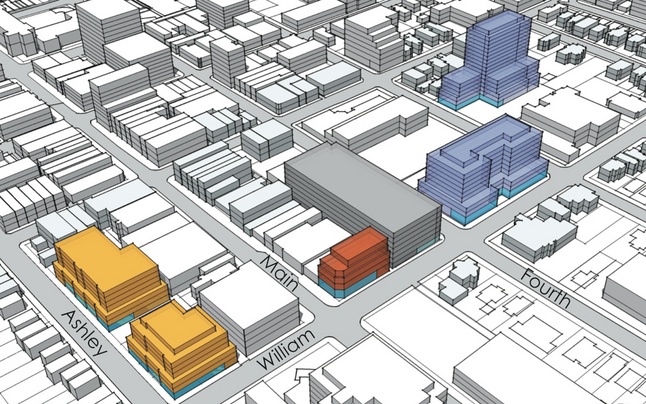 SmithGroupJJR
Related story: Downtown hotel and conference center idea re-emerges as Ann Arbor DDA delivers report to City Council
The Ann Arbor Downtown Development Authority's plan for encouraging private redevelopment of city-owned properties drew mixed reactions from the City Council Monday night.
DDA Executive Director Susan Pollay appeared alongside DDA board members and Todd Poole, a land use consultant hired by the DDA, during a special council work session.
As the first project in the so-called Connecting William Street plan, the DDA recommends the city consider marketing — as a package deal — both the Y Lot at the corner of Fifth and William and the Library Lot above the city's underground parking garage off Fifth Avenue.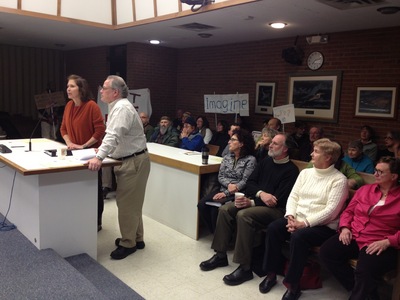 Ryan J. Stanton | AnnArbor.com
The DDA's report indicates the sites provide enough space to accommodate large floor plate office, high-density residential, open space and lodging.
The plan specifically recommends concentrating on high-density, mixed-use developments with a primary focus on hotel or office uses for both sites. Together, development of those sites could serve as a catalyst for the rest of the sites along the corridor, the plan states.
"The current trend from our market study is that mixed-use is in strong demand — residential, office, retail," Poole said. "Office by itself is probably too risky a proposition today."
To solicit developer interest, the DDA proposes a two-phase process — first releasing a request for qualifications (RFQ), and then releasing a request for proposals (RFP) to select developers.
The DDA plans to make clear that as part of any development agreement, the DDA and city would insist on performance requirements to ensure each site is developed to certain standards.
The DDA intends to bring its RFQ and RFP to the city for approval before distributing them to ensure their completeness and alignment with city goals.
Pollay said the DDA also is looking to hire a real estate expert to make sure the city is getting strong responses when it goes out to the development community.
"And we're looking to use a selection committee that would be comprised of people with expertise — bankers, developers, people who do construction, and so forth — to make sure that whomever we're sending proposals to have the qualifications sufficient to actually go forward," she said.
As that process unfolds, the DDA plans to simultaneously develop a streetscape plan for William Street, including sidewalk and roadway enhancements. That could include bike lanes, pedestrian-scale LED lights, seating and more. The DDA would then work to implement plan elements.
"We're going to continue working at DDA on making that sidewalk area better," Pollay said. "We've got most of the infrastructure in. That's part of what we did with Library Lane. We've got one more small section of sanitary (sewer) that we're going to upsize, but generally everything is in place other than the streetscape, and we're going to continue to work on getting that RFQ to the council."
Council Member Sabra Briere, D-1st Ward, told Pollay she feels rushed by the DDA's willingness to move quickly on to the implementation phase.
"I don't think we have consensus around the table, much less in the community at large, that certain uses belong on certain sites," Briere said.
A grass-roots group called the Library Green Conservancy packed the council chambers with residents who want to see a large park developed on the Library Lot.
Residents hissed and waved signs that read "no" during talks of dense development. Mayor John Hieftje tried multiple times to get the residents to quiet down.
Council Member Sumi Kailasapathy, D-1st Ward, said she's concerned the DDA has "totally ignored" residents who've said they want more parks and open space downtown.
"For me, development doesn't always mean how high we can build and how dense a population is — development for me is more holistic," she said, drawing applause from the crowd.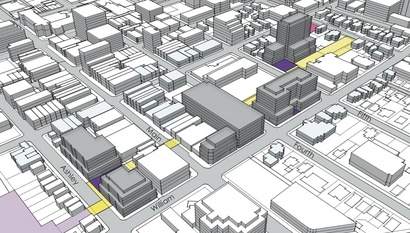 SmithGroupJJR
Council Member
Stephen Kunselman
, D-3rd Ward, received a round of applause from the audience when he expressed disappointment in the DDA's plan, which he called deja vu all over again.
"We've heard all this before," he said. "The RFQ, the RFP — I mean, these things have all been tried and failed, as far as I'm concerned. I was hoping we'd at least get one recommendation that would be 'sell the Y Lot' and I'm not even getting that out of this, so I'm feeling kind of disappointed."
Poole said the idea is to basically entertain a "lead developer" or "master developer" who has the rights and options to develop multiple parcels, depending on how things go with the first parcel.
By packaging multiple parcels, he said, the city is more likely to attract a larger developer who can bring more resources to the table. And it permits the developer to realize certain economies of scale, while also limiting the uncertainty of what might get developed in the area, he said.
"Developers, more than anything, want certainty," Poole said. "They want certainty more than they want incentives. They want certainty more than they want tax breaks."
Poole said Ann Arbor has a reputation among some in the development community as being "radioactive with regard to developers."
"You have to understand, when a developer puts forth a proposal and it's a good proposal, and they're really trying to sell what they're going to do, they've probably put $100,000 or more into proposal," he said. "I know because I've helped them put those proposals together.
"So it is not an easy thing for them to come into a community that has already had unfavorable dealings with the development community."
Kunselman asked why the city wouldn't just put deed restrictions on the Y Lot and the Library Lot and put them up for sale. He frowned upon the suggestion that the city should once again try to partner with a developer, saying "that's one reason why we have this toxic image out there."
"So why would we do that again?" he asked.
Poole used the analogy that the city is in a car that's moving forward, and it can either grab the steering wheel or just go along for the ride and see where it ends up.
"How many times have we gone over the cliff in that car, though?" Kunselman responded, drawing laughs from the large crowd of residents who held up signs opposing the DDA's plan.
Poole said it's his professional opinion that the city would be cheating itself out of value if it decided to sell off the lots it owns downtown, one by one, without a grander plan.
"I don't disagree that you've had some bad breaks in the past," Poole said. "But what I can give you is my professional opinion that to do it in a piecemeal fashion is not going to get you the greatest value you could achieve. And not just money value, but also public benefit value."
Council Member Sally Hart Petersen, D-2nd Ward, echoed one of Kunselman's concerns that the public plaza space recommended for the Library Lot appears too small. Both of them said they want to see it double in size and front Fifth Avenue the full length from Library Lane to Earthen Jar.
Petersen said a plan that showed "the best of both worlds" — development on one side and a large public plaza space along Fifth Avenue — would resonate better with her.
Poole said his market study showed about 500,000 square feet of large floor plate office could be supported in the downtown over the next 10 to 12 years (bringing an estimated 2,500 jobs), along with 1,300 new apartments (in addition to what's already under construction) by 2016.
Poole said he has worked all over from Detroit to Cleveland to New York and Miami and he knows there's interest in building in Ann Arbor.
"I can tell you, developers are clamoring to get in here," he said. "There is no shortage of developers who want to be here. What's preventing them from getting in here is that they don't understand the political landscape enough to know that they're not going to lose their shirt."
Ryan J. Stanton covers government and politics for AnnArbor.com. Reach him at ryanstanton@annarbor.com or 734-623-2529. You also can follow him on Twitter or subscribe to AnnArbor.com's email newsletters.