Posted on
Mon, Mar 12, 2012 : 7:36 p.m.
Ann Arbor fire chief on restructuring proposal: 'The plan is not perfect, but better'
By Ryan J. Stanton
Even with two less fire stations, Fire Chief Chuck Hubbard says Ann Arbor will be better equipped to respond to fires under a reorganization plan he's proposing.
Hubbard said the three-station model will position the city to meet national standards for responding to fires in more areas of the city — though not all.
Asked how well the department does meeting those standards right now, Hubbard responded: "Right now, currently? No, we don't do good with that."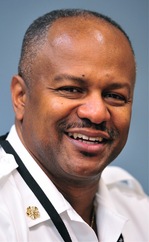 Hubbard presented his plan to the
Ann Arbor City Council
during a special work session Monday night. He spoke with AnnArbor.com beforehand and offered an overview.
"This plan gives the Ann Arbor Fire Department the best opportunity to meet firefighting standards within the current staffing constraints," he said. "It enhances the safety of the citizens and the firefighters and it's better coverage of heavily populated areas with high run volumes."
City Administrator Steve Powers said he's backing the chief's restructuring plan and thinks Ann Arbor will be better served with three fire stations instead of five.
"Chuck has done a very good job of looking at different delivery of services, consolidating our resources to better serve the community," he said. "We can still serve the community."
Hubbard's presentation to council included a series of maps of Ann Arbor with the locations of 681 actual fires from the last 10 years plotted as red dots (see maps below).
Hubbard's restructuring proposal is aimed at getting the department closer to meeting national standards, including the National Fire Protection Association recommendation that four firefighters should arrive at a fire within four minutes 90 percent of the time, and 15 firefighters should arrive within eight minutes 90 percent of the time.
The Occupational Health and Safety Administration's "two in, two out" law requires four firefighters to be on scene before anyone can enter a burning building.
Under the current five-station model, the maps show the city with the ability to get four firefighters on scene within four minutes 36 percent of the time and a full alarm assignment of 15 firefighters in place within eight minutes 40 percent of the time.
Under the three-station model, those percentages improve to 72 percent and 53 percent, respectively, which still fails to meet the national standards.
"The plan is not perfect, but better," said Hubbard, who pointed out University of Michigan properties would be better protected under the proposed model.
The reason three stations are better than five, Hubbard said, is because the city currently only has enough staffing to keep three firefighters on at each of its five stations, with the exception of the downtown headquarters which also has a battalion chief on hand.
Under the three-station model, Hubbard said, the department's resources would be bunched up, allowing the department to send, at a minimum, a four-person crew to a fire all at once — instead of two separate three-person trucks coming from different stations.
Hubbard said there would be six firefighters and one battalion chief at Station 1 downtown, six firefighters at Station 2 at Stadium and Packard, and four firefighters at Station 5 off Plymouth Road near the University of Michigan's North Campus. In most cases, it would still be two three-person trucks arriving at a fire to meet the four-person requirement in under four minutes, but they'd gain the efficiency of coming from the same station.
As far as equipment, the proposed restructuring plan calls for positioning two engines, one tower, one mini pumper and one battalion chief at Station 1. Another two engines and one mini pumper would be kept at Station 2, and one ladder truck would be at Station 5.
Powers said the city has no plans to dispose of the city properties where fire stations are expected to close, so the city has flexibility to change course if the plan doesn't work.
"If it appears that we're getting there and things are not working the way I think they should be working, that'll be something we'd have to look at," Hubbard said. "Me being in the business for the last 26 years — I've been on those trucks, I've been to many fires, and I know what it takes to do those operations — I'd be really surprised if this didn't work out well."
Powers said he anticipates a July 1 implementation of the new three-station model. He said there are some contractual changes in the collective bargaining agreement with the firefighters union that the city will be asking for to assist in making the transition.
Powers and Hubbard say they're looking for direction from the City Council on the restructuring plan, but it doesn't require a resolution from council. Rather, it'd be an assumed administrative change as part of the budget for the next fiscal year starting July 1.
Hubbard said the restructuring plan isn't designed to cut costs, but rather more effectively deploy the department's existing resources.
He noted a new contract with the firefighters allows the department to move to a new 54-hour work schedule, which reduces the number of firefighters off duty each day and allows the city to keep more trucks in service and reduce overtime. The department had been operating on a 50.4-hour work schedule that resulted in more firefighters off duty.
Tom Crawford, the city's chief financial officer, said the new contract with the firefighters union that awaits city council approval will increase the fire department's annual costs by about $200,000 next year. The contract includes concessions on health care but an increase in wages and more work hours for firefighters.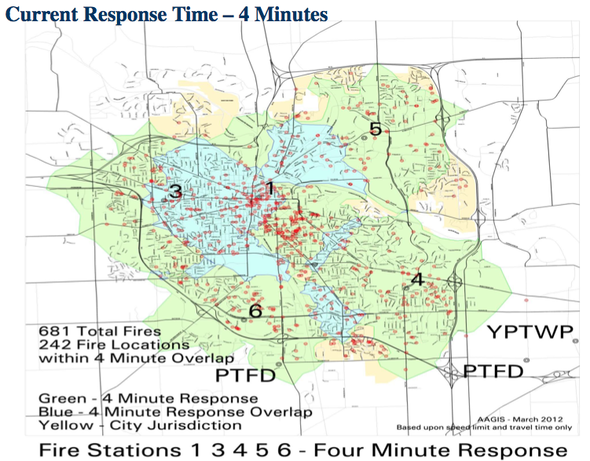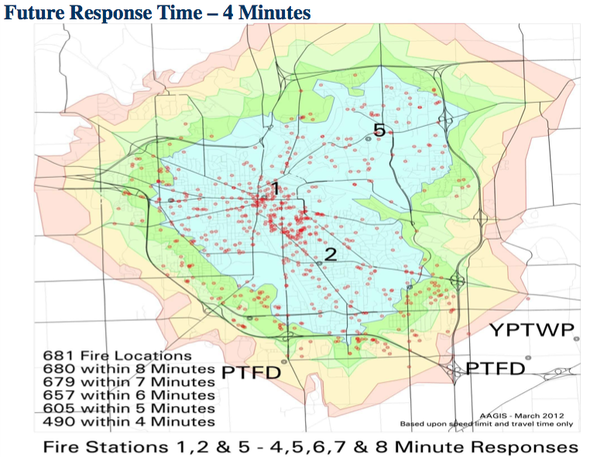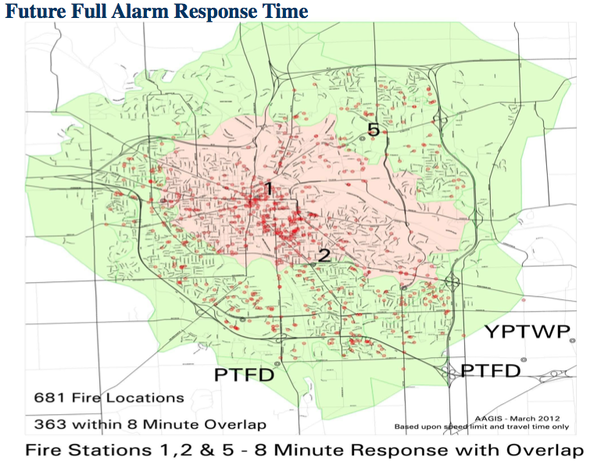 Ryan J. Stanton covers government and politics for AnnArbor.com. Reach him at ryanstanton@annarbor.com or 734-623-2529. You also can follow him on Twitter or subscribe to AnnArbor.com's email newsletters.