Posted on
Sun, May 12, 2013 : 2:06 p.m.
Ann Arbor graffiti case: Teen violated order, will appear in court Wednesday
By John Counts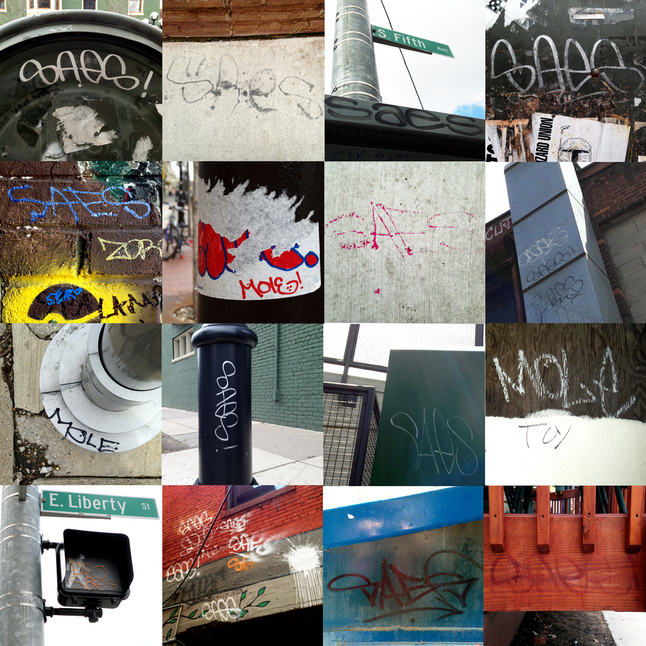 Melanie Maxwell | AnnArbor.com
The 15-year-old Community High School student accused of spray painting his moniker SAES all over Ann Arbor violated a court order three days after he was placed under house arrest and is now being held at the Washtenaw County Youth Home, court records indicate.
He is scheduled to next appear in the Washtenaw County juvenile court Wednesday.
While under house arrest, the boy was still allowed to go to school. On April 29, he was not in class when he was supposed to be, according to court records. The court order came down April 26.
The GPS on his tether showed that "he was in a different place than he was reported by his parents to be," according to the records.
"His whereabouts were unknown," was written on the order remanding him into custody.
He was held in the youth home until May 3, when he was brought to a court hearing where the referee decided the teen should remain at the detention center. At that time, the referee set a hearing date for May 15.
The 16-year-old Pioneer student accused of being behind the graffiti tag "Mole" is scheduled to appear in court Monday. He is charged with 11 counts of various destruction of property charges.
The 15-year-old faces 16 counts. Police said the boys are friends. Mole and SAES graffiti tags can be seen on dozens of buildings, overpasses, light poles and other locations around Ann Arbor.
Police filed petitions for the two boys in April after linking them to the graffiti. A juvenile court referee subsequently put both of them on house arrest and nighttime surveillance as their criminal cases went through the judicial system. Both boys were fitted with tethers.
Police also continue to investigate the graffiti painted at the Artrain site on North Main Street earlier this month.
Six rail cars at the Artrain site along North Main Street were vandalized between 1:30 a.m. and 10 a.m. on April 13 causing approximately $60,000 in damage. The vandals tagged the cars with "Clams," "Raw" and "Hash."
Crime Stoppers is still offering a $1,000 reward for information regarding graffiti and vandalism at the Artrain site. Anyone with information is encouraged to call Crime Stoppers at 1-800-SPEAK UP (773-2587).