Posted on
Fri, Oct 26, 2012 : 1:30 p.m.
Zingerman's, nonprofit among donors giving thousands to campaign for new downtown Ann Arbor library
By Ryan J. Stanton
Editor's note: This story has been updated with information from the Protect Our Libraries campaign finance report that was filed Friday afternoon.
Nearly $71,000 in cash donations from individuals, businesses and a nonprofit group have been poured into the campaign to build a new library in downtown Ann Arbor.
The single-largest contribution came from the nonprofit Friends of the Ann Arbor District Library, which put $25,000 into the campaign.
Other major donors include Zingerman's Bakehouse Inc. ($5,000), Detroit-based law firm Dykema Gossett ($5,000), Library Board Member Prue Rosenthal ($5,000), Campaign Committee Chairwoman Ellie Serras ($5,000) and Bank of Ann Arbor ($3,000).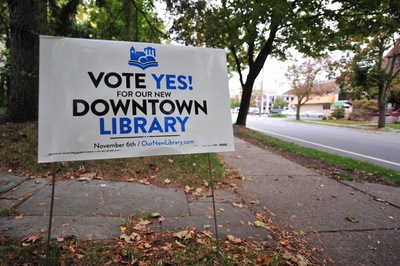 Ryan J. Stanton | AnnArbor.com
The
Our New Downtown Library
committee, which is supporting a $65 million bond proposal on the Nov. 6 ballot, reported those contributions in campaign finance statements that were due Friday. Additionally, the group reported nearly $9,000 worth of in-kind contributions.
The Ann Arbor District Library is asking voters to approve a $65 million bond proposal for construction of a new downtown library at the site of the current library at Fifth Avenue and William Street.
The estimated millage to pay off the bond is 0.56 mills, which would last for 30 years and cost the owner of a home with a $100,000 taxable value about $56 a year.
As of Friday afternoon, the LOL=Love Our Library committee, which is opposed to the bond proposal, had not yet filed a campaign finance report.
The Save the Ann Arbor Library committee, another anti-bond group headed up by local resident Doug Jewett, reported $2,842 in contributions, all of which came from Jewett's own pocket.
He spent the money on balloons, bumper stickers, yard signs, pins, business cards, rubber bands, mailings, sidewalk permits and liability insurance.
The Protect Our Libraries committee, another anti-bond group headed up by Kathy Griswold, reported $700 in itemized cash contributions plus $49 in in-kind contributions, while spending more than $7,700 — leaving a large debt owed for money spent mainly on yard signs and postcards.
Only eight people made donations to Protect Our Libraries committee that were reported, including $100 from incoming City Council Member Sumi Kailasapathy.
The Our New Downtown Library committee had spent nearly $48,000 as of the end of the latest reporting period, leaving it with more than $23,000 in cash on hand.
Other donors to the bond campaign include investor Peter Heydon ($2,500), Edward Surovell Realtors ($2,000), Library Board Member Edward Surovell ($1,000), Nustep Inc. owners Dick and Norma Sarns ($1,500), Barbara Kessler and Dick Soble ($1,000), Library Director Josie Parker and her husband Robert ($1,000), and Downtown Development Authority Chairwoman Leah Gunn ($1,000).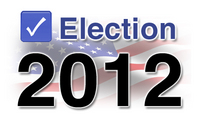 Ann Arbor resident
Dave Cahill
, a former Library Board member who is against the bond proposal, said some of the contributions to the Our New Downtown Library group raised his eyebrows, including the money from Friends of the Ann Arbor District Library and Dykema.
Cahill questioned accepting money from the Dykema law firm, which does legal work for the AADL. He believes Dykema will benefit financially if the ballot question passes because it will have to write or review many construction contracts for the new library.
Cahill also complained the FAADL's membership was not polled before $25,000 was contributed to the bond proposal campaign.
"Instead, the board alone voted to make this large contribution," he said. "The people who donate to FAADL have no way of knowing that many of their donations have been diverted to a ballot question committee. This contribution is so large that it could fund a mayoral campaign."
The FAADL is a nonprofit organization that raises funds for the library largely through the sale of books donated by the public.
FAADL President Pat McDonald could not be reached for comment, nor could Serras or Gunn, who are on the Our New Downtown Library committee.
Ryan J. Stanton covers government and politics for AnnArbor.com. Reach him at ryanstanton@annarbor.com or 734-623-2529. You also can follow him on Twitter or subscribe to AnnArbor.com's email newsletters.