Posted on
Wed, Mar 7, 2012 : 1:32 p.m.
Ann Arbor firefighters OK 'significant' contract that avoids further cuts to department
By Ryan J. Stanton
Ann Arbor officials announced a breakthrough labor agreement with the city's firefighters union on Wednesday and they now say further cuts to the department can be avoided.
After two years of negotiations with the International Association of Firefighters Local 693, city officials are reporting that a new contract for firefighters through June 2014 has been successfully negotiated and ratified by the union's membership.
A resolution to accept the terms of the contract, which includes benefit concessions but increases in wages, will be considered by the Ann Arbor City Council on March 19.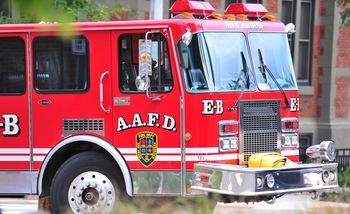 Ryan J. Stanton | AnnArbor.com
Mayor
John Hieftje
called the news of the agreement "significant" and said it means all of the city's labor contracts are settled now.
"This was a breakthrough in the relationship," he said, recalling the city had been in arbitration with the union. "Both sides agreed to step out of the arbitration, which is bound by a pretty strict set of a rules, and talk and that turned out well."
Hieftje said he's going to work to avoid planned cuts to the fire department that were included in the projected budget for the fiscal year starting July 1, including five position eliminations.
He said he hopes the labor agreement "heralds a fresh start" for relations between the city and firefighters, relations that have been contentious the last several years as the city has cut deep into the fire budget and eliminated a number of positions.
"The terms of the new contract provide flexibility, enhance operational efficiencies and improve fire protection services," Hieftje said in a written statement. "My thanks go to the members of Local 693 for sticking with the negotiation process and seeing it through."
Fire Chief Chuck Hubbard also released a statement saying there was tremendous tension between the city and firefighters when he came on as chief.
"One of my main goals was to bridge that gap," he said. "This settlement definitely moves us in that direction and I commend everyone on the negotiating team who worked toward this goal."
Union President Matt Schroeder said citizen and firefighter safety is the union's No. 1 concern and the new contract affords the city the ability to meet those expectations.
"We are pleased to have the opportunity to work collectively with city leadership and to continue to forge a stronger working relationship in the future," he said in a statement.
Robyn Wilkerson, the city's labor relations director, and Nancy Niemela, senior assistant city attorney, head up the negotiations team for the city of Ann Arbor.
The contract includes benefit concessions that are similar to the contract terms ratified by seven other union groups in city, including adoption of the city's new health care plan, elimination of a deferred compensation match, new hire pension changes including 10 year vesting, and adoption of a defined contribution retirement health care program.
Other highlights of the contract include:
24-hour employee food allowances will be reduced by 40 percent
The fire department will move to a standardized 54-hour work schedule and reduce the number of employees allowed on vacation or comp time each day, which will increase staffing per shift
Employees will receive a 1.5 percent wage increase in fiscal year 2012-13 and a 1.5 percent wage increase in 2013-14, which will return compensation to July 1, 2008 rates
Increased authority provided to the fire chief in the promotional process, which had previously been based on seniority only for many positions
Reduce paper costs and implementation of green procedures via mandatory direct deposit of paychecks and electronic distribution of union contract and departmental rules
New hire compensation plan for all positions
Hieftje said he's expecting fire department budget talks to pick up Monday night and he'll be pushing for the replacement of the department's out-of-service tower truck.
"I would like a new one as soon as possible," he said, adding it could cost close to $1 million. "And I think the chief would like to get some smaller pumpers as well."
Ryan J. Stanton covers government and politics for AnnArbor.com. Reach him at ryanstanton@annarbor.com or 734-623-2529. You also can follow him on Twitter or subscribe to AnnArbor.com's email newsletters.