Posted on
Wed, Jan 19, 2011 : 6:05 a.m.
Ann Arbor officials extend moratorium on medical marijuana dispensaries two more months
By Ryan J. Stanton
The Ann Arbor City Council once again delayed voting on medical marijuana regulations Tuesday night, instead extending a moratorium on new dispensaries for two more months.
The decision to postpone the vote on a new licensing ordinance for marijuana businesses — which is still at first reading — came following a back-and-forth debate over what information should be required on applications for annual licenses.
Nearly two hours into the meeting, as several cannabis advocates watched from the audience, Mayor John Hieftje acknowledged it has taken Ann Arbor longer than other municipalities to come up with its own local regulations for the budding pot industry.
"We are going to be extremely careful that we craft some legislation that we believe is going to best serve the patients and the caregivers — and anyone who is involved in what is for our state, certainly for our community, a new endeavor," Hieftje said. "I'd much rather get this right than get it done in any sort of a hasty fashion."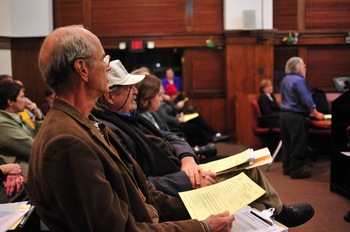 Ryan J. Stanton | AnnArbor.com
The city has had a temporary moratorium on new dispensaries since last August while officials work out separate zoning and licensing ordinances.
There are at least a dozen and possibly as many as 18 dispensaries and cultivation facilities in Ann Arbor, according to estimates by city officials and those in the industry locally.
The council voted 10-0 Tuesday night to postpone considering the licensing ordinance until Feb. 7 and to extend the moratorium — which would have expired Jan. 31 — another two months to March 31. Approval of the zoning ordinance also has been pushed back.
As it's now drafted, the licensing ordinance states no person with a felony conviction may operate a dispensary or cultivation facility. In the first year, dispensaries in Ann Arbor would be capped at no more than 20 and cultivation facilities at no more than 10.
Dispensaries would be required to have security cameras, an alarm system and a safe for overnight storage of marijuana and cash, and could not do business from 9 p.m. through 7 a.m.
Marijuana would have to be packaged with a label that includes the patient's name, the name of the business providing the marijuana, the date of delivery, weight, type of marijuana, dollar amount of the sale, and a warning that health risks could be involved.
Council Member Sabra Briere, D-1st Ward, proposed an amendment during Tuesday's meeting that would have changed what information is required on license applications.
The proposed ordinance states applications must include the name, address and other contact information of all owners of a dispensary or cultivation facility, as well as others who have an interest in the operation, including business managers. Briere proposed exempting those people who may also be patients or caregivers under the state's medical marijuana act.
"It should not be necessary for somebody to have every aspect of their life in public if they are running a medical marijuana dispensary," she said.
Briere failed to get support from any other member of council except for Sandi Smith, D-1st Ward. Council Member Margie Teall, D-4th Ward, was absent.
Briere said her concern — one shared by medical marijuana advocates — is the city might inadvertently compile a list of names of patients and caregivers that could end up in the hands of federal authorities. She said they should be able to maintain their anonymity.
"Anonymity from what? What are they trying to hide?" said Council Member Stephen Rapundalo, D-2nd Ward, who strongly disagreed with Briere.
Rapundalo said he saw "no issue whatsoever" with requiring stakeholders in a marijuana business to list their names on an application. If they're following state law and operating a legitimate business, he said, they should have nothing to worry about.
"I mean, all we're asking for is who's the owners? That's it," he said. "I don't see what we're trying to protect here. What kind of rights would we be violating of theirs?"
Hieftje agreed the owners of a dispensary should be identified, at the very least, so it's clear who the responsible party is if someone gets sick from the product and wants to sue.
At the start of the discussion, Briere handed out a one-page sheet containing several amendments she planned to bring forward. But any push to have the council rewrite the ordinance on the fly was cut short when council members decided it wasn't the best approach.
"This is now the second time we've had a series of amendments on the fly," said Council Member Tony Derezinski, D-2nd Ward.
Council members instead agreed to submit all proposed changes and questions to the city attorney's office for review in advance of the council's next meeting.
Four medical marijuana advocates, including Dennis Hayes, addressed the council during public input at the start of Tuesday's meeting.
"This is a law that is designed to help patients and to assist the caregivers who provide care for the patients," Hayes said, referring to the state's medical marijuana act.
Criticizing in particular the rule that a patient's name must be on a label, Hayes said the city's proposed regulations were "totally contrary" to the community's history and tradition of tolerance toward medical marijuana.
Chuck Ream, a longtime medical marijuana advocate who opened a dispensary on Packard Road near Iroquois Place last year, questioned part of the ordinance that states dispensaries must keep records of who they receive marijuana from and must make those records available to the city "upon request." He called that "chilling" and "illegal."
"As we speak, the feds are already going after the records of patients and caregivers in Michigan," Ream told council members.
Gersh Avery, a medical marijuana advocate from Dexter, agreed any collection of lists would be attractive to federal officials.
Ryan J. Stanton covers government and politics for AnnArbor.com. Reach him at ryanstanton@annarbor.com or 734-623-2529.