Posted on
Fri, Jan 27, 2012 : 5:58 a.m.
Ann Arbor officials doing 'whatever it takes' to resolve fence fight with homeowner
By Ryan J. Stanton
Louis Breskman's battle with the city of Ann Arbor sounds a little like the story of David and Goliath, but the homeowner says he's not expecting to slay the mighty giant.
He believes he's out-matched against a deep-pocketed city government with a team of professional attorneys.
But how much has the city actually spent fighting the guy who caused a fuss last summer by installing a split-rail fence on his property in the Old West Side Historic District?
As far as pay for city employees goes, somewhere in the range of $1,500 to $2,000 is a good guess, according to Assistant City Attorney Christopher Frost, who estimates he has spent about 50 hours working on the case and defending the city's position.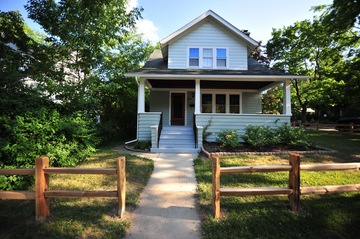 Ryan J. Stanton | AnnArbor.com
That's more than the $1,200 Breskman said it cost him to have the fence installed, and the irony now is the money the city has spent trying to get the fence removed could have covered the cost of installing a new fence conforming with historic district standards.
But, city officials point out, they're not in the business of buying fences for people, and they have a legal obligation to enforce the rules of the historic district.
Arguing split-rail fences in front yards are incompatible with the historic character of the district, the city's Historic District Commission last July ordered Breskman to remove the fence.
Breskman, who installed the fence without a permit, said he asked the city to at least help pay for the removal, but the city refused, and Breskman eventually appealed the decision.
That took the case before an administrative law judge in Lansing this past fall where sworn testimony was heard from both sides. A settlement still hasn't been reached.
"These administrative appeals are typically comparable to the initial stages of a civil trial, involving legal and factual research, briefs, witness preparation, and a court hearing," Frost said. "An average time for this type of work would likely be around 50 hours, which is probably a reasonable estimate for our office's time spent defending this appeal."
Based on salary records reviewed by AnnArbor.com, 50 hours of the assistant city attorney's time is worth nearly $1,400 — before considering the cost of employee benefits and other overhead charges the city would factor in if billing a third party for services rendered.
That's also before adding in several hours spent on the case by the city's planning staff, including City Planner Jill Thacher who went to Lansing to testify. City officials can identify at least seven hours that Thacher spent working on the case.
Factoring in all city staff time, $1,500 to $2,000 is probably a fair total estimate of the salary costs to defend the appeal, city officials said.
"It's one of those things that, on the face of it, seems ludicrous — why can't the guy put up a fence, and why would the city contest it in court? — but you have to look deeper," said Mayor John Hieftje, who sees both sides of the issue.
"If you choose to move into a historic district, then you're acknowledging you're going to live by the rules of the historic district," he said. "That's the way it is."
Ann Arbor takes historic preservation seriously, with about 1,800 properties included in 14 historic districts throughout the city.
Wendy Rampson, the city's planning manager, said the city is legally bound to defend the rules of the historic district and doesn't have much latitude to let things like a non-conforming fence slide, though there is some discretion on the HDC's part.
"We're obligated by state law and the city ordinance to uphold the decision of the HDC, so that's why our attorneys spent time going before the administrative hearing judge," she said. "We do enforcement on an as-needed basis. We do whatever it takes to resolve the issue."
Rampson said a number of nearby residents tipped city officials off to the fact that Breskman was installing a non-conforming fence without a permit last summer. She said the city issued a "stop work" order when the fence was half-installed but it was ignored.
"They, on their own, opted to proceed and finish the fence — over a stop work order," she said. "So there was that preliminary opportunity for the property owners to make it right."
Hieftje said the City Council legally couldn't intervene if it wanted.
"Not everybody understands that the City Council cannot legally overrule the Historic District Commission, so maybe we don't have a choice on this particular one," he said.
"People really respect their historic districts," added Hieftje, who lives in a 1912 house but not in a historic district. "And if you look at property values in historic districts, they tend to be higher than outside historic districts, so people have a lot of investment there."
And many residents in those districts, he said, want the rules strictly enforced.
Ryan J. Stanton covers government and politics for AnnArbor.com. Reach him at ryanstanton@annarbor.com or 734-623-2529. You also can follow him on Twitter or subscribe to AnnArbor.com's email newsletters.