Posted on
Mon, Sep 17, 2012 : 5:56 a.m.
Why does Ann Arbor keep landing on 'best of' lists that touch every aspect of life here?
By Kellie Woodhouse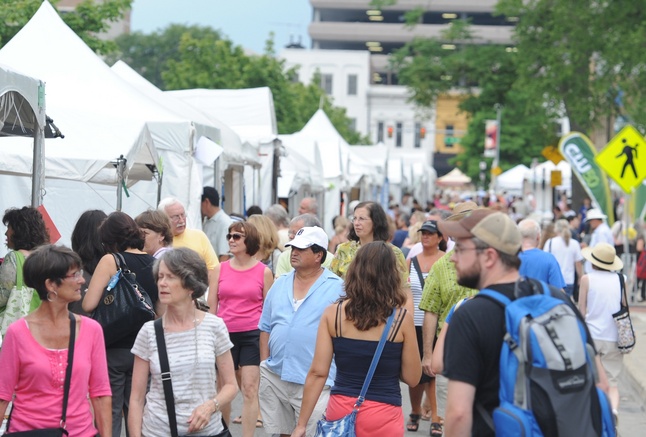 Angela J. Cesere | AnnArbor.com
Best place to raise a family, best place to be single, best place to retire, best college town, best main street, best
foodie
town....
Are you exhausted yet?
Let's admit it, Ann Arbor is a great town, but these lists are getting ridiculous.
Recently Ann Arbor was ranked the No. 9 college town in America by Livability.com. Oddly enough, it was named the 10th-best college town in the country by the Princeton Review less than a week earlier. U.S. News and World Report, Forbes magazine, Away.com and the American Institute for Economic Research, among other publications, have also highlighted this city as being one of the best college towns in America.
In fact, it might be hard to find something Ann Arbor has not been ranked for.
Why do we appear on these lists so often? It could be that Ann Arbor is just that awesome or that the lists work like a snowball, gathering mass as they roll steadily downhill. But I'll get to that later — first let's survey the list mania that has more or less touched on every aspect of Ann Arbor.
Let's see: Are we a happy populace? Yup, according to The Daily Beast we're the fifth-happiest city in all 50 states. Is this a good place to get a job? Heck yes. According to U.S. News, Ann Arbor is the seventh-best city for finding a job and, according to The Atlantic Cities, the eighth-best city for recent college graduates.
Okay, okay. But are we smart? Yes, of course we are. Forbes in 2011 rated us as one of the geekiest towns in the U.S. (No. 16), U.S. News in 2011 rated us as the second most-educated town in the country, Amazon this year praised us for being the fourth best-read group of literates in the nation, and the Daily Beast in 2011 said we were the fourth-smartest college town in existence.
Is your head inflating?
So we're smart. But are we fun? According to the Princeton Review's recent rankings, students love to pack Michigan Stadium. American Style Magazine in 2011 dubbed Ann Arbor the sixth-best midsize "art destination" in America and the Daily Beast in 2012 said we were the fourth most-creative city in the country. And don't forget how happy we are (No. 5) and how easy it is to be single here (Kiplinger this year ranked Ann Arbor as one of the 10 best cities for singles).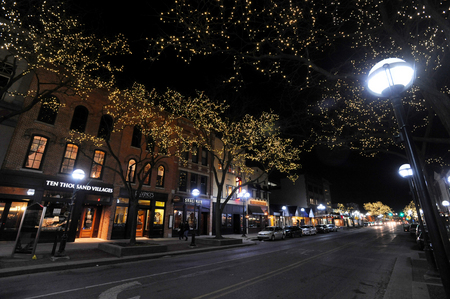 Melanie Maxwell | AnnArbor.com
Well geez, everyone must be flocking to Ann Arbor, bringing up the cost of living, right?
Wrong, and there's a ranking to prove it. MSN Real-estate ranked Ann Arbor one of the most affordable places to live (No. 6) in 2011. And you can grow old here too. The Milkin Institute recently ranked Ann Arbor the seventh-best city for successful aging and in 2011 Forbes listed this city as one of the best places to retire in the country.
If you don't want to grow old here, well, that's OK. This year Parenting Magazine ranked Ann Arbor as one of the best places to raise your family and educate your kids. Not ready to raise a family? No problem, ride a bike. Ann Arbor is ranked among the 50 most bike-friendly cities in the country (No. 39.)
Fear of bikes? Fine, take a walk. According to the Pedestrian Bicycle Information Center, Ann Arbor is a gold-level "walk friendly community."
If you don't want to live, work, raise a family, or grow old here, then visit. Travel & Leisure Magazine and Frommers, among countless others, have named Ann Arbor as a top vacation destination.
Whew. That was tiring. And I haven't even touched on how Ann Arbor is one of the gayest and dog-friendliest and sportiest towns in the U.S. (so say the rankings.).
University of Michigan director of community affairs Jim Kosteva recently joked that Ann Arbor's next ranking might possibly fall along the lines of "the seventh-best city for left-handed female entrepreneurs."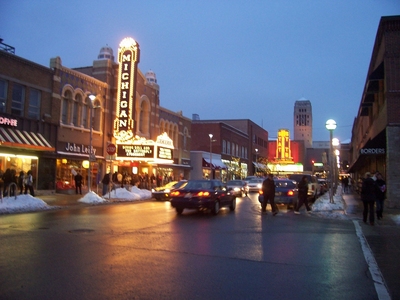 A photograph of Liberty Street in Ann Arbor showing the Michigan Theater, the State Theater and Borders Books during a winter evening. This photograph is from wikipedia commons.
Hey, it's possible.
"It seems like every day there is another one," says Ann Arbor Visitors Bureau communications director Sydney Hawkins.
Hawkins isn't complaining. The rankings give Ann Arbor visibility, and a visible town means more visitors, and more visitors mean more revenue for local businesses.
But when you look at all of the rankings compiled —family, retirees, singles, students, kids, professionals— the lists beg the question: How could one place be the best for everything and absolutely everyone?
Hawkins admits that the thought has crossed her mind: "How could that necessarily be the case?" she asks.
So how is it that Ann Arbor is constantly featured on these lists? It's probably a mix of three things.
Thing one: Ann Arbor, simply put, is a cool town.
Thing two: Product placement. Ann Arbor has been featured on Pure Michigan ads, including ones that are broadcast throughout the nation. Additionally, the Visitors Bureau keeps in contact with travel writers and many list-keepers, making sure Ann Arbor is never far from their mind.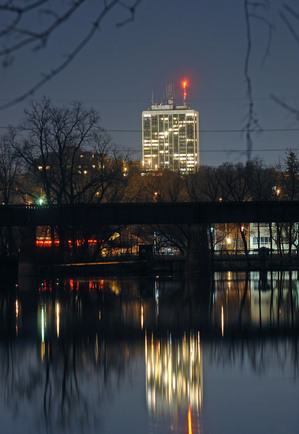 Mark Bialek | Contributor
Thing three: The snowball effect. If Ann Arbor makes it on one credible ranking, the pile on will follow soon afterward. For example, Ann Arbor recently ranked highly on the Gallup-Healthways Well-Being Index, which studies the healthiness and lifestyle of a city's populace using scientific and measurable data. After that rating, Ann Arbor began popping up on lists all over the stratosphere.
"It kind of sparks a chain reaction," Hawkins said. "When people are looking for places to put on a list, they look a little bit harder at Ann Arbor because it's already on a list."
The exact combination of these factors, however, is unknown.
Yet the result is clear: Ann Arbor is a city plagued by lists and harassed by list-makers and just plain afflicted by being so utterly mind-blowing it can't possibly be ignored.
It might be tempting, in that case, to rank Ann Arbor as the most-ranked city in the nation. But that wouldn't get us anywhere, would it?
Kellie Woodhouse covers higher education for AnnArbor.com. Reach her at kelliewoodhouse@annarbor.com or 734-623-4602 and follow her on twitter.