Posted on
Mon, Sep 19, 2011 : 2:55 p.m.
Ann Arbor police begin ticketing motorists who don't stop for pedestrians
By Ryan J. Stanton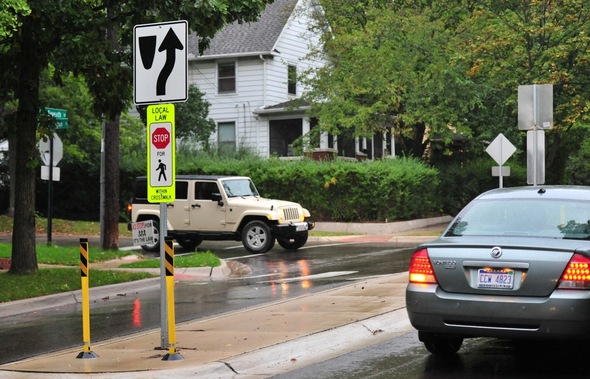 Ryan J. Stanton | AnnArbor.com
A silver Toyota Camry cruised through the blinking yellow light at the intersection of Seventh and Washington streets in Ann Arbor shortly after 8 a.m. today.
Normally that's not a problem. But the fact that a pedestrian was waiting in the rain to cross at the marked crosswalk meant the woman in the car just violated a city ordinance.
The chase was on.
"She's getting a ticket," Ann Arbor Police Officer Trudy Sahr said after shifting her unmarked patrol car into gear and catching up to the Camry, headed southbound on Seventh.
A short while later, Sahr handed the woman a ticket.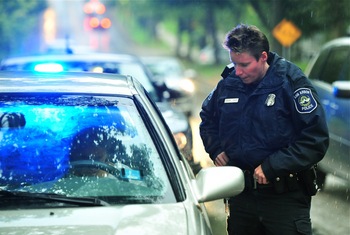 Ryan J. Stanton | AnnArbor.com
Under Ann Arbor's new
pedestrian safety ordinance
, the penalty for not stopping for pedestrians approaching a crosswalk is a $100 fine and two points on a driver's license.
The Ann Arbor City Council approved the ordinance in July 2010, hoping to make it safer for pedestrians to cross busy city streets. Following more than a year of educational efforts, the city's police department officially began enforcing the ordinance on Sunday.
"Our whole department has been advised to start enforcing the new local ordinance," said Sahr, one of multiple officers out in patrol cars this morning observing crosswalk behavior as part of a ramped-up enforcement effort expected to last two weeks.
"It's going to go for two weeks where we have officers who are going to be throughout the city, working certain intersections to watch for pedestrians crossing," she said. "Our primary focus with this enforcement detail is safety. We want the citizens to be able to cross safely."
Sahr said the woman she ticketed this morning, an Ann Arbor resident, seemed confused when told she violated city ordinance for not stopping.
"She saw the flashing light, thinking it was OK to go," Sahr said after writing the ticket. "She thought that there would be a light to make her stop if there was a pedestrian crossing. I informed her otherwise."
The pedestrian safety ordinance makes it the obligation of motorists to yield to pedestrians at any crosswalks — even if the pedestrian hasn't yet entered the crosswalk. State law only requires motorists to stop for a pedestrian already in a crosswalk.
Erica Briggs, a city planning commissioner and board member for the Washtenaw Bicycling and Walking Coalition, lobbied for the ordinance last year. Briggs said she's seen a notable shift in motorist behavior as more people become educated about the ordinance.
"I was out doing some observations at the Plymouth Road crosswalk on Friday and I had done that in April," she said. "It was remarkable to see the shift in motorist behavior, particularly by fleets. I have to say kudos to U of M because they've really gotten out the word to their fleet services. I saw a lot of trucks and fleet vehicles stopping."
Briggs said she observed traffic at the crosswalk on Plymouth Road on a Friday morning back in April and the stop rate was 1.7 percent. When she conducted the same study again last Friday, she said, about 9.5 percent of vehicles stopped.
She attributed that to ongoing educational efforts and new yellow signs that have been posted at major crosswalks.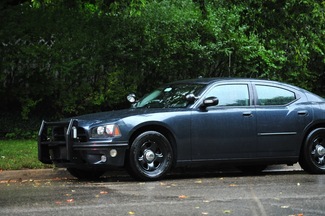 Ryan J. Stanton | AnnArbor.com
She said she's noticed many semi trucks and even Ann Arbor Transportation Authority buses are now stopping for pedestrians, but drivers of cars are having a harder time following the law.
The new yellow signs were visible at the crosswalk at Seventh and Washington today informing motorists that it's the law to stop for pedestrians. Briggs said similar signs are now at several of the major crosswalks throughout the city, mostly at mid-block crossings.
Sahr agreed with Briggs that motorists are starting to catch on. Though she had to write a ticket this morning, most people were stopping, she said.
"People must be reading the paper and the word's getting out there that they need to stop for pedestrians that are approaching or crossing on the crosswalk," Sahr said.
As part of the campaign for the next two weeks, each police patrol unit is expected to spend 10 minutes per shift doing targeted enforcement at one of a number of crosswalks. The two-week enforcement campaign purposefully coincides with the beginning of the school year.
The plan is aimed at ensuring 28 hours of targeted enforcement. Officers are expected to be out observing crosswalks in the following areas:
300 block of South Main Street
Geddes and North University
South Industrial, Stimson and East Stadium area
East Huron and Glen
Any crosswalks on Packard
Any crosswalks on Stadium between Arbordale and South Maple
Liberty and Virginia
Seventh/Washington
William and Ashley
All crosswalks on Plymouth between Murfin and Green
Nixon and Huron Parkway
Nixon between Plymouth Road and Huron Parkway
Glazier and Waldenwood
Huron Parkway at Huron High school bus stop
Washtenaw and Arlington
Platt Road between Packard and I-94
Packard between East Stadium and Jewett
Washtenaw and Platt Road
Sahr said there were "easily 10 to 15 officers" out today. After the two-week campaign is finished, she said patrol officers will continue to observe crosswalks as their shifts allow.
"But the thing for the next two weeks is to try to get out there to enforce it to get people to acknowledge that this is in effect," she said.
Briggs said the WBWC also is continuing to work with the city on a process to better design crosswalks.
Ryan J. Stanton covers government and politics for AnnArbor.com. Reach him at ryanstanton@annarbor.com or 734-623-2529. You also can follow him on Twitter or subscribe to AnnArbor.com's e-mail newsletters.