Posted on
Wed, Feb 29, 2012 : 12:55 p.m.
Ann Arbor Police Chief Barnett Jones resigns
By AnnArbor.com Staff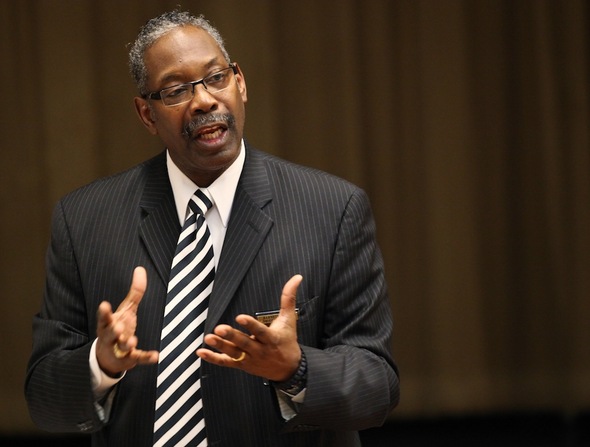 File photo
Ann Arbor Police Chief Barnett Jones Wednesday announced he is retiring.
Jones announced his plan to retire after nearly 40 years in law enforcement through an email sent to employees, sources said.
Jones was not immediately available for comment.
"I'm happy for his ability to retire," City Administrator Steve Powers said. "I'm sad that he's leaving the City of Ann Arbor."
Powers said Jones informed him of his plan to retire Tuesday. Powers sent the following e-mail Wednesday afternoon to City Council members and service area administrators: "Barnett Jones has informed me and the department's command staff that he is retiring April 1, 2012. Barnett has served the public in law enforcement for 38 years. He will be a loss to Ann Arbor."
Ann Arbor Fire Chief Chuck Hubbard said he talked to Jones two days ago about routine business and Jones gave him no indication he was planning to retire. Hubbard learned about the retirement over a brief email that he received Wednesday.
"I'm shocked," he said. "He'll be sorely missed." Hubbard said Jones has been his immediate supervisor since June 2011, when Hubbard was promoted to his current position.
"His work ethic speaks for itself," Hubbard said. "He's a professional. He's a fair person. He's been great to me. He's been very helpful in my career."
Jones was pressured in recent city budget cycles to make deep cuts to the police department, cuts he didn't want to have to make. He expressed frustrations about that and repeatedly told council members he couldn't afford to lose any more police officers.
"We can't afford to lose a police officer," he told council members in February 2010. "Since 2000, we've gone from 216-plus police officers down to 124. Our reality is we have been doing the best we can ... but we're at a point where there are some quality of life issues. As a police chief, I cannot stand here and say I can afford to lose any more police officers."
Both the police department and the fire department, which Jones oversees as public safety administrator, have gone through two rounds of cuts since he made that comment, and the city recently outsourced police dispatch services to the county, eliminating even more jobs.
More staffing reductions are being considered in the fire department this year. A recent report from a paid consultant recommends several options for cutting the department's costs.
The budget picture is looking better for the police department, though, and council members are planning to avoid planned cuts this year.
Jones, who is in his late 50s, makes $126,500 per year as chief. City officials said Jones is eligible for a pension under city policies that allow firefighters and police officers to collect at age 55 with five or more years of service.
It's expected that his pension will be calculated based on the average of his three highest-paid consecutive years multiplied by his total years of service and a 2.75 percent multiplier. A rough calculation shows that could be more than $20,000 a year.
City Council Member Christopher Taylor, D-3rd Ward, said Jones' departure will be a loss for the city of Ann Arbor.
"Chief Jones has led AAPD with calm and grace during a crucial era," Taylor said. "He was asked to do more with less and Chief Jones delivered. As he has often said, we live in a safe community, and to him we owe a debt of thanks."
Jones also is well-respected in Michigan, said Bob Stevenson, executive director of the Michigan Association of the Chiefs of Police.
"(Ann Arbor) is losing an excellent chief of police with a tremendous reputation around the state," Stevenson said.
Washtenaw County Sheriff Jerry Clayton expressed a similar sentiment. "The retirement of Chief Jones is a tremendous loss for the the City of Ann Arbor and all of Washtenaw County," Clayton said in an emailed statement. "He has been a strong leader and public safety partner and I greatly appreciate his friendship and the counsel he has provided me through the years."
Jones came to Ann Arbor as chief of police in 2006 after serving as police chief in Sterling Heights.
He began his law enforcement career as a Wayne County sheriff's deputy and also worked for the Inkster Police Department and Oakland County Sheriff's Department.
Jones earned a bachelor's degree from the University of Michigan and a master's degree from Eastern Michigan University.
Powers said the city will need to appoint an interim chief until officials can find a new police chief. He said he does not yet know who that will be.
John Seto and Greg Bazick are the department's two deputy chiefs.