Posted on
Fri, Dec 2, 2011 : 2:08 p.m.
Ann Arbor Public Art Commission moving forward with new project as City Council considers art cuts
By Ryan J. Stanton
Ann Arbor officials are moving forward with another public art project — this time in the form of a small installation in a near-downtown neighborhood.
The city's Public Art Commission this week voted to establish a $20,000 budget for an art project at the site of a new rain garden being constructed at Kingsley and First streets.
The project comes as cutbacks to the city's public art program are being considered by the Ann Arbor City Council, which meets Monday night to consider final approval of the cuts.
That was a subject of debate at Wednesday's art commission meeting, as commissioners offered differing opinions about how to communicate their feedback to council.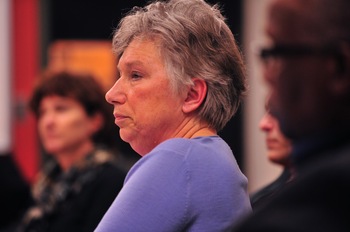 Ryan J. Stanton | AnnArbor.com
The Kingsley project is still in the planning stages. The commission's action establishes a task force that will work out more details before proposals are solicited from artists.
"Public art will be a primary feature of the space," according to a report on the rain garden presented at the meeting.
The report also acknowledges the installation "would have limited public visibility because of its location." Funding for the project is expected to come from the city's stormwater funds.
The City Council took the first step toward scaling back the public art program last month, giving initial approval to a 50 percent reduction in funding levels for the next three years.
The city has transferred a little more than $2.2 million to the public art program over the last four years, nearly $1.5 million of which remains available to spend.
But much of that money was built up because the city has taken on several large capital projects in recent years, and the money no longer is accumulating as quickly.
The city pays for public art through the Percent For Art Program. Under an ordinance approved by the City Council in 2007, 1 percent of the budget for all city capital projects — up to a limit of $250,000 per project — is set aside in a special public art fund.
That equates to $334,660 in this year's budget. If capital project spending continued at the same rate next year, a 50 percent cutback would equal $167,330.
Multiple council members have stated recently they believe the Public Art Commission has more money than it knows how to spend.
There will be a public hearing on the cutbacks at Monday's council meeting, which starts at 7 p.m. on the second floor of city hall at the corner of Fifth and Huron.
Margaret Parker, a member and former chairwoman of the volunteer art commission, indicated at this week's meeting she hopes to line up several speakers for the public hearing.
"If they're getting ready to cut our program in half — and they're basically saying, 'Look at this money that hasn't been used, it hasn't functioned well, so we're cutting it back' … I think then it has to come up," Parker said, bringing up concerns that the city hasn't dedicated enough administrative support to the public art program.
Parker said she's also concerned about an element of the proposal that would revert public art funds back to their original sources if not spent within three years.
"It's going to make it a lot harder to do the projects," she said.
Parker was more outspoken than other art commissioners who questioned whether it's their role to actively speak out on the issue.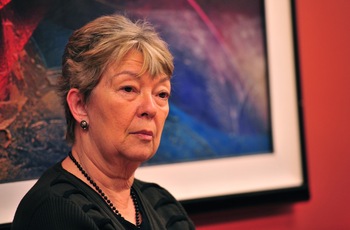 Ryan J. Stanton | AnnArbor.com
"We don't have a role as a political action committee," said Chairwoman
Marsha Chamberlin
, urging commissioners to move on to other business.
Chamberlin said she understood where council members were coming from.
"Behind the scenes, I have been in several working meetings with some council members," she said. "What some of the people on council are concerned about is that there have been $2,965,000 accumulated that haven't been spent for art. So they're just saying, until we spend that money, they would prefer not to let more accumulate."
"That number actually isn't even accurate," Parker fired back.
"Well, whether it's accurate or not, I'm just portraying what I think the thinking on this is," Chamberlin responded.
That led to a few more tense exchanges.
Records review by AnnArbor.com show Parker is correct that the nearly $3 million figure cited by Chamberlin, which shows up on art budget documents, isn't an accurate reflection of the actual amount of money that has gone to public art over the last four years.
The way the city does its accounting for the art program, that figure actually includes double counting of dedicated project dollars. The actual amount that has been channeled to public art over the last four years is closer to $2.2 million, and less than $1.5 million remains available.
Still, some art commissioners and council members alike have been confused in recent months by budget reports that make it appear nearly $3 million has gone to public art.
Aaron Seagraves, the city's public art administrator, said he's planning to design a clearer budget summary report that will be given out monthly in the future.
In addition to the Kingsley Street art project, Seagraves offered an update on other public art projects in the works on Wednesday.
Proposals from artist finalists for an art installation in the lobby of the new Ann Arbor Justice Center are due Dec. 8 and those will go before a selection panel on Dec. 12, he said. About $250,000 from the Municipal Center project budget was set aside for the installation.
Seagraves said he wasn't sure why the Herbert Dreiseitl sculpture in front of city hall wasn't yet fully operational. He said it was supposed to be done before Thanksgiving.
He also reported four finalists have been selected for a mural project at Allmendinger Park and preliminary concepts from artists are due Dec. 8. The commission plans to put $7,200 in donations toward the mural, along with another $5,000 in pooled public art funds.
Seagraves said a task force working on a public art project at the site of the Stadium bridges project also plans to meet soon to continue talks.
But a potential $250,000 art installation at the site of the Fuller Road Station project is being put on hold, Seagraves reported.
In four years, the Public Art Commission has delivered on two major projects: the $750,000 sculpture project in front of city hall and a $15,000 installation in West Park.
Ryan J. Stanton covers government and politics for AnnArbor.com. Reach him at ryanstanton@annarbor.com or 734-623-2529. You also can follow him on Twitter or subscribe to AnnArbor.com's e-mail newsletters.