Posted on
Fri, May 7, 2010 : 3:11 p.m.
Ann Arbor school district ends controversial program only open to black students
By David Jesse
The Ann Arbor school district has ended a controversial black-student only program at Dicken Elementary School.
"Lunch Bunch is no longer," district spokeswoman Liz Margolis said in an e-mail to AnnArbor.com. "It will be discussed among staff and some parents and be reworked. It has a valuable goal of assisting children who are not performing well on the MEAP, and this effort will continue."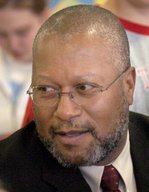 Dicken Principal Mike Madison drew criticism from parents following his decision last week to take members of the African-American Lunch Bunch on a field trip to hear a black rocket scientist at the University of Michigan speak. Only black students were invited on the trip.
After the trip, classmates who were excluded booed those who went. Madison went into the class, and parents have complained he berated the students. District officials have said he was just having a "passionate" discussion about race issues.
The group was formed this school year in response to an achievement gap in test scores and other measures between white and black students.
In the week since the trip, national attention has been focused on the issue with sharp criticism of Madison's decision, especially from those on the political right.
Among issues that have been raised is whether the Lunch Bunch violated Proposal 2, a 2006 state law banning preferential treatment based on race.
The district is investigating whether it broke the law. Margolis said that investigation will be complete next week.
The district held a parent meeting on Thursday night to address the issues arising from it. About 75 people attended, Margolis said.
"Mike offered a statement of explanation and apologized for the negative publicity brought on to Dicken by this, apologized for the unintended consequence of the Lunch Bunch of having students feel they were not included, and for not seeing in hindsight to include more or bring the professor to Dicken as well as his discussion in the fifth grade classroom that was not appropriate at the time and the students were not ready for a conversation about race," Margolis wrote in an e-mail to AnnArbor.com. "Dicken will continue with next steps involving parents, staff and students in discussions on achievement and communications."
David Jesse covers K-12 education for AnnArbor.com. He can be reached at davidjesse@annarbor.com or at 734-623-2534.