Posted on
Fri, Dec 18, 2009 : 4:09 p.m.
Ann Arbor school district to explore privatizing transportation, custodians
By David Jesse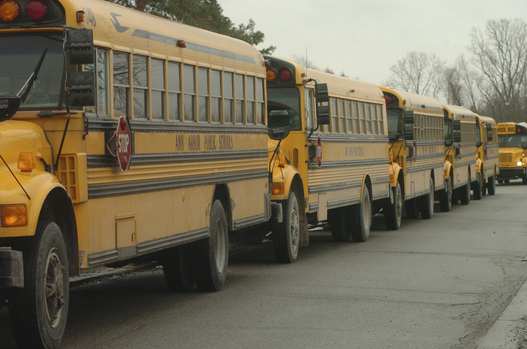 The Ann Arbor school district has begun looking at how much money it could save if it privatized its busing and custodial work.
The district is expected to issue a Request for Proposal next week seeking details from companies interested in providing the services, Superintendent Todd Roberts said today.
"We said we're looking at all possible options to address our shortfall," Roberts said. "We have to find out what the possibilities are so we can assess it to see what the savings are and if its something we want to do."
Roberts said no decision or recommendation has been made. The school board would have to approve any move to privatization.
The district currently spends about $7.2 million on transportation, Roberts said. It spends about $18.8 million on custodial and maintenance operations.
Roberts didn't immediately know the number of district employees in each of those departments.
Union officials could not be reached for comment.
If the move is approved by the school board, the departments wouldn't be the first district operations to be privatized.
Ann Arbor, along with every other district in the county, hired private company PESG three school years ago to provide substitute teachers to the district.
The same year, the district turned over all its food operations to Chartwells.
The district is facing about a $20 million shortfall over this school year and next, due in large part to cuts and projected cuts from the state to its per-pupil state aid.
"We're just trying to look at possible options," Roberts said. "Our goal is to try to stay away from making cuts to instruction."
Parent Miles Worthy, who has two children in the district, said he's glad to hear the news.
"If they can get some big savings there, maybe they won't have to cut teachers. That would be great. I think they are doing the right thing."
Parent Angela Cole, who has three elementary children in the district, is concerned about move toward privatization.
"Our bus driver does a great job with our kids, and the custodian at our school takes a lot of time to interact with the students. I don't think that if those people are employees of some private firm and not of the district, they will take as much time with the kids. They (bus drivers and custodians) have contact with kids. We've got to be careful about who we are hiring. Will the district have the same ability to review who's working in the schools? It worries me."
Roberts said they hope to have proposals back within six weeks after the RFP is issued.
Ann Arbor is not the only county school district to look at hiring a private firm to run its busing. Lincoln is in the process of looking at how it can save money on transportation. One of the options discussed recently by district officials there was outsourcing its busing. Pinckney schools in Livingston County privatized its bus fleet years ago.
David Jesse covers K-12 education for AnnArbor.com. He can be reached at davidjesse@annarbor.com or at 734-623-2534.