Posted on
Thu, Mar 22, 2012 : 12:30 p.m.
Ann Arbor schools to address $16M budget shortfall at April meetings
By Danielle Arndt
Ann Arbor administrators will reveal their plans for fixing a $16 million budget shortfall at the Board of Education's April 18 Committee of the Whole meeting, officials said Wednesday.
Subsequently, the budget will be placed on the April 25 regular meeting agenda.
In January, Superintendent Patricia Green told AnnArbor.com she and her cabinet expected to make their presentation and recommendation to the board in February.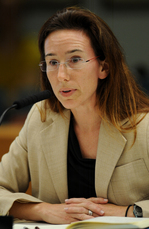 In February, it was said the budget would be forthcoming in March.
Dates were set Wednesday after Trustee Christine Stead once again expressed a need to have a list made public very soon, detailing both sides — revenues and expenditures — of the financial equation, as well as a list of items most likely to be cut.
"My thinking is this: People appreciate the budget reductions we are going to have to make next year … and are starting to get concerned," Stead said.
She urged administrators to move up the timeline on the budget discussions and encouraged the board to make a decision this school year.
"Otherwise we are left hoping people are paying attention over the summer," she said, acknowledging this likely is not the case and people "get a lot of surprises in the fall."
She said it is time to "rip the Band-Aid off and start the healing." She would like to see the board working with the community on the cuts in May and June.
Green has said at previous board meetings she will be recommending Ann Arbor use a hearty portion of its $19.7-million fund balance to close the budget gap for 2012-13. She has advocated for a "balanced approach," which would include bold moves as well as dipping into savings.
Initially in the fall, AAPS projected it would be facing a $14-million budget shortfall in 2012-13. The decision to move to all-day kindergarten increased the shortfall by about $2 million.
Read previous AnnArbor.com budget coverage here.
Staff reporter Danielle Arndt covers K-12 education for AnnArbor.com. Follow her on Twitter @DanielleArndt or email her at daniellearndt@annarbor.com.