Posted on
Thu, Aug 12, 2010 : 12:31 p.m.
Ann Arbor to add bicycle lanes with federal stimulus funds
By Tina Reed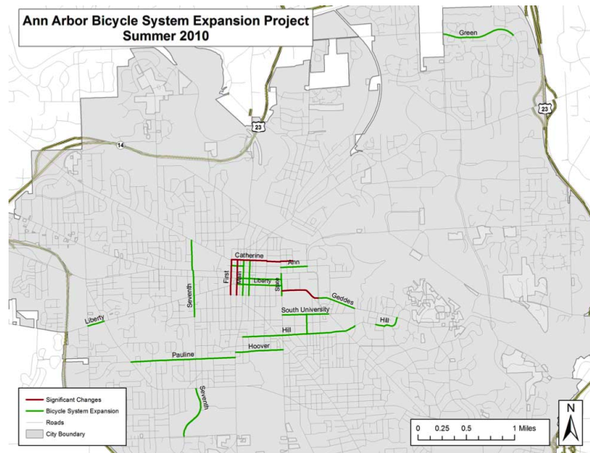 Courtesy | City of Ann Arbor
The city of Ann Arbor will be narrowing some roads to create bicycle lanes using federal stimulus funds, the city announced today.
The lanes will be created at several places near downtown and the University of Michigan campus, including along North and South University, Hoover, Pauline, Seventh, Liberty and Washington Streets.
Significant changes will be made on a handful of streets including portions of Geddes Road, Catherine Street and Fourth Avenue.
With $250,000 in federal stimulus dollars, the city will be adding about nine miles of new bike lanes and improving about 24 miles of bike lanes. It will also be improving walking and biking downtown by adding additional signage and pavement markings. The changes all adhere to improvements recommended by Ann Arbor's 2007 Non-motorized Plan.
The costs of the project come from thermal plastic process used to create and adhere lines and other symbols to the pavement, Ann Arbor's Transportation Program Manager Eli Cooper said. The city pays between $100 and $150 for each road signs which will be posted to remind folks to "Share the Road."
The existing 23.4 miles (mostly in both directions) of bicycle lanes will be reviewed and brought up to standards for bike lanes. In some cases, this may include pavement repair, Cooper said.
Signs will also be posted in downtown areas telling bicyclists to walk or slow down on their bikes if they are using the sidewalk and symbols, called sharrows, which are meant to encourage bicyclists to share the road lane instead.
The changes should be completed by September, although some of the bike lanes could be available as early as next week.
Bicycle lanes are defined lanes marked on the pavement to allow bikes to more safely travel alongside vehicle traffic.
Cooper said the changes are part of making different kinds of transportation easier in the city.
But he acknowledge on-going tensions between motorists and bicyclists. "The city has heard it," Cooper said. Bike lanes are actually part of an effort to alleviate those tensions because the line is clearly drawn where cars belong and where bicycles belong, he said.
The police are enforcing laws for both motorists and bicyclists, he said, and the city is working to increase education and awareness about the rules regarding both, he said.
Tina Reed covers health and the environment for AnnArbor.com. You can reach her at tinareed@annarbor.com, call her at 734-623-2535 or find her on Twitter @TreedinAA.