Posted on
Wed, Nov 4, 2009 : 6:04 a.m.
Ann Arbor voters couldn't provide enough margin to get countywide schools enhancement millage passed
By David Jesse
Buoyed by a stronger than expected showing in the city of Ann Arbor, opponents of a countywide enhancement millage easily defeated the 2-mill tax Tuesday.
Going into Election Day, both sides agreed the balance of the election likely swung on the voters in the city of Ann Arbor.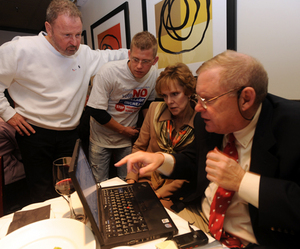 They were thought to be a stronghold for proponents who felt the millage was necessary to keep the 10 traditional school districts in the county solvent and strong.
But that didn't turn out to be the case.
City of Ann Arbor voters did endorse the millage, but only by a margin of 2,355 votes. The city was 56.2 percent yes and 43.8 percent no.
"The margin in favor wasn't what we were hoping for," said Steve Norton, the campaign manager for the Ann Arbor citizens' pro-millage group.
The margin wasn't enough to make up for the heavy losses in the other areas in the county.
In the city of Saline, 61.4 percent of voters cast no votes.
In the city of Ypsilanti, 52.4 percent of voters said no.
In the city of Milan, 71.8 percent of voters rejected the millage.
In the city of Chelsea, 50.9 percent of voters rejected the proposal.
In Ypsilanti Township, 66.5 percent of voters cast no votes.
In Pittsfield Township, 54.7 percent of voters said no.
Voter turnout was around 20 percent countywide.
For many who said no, the economy was a major factor.
"I took a big pay cut," said Mary O'Neil, 56, of Ypsilanti. "I just couldn't afford to pay more, as much as I would have liked to."
Both sides also said a strong factor was the a message by opponents that school boards and school administrators aren't doing a good job with the money they already had.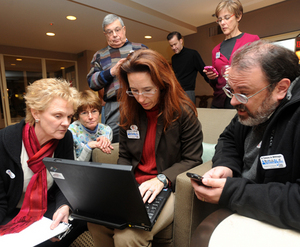 Lon Horwedel | AnnArbor.com
"People are more suspicious of how money is being spent," Norton said. "I think (the opponents) ended up confirming people's worse fears.
"For a lot of people, the reality of what was at stake hadn't set in. They didn't realize how close we were to the edge."
Opponents of the millage were able to drive home their message, thanks to funding from McKinley and its CEO, Albert Berriz.
Supporters of the millage said they didn't have a chance of competing against Berriz' $75,000 in donations to a campaign group set up to fight the millage.
Berriz deflected concerns his money bought an outcome he wanted.
"Our coalition is broad and wide," he said. "At the end of the day, it doesn't matter the number of endorsements or the money that is spent. At the end of the day, the voters get to go into the booth and vote."
Norton said the pro-millage folks didn't expect to have as "well-funded" of an opposition group when they started the push for the millage.
If the millage had passed, $30 million would have been raised each year for the next five years. It would have been split among the 10 districts on a per-pupil basis. Ann Arbor, the county's largest school district, would have received about $11 million.
Individual districts are barred by state law from asking voters directly for general operating funds. The only way operating funds can be raised is through a countywide enhancement millage.
Washtenaw County voters already support one countywide schools tax, which is targeted for special education.
This millage would have gone directly into each district's general operating fund. It was not targeted for any individual item.
Districts said they needed the money because of continued state cuts to funding. The state pays each district a set amount per student. That money - often called the foundation grant - comprises the bulk of a district's revenue for its general operating funds.
During the run up to the election, Gov. Jennifer Granholm and the state Legislature cut hundreds of dollars per pupil from that foundation grant, leaving many districts scrambling to find more revenue.
Superintendents have said if the millage failed, deep cuts would take place at each district.
The millage campaign drew a lot of attention to school funding.
Norton said that's a good thing.
"We really opened up a conversation with this," he said. "Unfortunately, that conversation is about to get much more difficult. I think it's going to be more painful than people realize."
Opponents of the millage request said they're ready to begin working on making changes at the state level in school funding.
Kathy Griswold, one of the opposing group's leaders and a former Ann Arbor school board member, said the group planned to have conversations with state legislators as soon as Wednesday morning about the issues.
By 1 a.m. Wednesday morning, the Web site for the main opposition group, Citizens for Responsible School Spending, had been updated to be the home page of a new group, Coalition for Responsible Schools for All Students. The Web site says the political action group will advocate for "developing an educational model that is student-centered, sustainable and transferable to other communities."
• Read entire coverage of Election '09 in Washtenaw County.
David Jesse covers K-12 education for AnnArbor.com. He can be reached at davidjesse@annarbor.com or at 734-623-2534.