Posted on
Thu, May 16, 2013 : 5:59 a.m.
Ann Arbor officials fear more downtown areas at risk for out-of-character development
By Ryan J. Stanton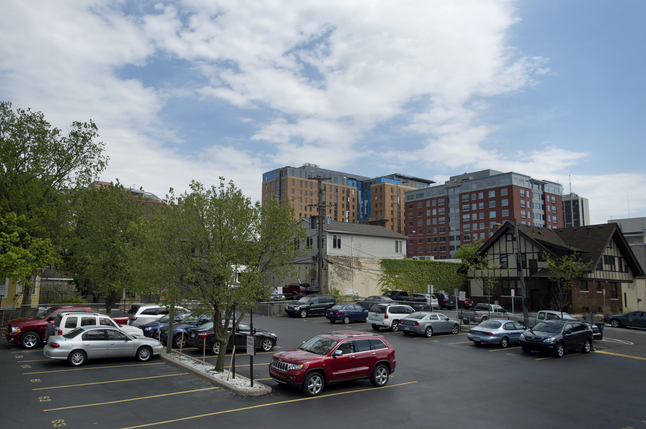 Melanie Maxwell I AnnArbor.com
The approval of another 14-story high-rise in downtown Ann Arbor marks the second time in recent years that City Council members have begrudgingly voted in favor of a controversial development they didn't like because they felt legally obligated to do so.
The first was City Place, a controversial student apartment project that involved knocking down a row of century-old homes on Fifth Avenue. Neighbors and city officials didn't like the project, but it was approved anyway, and the City Council found itself in a similar predicament again this week.
The 413 E. Huron apartment building, controversial because it will tower over a historic neighborhood to the north, met the city's zoning requirements and so the council had no choice but to approve it, argued the majority of council members who OK'd the project this week.
But following months of intense lobbying, protest, community debate, and hours of public hearings and deliberations, council members' failure to stop a project they didn't want to approve — at least not as presented — now raises questions about the city's downtown zoning.
City officials acknowledge it's time to reevaluate the zoning in certain areas to see if there are any fixes to prevent future projects that might be out of character with their surroundings. The City Council has directed the Planning Commission to undertake a thorough review of the D1 zoning.
"There are some areas that are working well and some areas that need to be changed to better reflect what the community wants," said Wendy Rampson, the city's planning manager.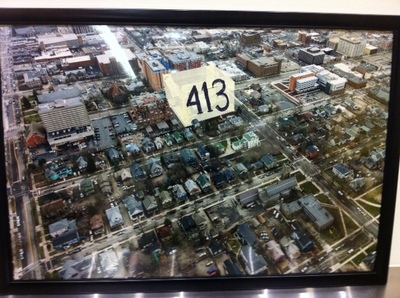 Courtesy photo
D1 is the core downtown zoning district that allows buildings up to 180 feet tall — or in special cases like the 400 block of East Huron, up to 150 feet tall.
Some have argued D2 step-down zoning with a 60-foot cap would be a better fit for areas like the 400 block of East Huron and other parts of downtown — especially edges that abut residential neighborhoods and historic districts where there's more potential for conflict.
Council Member Sabra Briere, D-1st Ward, has been leading the push for a review of the downtown zoning. At one point earlier this year, she proposed a six-month moratorium on downtown development, but the council voted 6-5 against it.
Nonetheless, the majority of council members still decided a review of the D1 zoning is in order, and that effort should get under way soon.
The Planning Commission has until Oct. 1 to complete the review and report back to council with its recommendations.
The council is asking the Planning Commission to address whether D1 zoning is appropriate for the north side of Huron Street between North Division and North State (the area of the 413 E. Huron project) and the south side of East William Street between South Main and South Fourth Avenue.
The council also is asking the commission to consider whether the D1 residential floor area ratio (FAR) premiums effectively encourage a diverse downtown population.
Mayor John Hieftje and other council members have said they'd like to see fewer apartments that cater to University of Michigan students and more workforce housing built for young professionals.
The council also is asking the Planning Commission to consider rezoning a parcel on the south side of Ann Street — adjacent to the north side of city hall — that is zoned D1.
Council Member Christopher Taylor, D-3rd Ward, said the multi-year A2D2 initiative that resulted in new zoning for the downtown in 2009 was an intensive public process.
"In the vast majority of cases, we got it right," he said. "I'm looking forward to revisiting residential premiums to better achieve our goal of increased workforce housing."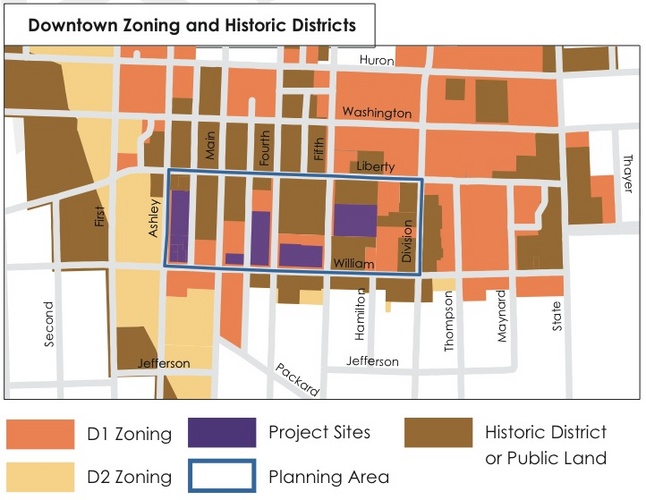 Ann Arbor DDA
At this point, city officials say they aren't aware of any other potential downtown development projects that could cause the kind of controversy seen with 413 E. Huron.
But under the current zoning, Briere said, there are certain properties where the city is left vulnerable, such as the private parking lot on Ann Street just east of city hall. It's owned by the UM Credit Union, which purchased it along with the former Ann Arbor News building in 2010.
"We're vulnerable there for two reasons," she said, mentioning that it's next to a residential neighborhood and it's zoned for 180-foot-tall development.
"So, if a creative, wealthy developer came along, that creative, wealthy developer theoretically could acquire the Ahmo's property (at the northwest corner of Division and Huron), the property next to that on Huron … and the parking lot, and they could build a big, 180-foot-tall development."
Briere said she's also concerned the east side of South Main Street from William to Packard is zoned D1, creating the potential for a future 180-foot development towering over nearby houses.
"It's not a historic district, but it's a residential area that has some very active, very engaged people who live there," Briere said. "And they have invested in these downtown homes to live in … and they would see a 180-foot-tall building literally in their backyard as an overwhelming threat."
Briere said the row of houses on Thompson Street between Liberty and William in the middle of downtown are zoned D1 and theoretically could be bulldozed for a 180-foot-tall development.
Rampson said the planning staff will turn its attention to establishing a scope for the upcoming review of the downtown zoning now that the 413 E. Huron project has gone through council.
She said planning commissioners might be interested in doing a deeper dive than the council suggested. She said the items council wants addressed would be prioritized to meet the Oct. 1 deadline, and the Planning Commission could keep talking further after that.
In another attempt to take a closer look at the city's planning procedures, the City Council in March decided to reconvene the city's Design Guidelines Task Force to review and make recommendations to council regarding improvements to the city's design guidelines and design review process. The task force must report back to council in September with a set of recommendations.
Rampson said the Planning Commission is eager to dive in and figure out what changes can be made to improve the design review process. Right now it's mandatory that developers take their projects before the city's Design Review Board, but the board's suggestions don't have to be followed.
Local radio show host Lucy Ann Lance interviewed Council Member Jane Lumm on Tuesday morning after Monday's approval of the 413 E. Huron site plan, which Lumm voted against.
In the interview, Lumm raised concerns about the D1 zoning along Huron Street, argued the city's design guidelines lack teeth, and questioned whether the student housing market is saturated. She also explained her vote against the development, disagreeing that it met city code.
"I think our obligation is to approve site plans when they meet all of our development-related ordinances and regulations, and this one certainly didn't in my view," she said. "And I also think it will result in a detrimental effect to the public health, safety and welfare of the community."
Briere, who also was among a minority of council members who voted against the 413 E. Huron project, said it's not about being anti-development.
"The fact that we didn't find value in this project was the problem — not that we didn't want something built there," she said, adding she wants to see more housing built downtown.
"We talk about the early-career young professional living downtown, and I absolutely want to see housing work for that demographic," she said. "But also people in their 50s and 60s who want to move out of their four-bedroom homes that they no longer want and need."
As part of an annual review of the city's master plan, the Planning Commission will hold a public hearing at 7 p.m. May 21 inside city hall. The commission is seeking comments about master plan elements that should be studied for possible change or new elements that should be added.
The master plan is a collection of plans that work together to describe a vision for the city's future and guide decisions about its land use, transportation, infrastructure, environment, housing and public facilities. The adopted master plan elements can be found on the city's website.
Ryan J. Stanton covers government and politics for AnnArbor.com. Reach him at ryanstanton@annarbor.com or 734-623-2529. You also can follow him on Twitter or subscribe to AnnArbor.com's email newsletters.