Posted on
Thu, Sep 23, 2010 : 6:03 a.m.
Ann Arbor's new ban on porch couches doesn't sit well with University of Michigan students
By Ryan J. Stanton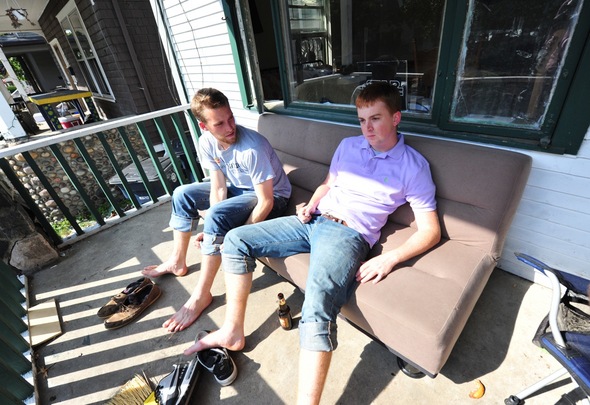 Ryan J. Stanton | AnnArbor.com
University of Michigan seniors Max Kubitz and John Mickley tipped back beers on Tuesday as they contemplated the fate of two upholstered couches on their front porch.
The East Jefferson Street residents say they "completely disagree" with the Ann Arbor City Council's decision this week to outlaw the use of indoor furniture outdoors. And they say their couches are too gross and weather-beaten to move inside the house.
"We were talking about putting it on the porch of somebody we don't like and getting them a $1,000 ticket," Kubitz joked of the couch he was sitting on.
The City Council's unanimous vote in favor of a so-called "couch ban" Monday night leaves many residents, including a large number of U-M students in off-campus rental housing, scrambling to figure out what to do with the old furniture on their porches.
Residents with upholstered furniture on their porches have until Oct. 2 to remove the items or risk facing up to a $1,000 fine for violating a new city ordinance.
"To me, it's just so inconvenient for students only," Kubitz said. "Students are the only population that have upholstered couches on their porches, and it's taking away one of our freedoms and just giving us another problem. I mean, like none of us have trucks here to get rid of stuff like this or deal with this. What are we supposed to do with this couch now?"
City officials estimate the number of upholstered furniture items that need to be removed from porches — and find new homes either indoors or in landfills — is in the hundreds.
Ryan J. Stanton | AnnArbor.com
"We understand that the ordinance goes into effect soon and will work with students and student leaders to assist as best we can with the efficient, low-cost removal of porch couches," said City Council Member Christopher Taylor, D-3rd Ward, who sponsored the couch ban.
The couch ban proposal has been discussed and shelved more than once in recent years, but support for it grew earlier this year following an April fire that started on the porch of a South State Street home and killed a 22-year-old Eastern Michigan University student.
The parents of that student, Renden LeMasters, have been lobbying the City Council ever since to pass the couch ban, which some are now calling "Renden's Law."
The fire that led to Renden LeMasters' death is believed to have spread inside the house with the aid of an upholstered couch on the front porch. City officials say a growing body of evidence shows porch couches are a fire hazard, and getting rid of them will save lives and property.
"We understand that disposal of upholstered furniture is a complicated affair," Taylor said. "But the undeniable safety benefits of removing upholstered furniture, at least in my estimation, outweigh that upfront burden."
Taylor said the city is planning to set up a drop-off center soon in a place convenient for students. Anyone with a couch to get rid of will be able to drop it off free of charge.
Another option if the couches are still usable, city officials say, is to simply bring them indoors or use websites like craigslist and Freecycle to find new homes for them.
The Michigan Student Assembly Executive Board issued a statement this week condemning the passage of the couch ban, saying the City Council failed to genuinely consult students, and the proposal will do little to address comprehensive fire safety reform.

"Only after MSA asked for a postponement did the City Council consult students on this issue," the statement reads. "However, a one-week delay allowed little time for students to express their concerns and sidestepped the much larger issue — the City Council acted unilaterally and offered no opportunities for students to review and discuss the proposal during the legislative process. With consideration largely during the summer months, the couch ban never had an opportunity to receive reasonable oversight and criticism from the student body."

MSA leaders say the couch ban fails to address larger issues of fire safety around campus, including infrequent fire safety inspections, smoke detector maintenance, fire escape readiness, and fire safety education. However, at least some council members have said they agree with the students on that point, and they intend to further examine those issues.
Despite the couch ban's passage, MSA leaders say they hope to build a strong working relationship with the City Council over fire safety reform and other issues.
The language of the couch ban ordinance specifically reads, "No responsible person shall place, or permit to remain, upholstered furniture which is not intended or designed for outdoor use on exterior balconies, porches, decks, landings, or other areas exposed to the weather."
Though residents still will be able to use furniture intended for outdoor use on their porches — such as patio-style furniture — some students said it won't be as comfortable. Mickley said he doesn't see couches as the problem, but rather human behavior.
"If someone were to burn the inside of the house, then should we take couches out of the inside of the house, too?" he said. "My dad's house burned down when he was a kid and his mattress burned, so should we ban mattresses? It doesn't make any sense."
Tina Tam, a U-M graduate student who lives next to the house on State Street where LeMasters died, agrees with the council's decision to ban upholstered furniture on porches.
"I support it because I think it's just a risk to people in the house, and we've seen it happen," she said, referring to the fire she witnessed. "I mean, it was kind of scary — it was an accident and someone died from the accident that was right next door."
Gerardo Rodriguez, another U-M grad student, opposes the ban.
"I mean, people have other things on the porch, so it's like they're saying they're going to ban porches one day just because it started on a porch," he said. "It just makes no sense. If they found it were a dinner table, they would be banning dinner tables or something."
Information disseminated to council members shows Ann Arbor joins a long list of other college towns that have couch bans in place, including East Lansing, Detroit, Allendale, Kalamazoo, Mount Pleasant, Ypsilanti, Marquette, Houghton, Columbus, Madison and many others.
Ryan J. Stanton covers government and politics for AnnArbor.com. Reach him at ryanstanton@annarbor.com or 734-623-2529.