Posted on
Thu, Jun 7, 2012 : 5:59 a.m.
Are we next? Possibility of fracking in Washtenaw County drums up fear
By Amy Biolchini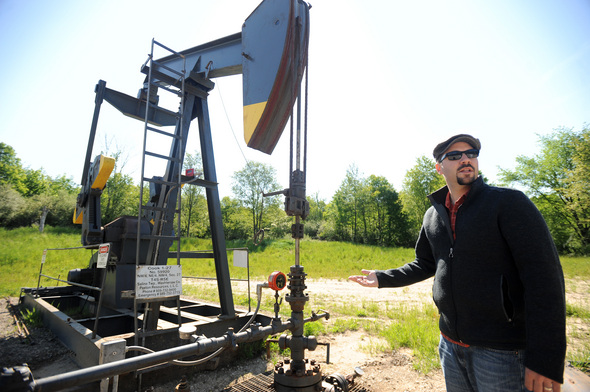 Angela J. Cesere | AnnArbor.com
Tim and Wendy Dwyer
know just about every inch of their 60-acre horse and wheat farm in
Saline Township
.
In the driveway, a traffic cone marks the spot where a killdeer has decided to lay her eggs among the gravel. From the window of their custom-built home they can watch their three horses, which they bred and raised, graze in the pasture.
Just beyond the pasture, however, is an oil well - the pump jack rising and falling, drawing oil out of the ground from 3,000 feet below.
"You have to have an exploration budget to do that, one that only 'big companies' can afford."
- Greg Vadnais, land lease agent for Paxton Resources, on the use of fracking to find gas in Washtenaw County.
The well on the Dwyers' land is one of four oil wells in
Washtenaw County
drilled within the past three years -- all of them within a two-mile radius in Saline Township -- operated under lease to a private oil and gas exploration company,
Paxton Resources LLC of Gaylord.
The well has been producing oil for about 18 months now, but it wasn't until recently that anyone seemed to notice or care.
Controversy arose last November when Paxton began approaching other landowners in Saline Township and neighboring communities about leasing the rights to the minerals below the ground.
The move came just as a fierce national debate over the environmental safety of oil and gas exploration using a controversial practice called fracking was reaching a crescendo.
Suddenly, concerned residents were showing up at local township halls and Board of Trustee meetings worried about water table contamination.
In April, about 125 people packed the auditorium at Liberty School in Saline for a town hall meeting organized by state Rep. Mark Ouimet.
No, the audience was told, fracking isn't being used locally, but there is no guarantee it won't be in the future.
County and township officials say their hands are tied - oil and gas exploration is regulated by the state and federal governments: The Michigan Zoning Enabling Act prevents them from making any laws concerning oil and gas activity within their jurisdictions.
Meanwhile, dozens of Washtenaw County landowners have seen representatives from oil companies knock at their door with a sales pitch, a land lease and a pen in hand.
---
Local oil wells in action
---
Cost vs. demand
Michigan's natural gas boom hit its peak about 30 years ago, and prices have fallen ever since -- a fact that has discouraged many companies from undertaking the more expensive practice of fracking for gas.
"We've got such a prolific production of (natural) gas it's depressed the prices," said Hal Fitch, the state's geologist and lead oil and gas regulator.
He said the costs to drill large-scale horizontal natural gas wells and hydraulically fracture them with may not garner enough revenue to recoup the cost.
Natural gas sells for about $2 per 1,000 cubic feet. Crude oil is going for about $100 per barrel.
A traditional vertical oil well - the type currently used by Paxton in Washtenaw County -- costs about $2 million to drill.
As a small, family-run operation, Paxton doesn't have the financial clout it would need to invest $10 million to $12 million in fracking a well, said Greg Vadnais, land lease agent for Paxton.
"You have to have an exploration budget to do that, one that only 'big companies' can afford," Vadnais said. "We're in the oil game now."
Besides the four wells operated by Paxton, there are at least two other working oil wells in Washtenaw County. The wells -- in Salem Township, in the northeast corner of the county -- were drilled in the mid-1980s and continue to produce oil.
Fracking: Old and new
Fracking, short for hydraulic fracturing, involves injecting chemical brine water deep into the earth to break loose oil or gas that was previously hard to get.
Experts say fracking has been used for nearly 60 years to find oil and gas in Michigan.
Angela J. Cesere | AnnArbor.com
But new methods of the practice - drilling deeper and creating horizontal wells thousands of feet below the surface - are allowing companies to get oil and gas from areas where that was not previously possible.
There are nine long horizontal wells in Michigan that have been completed and hydraulically fractured, Fitch said. Two of the wells are producing natural gas into a pipeline.
Nine permit applications for the activity are also pending with the state currently, Fitch said.
In Hillsdale County, there's an "experimental" long horizontal well. The company doing the work is drilling in a field where hundreds of traditional, vertical oil wells were drilled in the 1950s, Fitch said.
By utilizing horizontal fracking, the company may be able to extract left over oil.
"There's still a lot of oil left in there that you can't get out with a vertical job," Fitch said, noting he's not sure if the move will work.
The Trenton/Black River geologic formation that runs under Saline Township is known for holding oil in naturally occurring underground "lakes" of oil, Fitch said.
"The Trenton/Black River wells generally don't require hydraulic fracturing," Fitch said. "You drill a vertical well, run casing through it, perforate it, and it flows. It's counter-productive to hydraulically fracture them."
The geologic formation in which Paxton's oil wells are located in Washtenaw County is the same formation the West Bay Exploration Company has tapped into in neighboring Jackson County.
West Bay has drilled more than 40 oil wells amongst the small lakes, fens and wetlands of the Irish Hills. Another 40 are planned for the next two years.
Contamination fears
Recent incidents in other states have drawn national attention about environmental concerns related to fracking.
In March, Ohio oil and gas regulators said a dozen earthquakes in northeastern Ohio were caused by injecting gas-drilling wastewater into the earth.
Officials in Ohio, Pennsylvania and Colorado Officials in Ohio, Pennsylvania and Colorado have pinpointed methane contamination of drinking water supplies to nearby gas drilling operations.
"The real story on hydraulic fracturing is that there have been some issues in other states. However, despite what's said in other stories out there, there has been no direct contamination of groundwater from hydraulic fracturing," Fitch said.
Fitch said the contamination issues that have arisen from surface spills and wastewater disposal associated with hydraulic fracturing - which is human error, not that of the process itself.
The millions of gallons of water required to hydraulically frack a well become contaminated in the process and must be disposed of.
Trace amounts of powerful chemicals are added to the water that make the water more viscous and suspend sand particles in the water. Some of the additives are also friction reducers, Fitch said.
Companies are not required to disclose the chemicals in the water - a "trade secret" akin to the formulas for Coca-Cola and Dr. Pepper, Fitch said.
"There's legitimate concern over those chemicals and they do have to be managed properly," Fitch said.
A recently proposed federal bill would require companies to reveal the chemical makeup of the solution they use to frack wells drilled on public lands - which would come as a relief to some after the recent auction of public land in northern Michigan.
Oil and gas companies are responsible for conducting their own environmental impact statements and for testing water around the wells they drill - a fact that has garnered scrutiny from environmentalists.
Disposal of the wastewater from the activity has many people worried about their drinking water.
In Jackson County, West Bay wants to add a couple of injection waste wells to dispose of waste brought to the surface in oil drilling. Mostly, the waste is salt-water brine, but according to the EPA, it could also include toxic metals and radioactive substances.
The waste wells would be drilled in the northeast corner of Norvell Township - just feet from the Washtenaw County line.
The hunt for mineral rights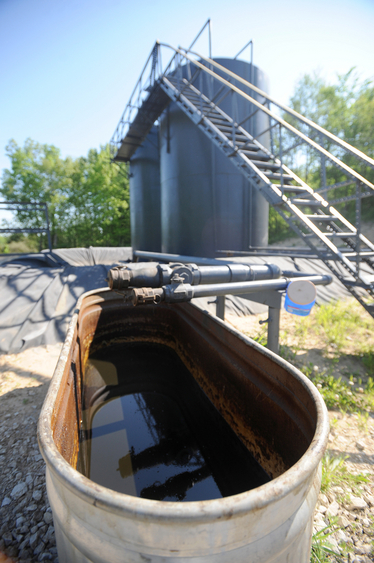 Angela J. Cesere | AnnArbor.com
In Michigan, most landowners own the rights to the minerals below their property but can lease those rights to oil and gas exploration companies.
In Saline Township where the oil is flowing from the ground, the vast majority of the lease agreements were acquired by Phillips Resources of Pittsburgh several years ago.
After Phillips only hit oil twice, they sold their Washtenaw holdings to Paxton Resources LLC - the company that has since become the focus of many local conversations.
Initially, the Dwyers said, they were apprehensive about signing a lease with Phillips. The company said it was looking for oil.
"We started reading things, talking to people," Wendy Dwyer said. "We were concerned. We wanted to know if it was going to be safe."
After doing their research, the Dwyers decided allowing an oil well to be drilled on their property was akin to buying a lottery ticket.
The risks seemed minimal - a well more than 3,000 feet deep had to be drilled into the earth to see if the oil was there. Their water well is several hundred feet below ground, and they didn't see the harm with it happening on the back side of their property in their hay field.
The money the couple gets from the lease agreement - about one-eighth of the sale of the oil - isn't "life-changing," Tim Dwyer said.
"To me, I can't see the cause for concern," Wendy Dwyer said.
A company representative checks two 300-barrel holding tanks every day at each site, and the pump jack that runs on a small motor. The holding tanks are in a lined well built to hold twice the amount of oil than the capacity of the tank - a feature mandated by the state.
At some sites, a flare burns off the excess natural gas that comes out of the well.
Paxton
Since taking over Phillips' operations in Washtenaw County, Paxton has drilled two wells - and hit oil both times.
The company bought about 24,000 acres in leases from Phillips - and have added about 4,000 acres on their own volition - bringing the company's Washtenaw County holdings to 28,000 acres in Saline, Lodi, Freedom, Lima and Bridgewater townships.
Out of the leases the company acquired, Paxton claims it's only signed three to four leases of its own in the year and a half it's been working in the area.
Paxton has claimed that they're not out for a huge resource play: "We'll be specific to places where the stars align," Vadnais said.
Vadnais said they company has signed all the leases for mineral rights that it needs to for the operations it plans on doing in Washtenaw County, and plans on drilling two more wells in the next year. Seismic tests are being conducted in Lodi Township, Vadnais said.
Though he understands the opposition, Vadnais said Paxton has had no complaints about their activities or the way they do business in Washtenaw County - a claim validated by several of the landowners with a Paxton-owned and operated oil well on their property.
"We have not had a problem other than people's emotional reactions to the industry," Vadnais said. "You're going to have to try really hard to hate us."
New resistance
Though Paxton is clear about the small scale of its current activities in the Washtenaw County, the underlying fear is that oil and gas exploration could easily multiply with a change in the market.
Many Lodi Township residents there have signed over their mineral rights to Paxton, but some have declined - and started attending meetings to speak out to regulators and to inform their neighbors of what's going on.
Mitch Rohde, Lodi Township resident and founder of the site nopaxton.com - said he was approached last fall by Paxton with a land lease agreement and denied it.
"The fear is that we're next," Rohde said, referring to deep horizontal fracking.
Lodi Township resident Clive Wotton said he's been approached by land lease agents from Paxton and Petro Vest Incorporated of Houston, both of which touted the financial benefits of the agreement without giving specific numbers or fully explaining the environmental ramifications.
Realtors have reported home sales falling through in Lodi Township because of the speculation of oil development, Wotton said.
"I think there's a lot of fears out there because it's new to a lot of people," Fitch said. "Frankly, there's a lot of misinformation out there. I don't blame people for being concerned."
Lack of local control
A Michigan zoning ordinance prevents counties and townships from passing their own regulations on oil and gas activity - effectively leaving the state in control of the industry.
So far, local municipalities can only take a limited approach to regulating what happens - like in Saline, where the city council has passed a moratorium on selling water outside of city limits.
"We were selling the water to people that were doing activities outside the city limits," said Saline Mayor Gretchen Driskell. "I don't see why we need to facilitate it."
Driskell said there's a lot of speculation flying around about the issue and she is concerned about the lack of local control over where companies can drill wells.
However in Saline Township, the officials haven't said no to oil exploration companies.
One local official -- Gary Luckhardt, a member of the Saline Township Board and the zoning administrator -- has two producing oil wells operated by Paxton on his property.
Saline Township signed a non-developmental mineral lease agreement in 2010 -- now owned by Paxton -- for township owned property that would garner it income from an oil well if it should ever start producing.
The township board did deny a request for a non-developmental mineral rights lease agreement for the cemetery property, said Saline Township Supervisor Jim Marion.
"It's all state regulated," Marion said. "We don't have any comment one way or another."
An amendment to the state's constitution has been proposed to ban horizontal hydraulic fracturing in Michigan.
LuAnne Kozma, campaign director for the Committee to Ban Fracking in Michigan, has written an amendment to the state's constitution and is circulating petitions to get the amendment before state voters on the November ballot.
"What I really can't stand is the very accommodating and tolerant response by other elected officials to regulate and tolerate," Kozma said. "People should be really outraged."
Amy Biolchini covers Washtenaw County, health and environmental issues for AnnArbor.com. Reach her at (734) 623-2552, amybiolchini@annarbor.com or on Twitter.