Posted on
Sat, Feb 5, 2011 : 3 p.m.
University of Michigan students help 'Give Kids a Smile' at free dental care event
By Heather Lockwood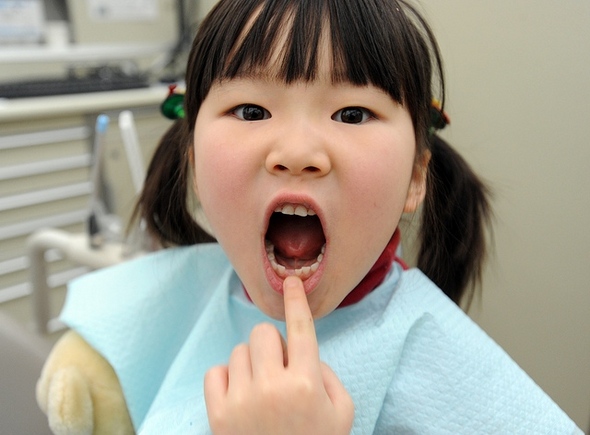 Lon Horwedel | AnnArbor.com
Carlos Alarcon and his family were among the first to arrive at the
University of Michigan School of Dentistry
in Ann Arbor Saturday in hopes of receiving free children's dental care.
Alarcon, of Ypsilanti, said he, his wife, Yesenia Alarcon, and their children, Fatima Alarcon, 11, and Carlos Alarcon, 6, arrived at the school at about 6 a.m., three hours before registration for the U-M Give Kids a Smile Day began.
It was worth the wait, he said, to make sure his family could take advantage of the free dental services offered to the first 100 children, ages 5 to 12, to register.
"Unfortunately, we don't have (dental) insurance, so that's why we came here. Because it's free," Carlos Alarcon said.
Originally from El Salvador, Alarcon said it is more expensive to get dental care for his family in the U.S. than it was there. "For $100 you can get a whole treatment down there," he said.
Alarcon was not the only parent to arrive early to the event, which offered free screenings, cleanings and, if necessary, emergency dental care to children. John Kazanjian, of Ann Arbor, arrived with his daughter Tasha Kazanjian, 13, about an hour before registration began. Kazanjian said because his daughter had turned 13 only about a month ago, the program made an exception for her.
"I have five children and health care in general is very expensive," Kazanjian said. "So coming someplace where you can get a break is helpful."
Kazanjian, whose family took advantage of a similar Dental School event once before, said his four other children were too old for the program.
Children were assigned one of two appointment times — 9:30 a.m. to noon or 11:30 a.m. to 2 p.m.
Merle Rosenzweig, librarian at the U-M Taubman Medical Library, distributed sugar-free gum, pens and informational sheets on low-cost and free health care to families as they waited.
She said even though dental care is important, families faced with the choice of paying for medical insurance or dental insurance often choose medical.
"If you have to pay out of pocket, you're going to probably go with medical," she said.
She added, "I was also interested to see people you could tell were employed, but the issue was, 'I can't have both.'"
Jenna Sherwood and Jackie Shain, both third year dental hygiene students, talked to and played with children waiting to receive treatment.
Sherwood held a Mr. Potato Head toy in one hand and a dry erase marker and a toothbrush in the other. WIth the marker she would draw "bacteria" onto Mr. Potato Head's white plastic teeth and invite children to brush it away. She and Shain reminded the children of the importance of brushing their own teeth twice a day.
Sherwood said she didn't mind waking up early to spend most of her Saturday volunteering at the event.
"It's for a good cause," she said.
Shain said the opportunity to interact with patients was good experience. "It's nice to work with kids, too."
Heather Lockwood is a reporter for AnnArbor.com. Reach her at heatherlockwood@annarbor.com or follow her on Twitter.