Posted on
Tue, Jul 30, 2013 : 5:18 p.m.
Big House baby: Woman gives birth in parking lot of Michigan Stadium
By Amy Biolchini
Editor's note: This story was edited for clarity at 10:30 a.m.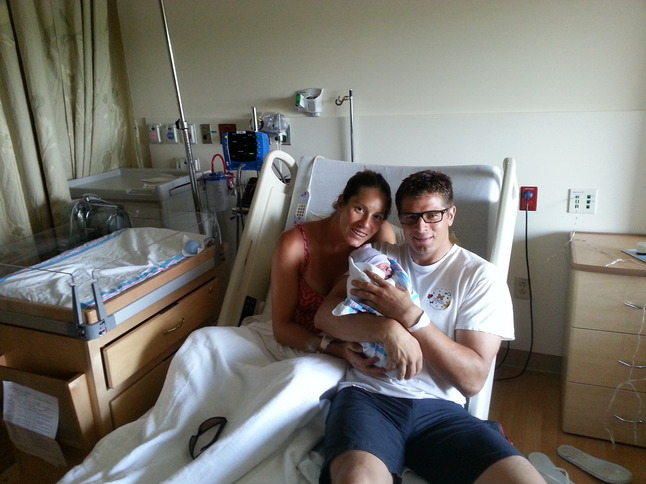 Courtesy of Dominika Wozniak
Michigan Stadium
in Ann Arbor bore witness this month to the birth of the newest
University of Michigan
football fan.
Naomi Wozniak was born about 12:45 p.m. July 20 in a parking lot off South Main Street in front of the Big House.
Though her parents, Dominika and Dave Wozniak of Ann Arbor are Ducks fans — they met while attending the University of Oregon — Naomi may just have to be a Wolverine, Dave said.
As it was the couple's first baby, they were expecting the birth to be laborious.
It quickly became apparent to Dominika that Naomi was not going to wait until they got to the hospital.
"Everything happened kind of fast," Dominika said. "She was really rushing and wanted to get out."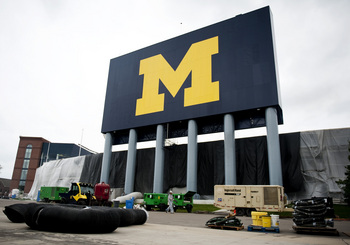 Daniel Brenner I AnnArbor.com file photo
Dominika is a professional tennis player and coaches at the
University of Michigan Varsity Tennis Center
. Dave is a professor at
Eastern Michigan University
's
College of Business
. The couple moved to Ann Arbor in 2010 from Oregon and were married in 2011.
The family had gone out to breakfast that morning at Angelo's on the edge of the University of Michigan Health System campus. Little did they know, they'd be rushing back about three hours later.
Back at their home on the southwest side of Ann Arbor near the University of Michigan Golf Course, Dominika's water broke about 12:10 p.m. and she knew it was time.
Stuck at a red light at the intersection of Stadium and Main, the couple realized street closures and tourist traffic stood between them and the C.S. Mott Hospital Children's Hospital.
But their baby had other plans. She wasn't going to wait — and Dominika and Dave couldn't believe it was happening so quickly.
Barely five minutes from their house, Dave pulled the car into the Champions North parking lot off of Main Street in front of the Big House.
Going into labor in the back seat, Dominika's contractions were rapidly accelerating.
By the time Dave was able to reach emergency dispatchers on his phone and got to his wife in the back seat, he could begin to see his daughter's head.
Dave said he could see the baby wasn't breathing yet — and the couple had a moment of panic.
As first-time parents, Dominika and Dave only knew what they had read in baby books. They later learned after talking with doctors at the hospital that the baby begins breathing after birth is complete.
Dave told Dominika she had to finish pushing — and after a quick, intense moment, baby Naomi was in Dave's hands.
"She started crying right away," Dominika said. "I wrapped her in a towel and I wiped her mouth and her nose … We looked at each other and I said, 'I think she's OK!'"
For Dominika, the stress of giving birth in a parking lot was eclipsed by her natural instincts.
"We just went with the flow," Dominika said. "It was stressful for (Dave) … but you are in such a special moment that you're not really thinking a lot."
Though Dave said he's gotten compliments for how he handled the situation, he says all the credit goes to his wife.
"We both looked at each other (and let out) a huge sigh of relief," Dave said. "I had no clue what I was doing. People say I did a good job, and I just caught it. Just the speed of everything was crazy."
Shortly after Naomi was born, a police officer and an ambulance arrived in the parking lot to transport the mother and child to the hospital.
Baby Naomi, weighing in at about 7.5 pounds and 21 inches long, was three to four days late, Dominika said.
"I was joking with people — I said, 'She's going to pick the time and the day.' I kept telling people it's OK as long as she's fast," Dominika said. "Be careful what you wish for."
Dave and Dominika said they'd like to have more children — but as to when, they're not sure.
"Next time I think we'll just get a hotel room across from the hospital," Dave said.

View Baby born by the big house in a larger map
Amy Biolchini covers Washtenaw County, health and environmental issues for AnnArbor.com. Reach her at (734) 623-2552, amybiolchini@annarbor.com or on Twitter.