Posted on
Sun, Oct 24, 2010 : 8:20 p.m.
Bill Clinton calls on University of Michigan students to get out the vote during stop in Ann Arbor
By Ryan J. Stanton
Ryan J. Stanton | AnnArbor.com
Former President Bill Clinton issued a call to action to students in the crowd this afternoon during a get-out-the-vote rally on the University of Michigan campus in Ann Arbor.
"Flood YouTube, flood Facebook, flood your e-mail lists, put up signs in the student union, get on the radio stations," he said. "Do whatever you can. Do not let young people sit this election out. You have more riding on it than anything."
Clinton arrived in Ann Arbor mid-afternoon to stump for U.S. Rep. John Dingell, D-Dearborn, who is being challenged by Republican Rob Steele, a cardiologist from Superior Township, as Dingell seeks his 29th term in Congress on Nov. 2.
Clinton said getting young people to vote is the key to Democrats maintaining control of Congress. And he cited reports that show turnout among the 25-and-under crowd is expected to be down 55 percent from two years ago when Barack Obama was elected president.
"You voted in record numbers two years ago. It's time to make your vote two years ago mean something by protecting the forward progress," Clinton told the crowd of more than 1,100 gathered inside Rackham Auditorium.
Clinton said he's tired of the "right-wing rhetoric" being spewed by the GOP.
"I almost gag when I hear these Republicans lambasting the president and the Democrats in Congress, 'Oh, they're such big spenders, they're just crazy, they're quasi-socialist,'" he said. "I have a simple question: Who's the last president to give you a balanced budget?"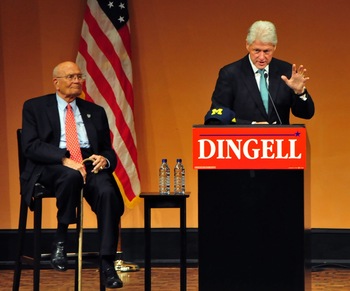 Ryan J. Stanton | AnnArbor.com
Under the Republicans, Clinton said, the national debt quadrupled to more than $3 trillion. He said the Republicans "dug the country a humongous hole," and are now criticizing Obama and the Democrats for not digging the country out of it within 21 months.
"The Democrats' line is, 'You're right, we didn't get you out of the hole, but it was a very deep hole, and at least we stopped digging,'" he said.
Clinton offered a global perspective on the economy.
"The United States is 70 percent out of that $3 trillion hole," he said, comparing that to other countries. "Germany has recovered 60 percent of its lost income, Japan 50, the United Kingdom 30. So compared to the competition, we're doing pretty well. That is not cause for applause, but it should give people pause before they throw out the present coaching staff and bring back the people that led them to several 2-and-9 seasons."
Earlier in the afternoon, Clinton stumped for Democratic gubernatorial nominee Virg Bernero during a rally at Renaissance High School in Detroit. Clinton was expected to wrap up the day by speaking at a rally in Battle Creek in support of Democratic U.S. Rep. Mark Schauer, who is in a tough race against Republican Tim Walberg.
Clinton has booked more than 100 appearances for candidates all over the U.S. in the final stretch before the Nov. 2 election.
Several Democratic candidates for statewide offices spoke at today's event, portraying Dingell as a fighter for middle-class families, the auto industry, education and the environment.
"That's something the Democrats have been standing up for for years and years, while the Republicans have been standing up for the corporate greed that has polluted so many communities," said 53rd District state House candidate Jeff Irwin, D-Ann Arbor.
"For those of you who pay a lot of attention to local politics, I'm not going to be claiming a per diem for my attendance here today," Irwin joked, making reference to a recent report on per diem payments collected by Washtenaw County commissioners for attending meetings.
Democratic attorney general candidate David Leyton, Genesee County's prosecutor, earned a standing ovation from today's crowd when he said, if elected, he would fire Assistant Attorney General Andrew Shirvell.
Shirvell has been accused of harassing and stalking U-M's openly gay student body president, Chris Armstrong. Leyton said Shirvell should not be getting a generous taxpayer-funded salary while "bashing a college student with hatred."
"When I become attorney general, he's out," Leyton said.
UAW President Bob King said voters have a choice on Nov. 2 between a party with a positive vision for the country and "a party that's building their platform on division, on hatred."
Brendan Campbell, chairman of the U-M College Democrats, called for support for Bernero, saying his opponent, Rick Snyder, would make dangerous cuts to higher education.
"The Rick Snyder on TV is not the real Rick Snyder," Campbell said. "Don't be fooled. He is no moderate, and he is no friend of students."
Dingell spoke before Clinton and issued a call to save America from "those no-good Republicans," whom he said are waging a war on middle-class families.
Clinton's arrival in Ann Arbor to stump for Dingell was seen by some as an indication of Dingell's vulnerability. But despite the anti-incumbent environment and the hanging cloud of Michigan's struggling economy, rumors of Dingell's political demise may be exaggerated.
A poll released last week by EPIC-MRA showed Dingell leading Steele by 17 points — 53 percent to 36 percent. The poll interviewed 400 likely voters in the 15th District, which stretches from Dearborn through Ann Arbor and south to the Ohio line.
Dingell has never received less than 60 percent of the vote in a general election. One pundit also pointed out last week that the seat has been held by someone named John Dingell for 77 years (the current congressman's father held the seat from 1933 until 1955).
Steele has raised significantly less money than Dingell, according to new campaign finance reports filed with the Federal Election Commission.
Dingell has raised and spent about $1.7 million this election cycle. He still has nearly $800,000 left to spend from his campaign war chest heading into the final days of the race.
Steele has raised about $662,000 and has about $345,000 left to spend. About 94 percent of his receipts have come from individuals, including several medical professionals in the Ann Arbor and Ypsilanti area. Only 2.6 percent of Steele's receipts have come from PACs, while more than $1.2 million of Dingell's — or 72 percent — are from PACs.
Steele also has funneled nearly $25,000 of his own money into his campaign.
Across all of Michigan's 15 Congressional districts, more than $34 million has been pumped into Congressional races this election cycle. Democratic candidates for Congress have raised about $14.8 million, while GOP candidates have raised $19.2 million.
All 15 of Michigan's representatives in Congress are on the ballot this year. The state's delegation currently includes eight Democrats and seven Republicans.
Steele's final-week push heading into the election includes a "Take Back Congress" rally Wednesday night on the U-M Diag, the historic center of campus. The University of Michigan College Republicans is sponsoring the event from 6:30 to 8 p.m.
The tentative lineup includes an invocation by Dr. Dawn Lancaster, music by Christian recording artist Kimbirly Vasi and a speech by Tea Party activist Wendy Lynn Day. The master of ceremonies is radio host Thayrone X of WAAM Talk 1600.
Before he left campus today, Clinton was serenaded by the university's G-Men a cappella group, which sang a rendition of "Yesterday" by The Beatles. Another a cappella group called Gimble kicked off the rally earlier in the afternoon.
Ryan J. Stanton covers government and politics for AnnArbor.com. Reach him at ryanstanton@annarbor.com or 734-623-2529.