Posted on
Wed, Feb 8, 2012 : 5:59 a.m.
Official: Ann Arbor schools have capacity for district-wide all-day kindergarten
By Danielle Arndt
Ann Arbor's elementary schools should have the building capacity to start all-day kindergarten in the district next school year, the director of the district's physical properties says.
"(The data) tells me generally there are no buildings that, by capacity, jump out and say, 'You've got a problem,'" said Randy Trent, executive director of physical properties for Ann Arbor Public Schools.
Some officials were originally concerned about capacity and whether the district could hold more sections of all-day kindergarten, since each half-day class would need its own classroom under a full-day program.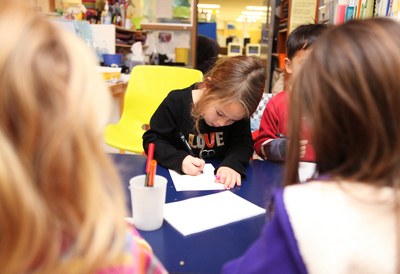 AnnArbor.com file photo
AAPS has been weighing district-wide all-day kindergarten for a number of years. It conducted a review of building capacities and classroom use two years ago and went through a similar process recently.
A recommendation about proceeding with all-day kindergarten is expected to come before the board this month. A number of factors will contribute to the district's final decision.
Effective Oct. 1, the start of the state's fiscal year, a new Michigan law will require districts to provide all-day kindergarten in order to receive the full per-pupil funding allotment for each kindergarten student. Other factors the district will consider in making its decision are transportation changes required for all-day kindergarten and total cost to the district, an approximate $2 million, according to a Jan. 24 school board discussion.
Because of the state-wide mandate, Dexter Community Schools and Saline Area Schools recently started all-day programs. Milan also is expected to make the switch this week. Ann Arbor and Whitmore Lake are the only two districts in Washtenaw County to retain mostly half-day options.
Allen, Bryant, Carpenter, Mitchell, Northside and Pittsfield elementaries in Ann Arbor do have full-day programs. Trent said the key to making all-day work district-wide is utilization of the "reserved rooms."
Reserved rooms are defined by AAPS as non-classrooms and rooms used for special education, early childhood education, computer labs, media centers, art or music classes, staff break rooms or health and social services, etc.
The district will need to determine which of these rooms need to have their uses altered in order to accommodate all-day kindergarten.
"And what does that mean for students and what does that do to that building?" he said.
Spokeswoman Liz Margolis said the district is evaluating and speculating about what moves will cause the least disruption to buildings. She said this lengthy assessment process takes time.
"It is not a cookie cutter approach," she said.
Abbot Elementary School has the greatest number of reserved rooms, according to recent capacity data obtained by AnnArbor.com. But it also is operating at a current student-capacity rate of about 99 percent, data shows. Margolis said part of the reason Abbot has so many reserved rooms is Abbot houses the district's Young 5's program.
Trent said schools with fewer — four or five — reserved rooms have less space with which to work. The district has reduced the number of elementary reserved rooms throughout the past few years as it worked to balance the budget. Those schools that once had two music rooms or two reading intervention rooms, likely now have just one, he said.
Trent said the district may need to make some tough choices to possibly move a program at one of these tighter schools to another building.
Margolis said switching to a district-wide all-day program could change enrollment numbers at the elementaries. She said right now, parents in an elementary neighborhood without full-day kindergarten might elect to send their child to a school with the full-day option. But if all of the schools equally offered full-day kindergarten, then the parents likely would return their child to their home school, she said.
She added the secret to making all-day kindergarten work will be different at each building. Kindergarten enrollment also just began, so the district will not know exactly what must be done until it has a better idea of the numbers, Margolis said.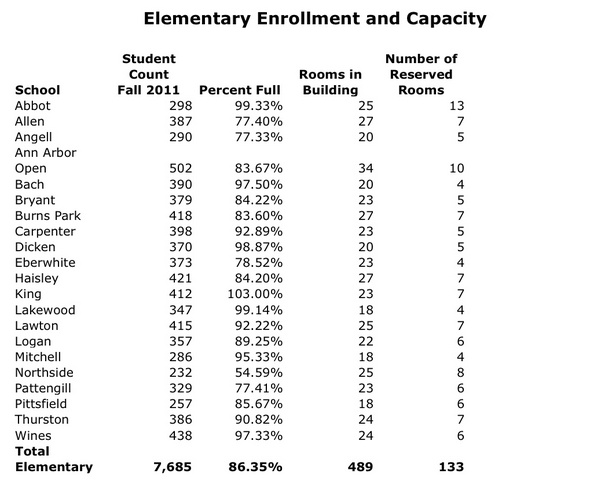 Related story: WITH CHART: Ann Arbor elementaries operating at 86 percent capacity
Staff reporter Danielle Arndt covers K-12 education for AnnArbor.com. Follow her on Twitter @DanielleArndt or email her at daniellearndt@annarbor.com.