Posted on
Mon, Apr 2, 2012 : 5:56 a.m.
Chelsea 'Southtown' business owners, residents raise concerns about M-52 construction project
By Lisa Allmendinger
Some of Chelsea's "Southtown" business owners hope that the pending construction on M-52 will provide an opportunity for the city to link the business district with the city's downtown through decorative street lamps.
"This is a great opportunity to tie the downtown and Southtown with street lighting," said Ed Greenleaf, Jr., who runs Chelsea Lanes in the heart of the construction area, which runs from Old US-12 to the I-94 ramps.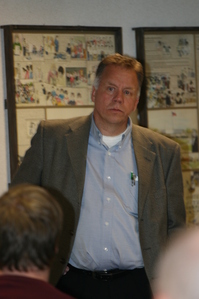 Lisa Allmendinger | AnnArbor.com
City Engineer
Christine Linfield
said that electrical conduits will be installed under the new driveways, but she wasn't sure if the city would have the money available in the budget to add the streetlights this year.
About 50 Chelsea residents and business owners asked questions about the roughly $4 million Michigan Department of Transportation project that is scheduled to begin in mid-April and last through November on the 1.1-mile stretch of road.
Ed Greenleaf, who runs the Chelsea Antique Mall in the same building as the bowling lanes, said, "My feelings about this is I don't think it will be catastrophic (for businesses in the area). There will be two-way traffic and most of the work will be done at night."
"These are improvements that need to be made," he said, then praised the MDOT project that took place on the other side of the I-94 intersection ramps on M-52. "The drive from here to Manchester on M-52, it's so nice."
However, at least one local hotel representative worried about the nighttime noise and the disturbance the project might cause for guests trying to sleep. Other business owners asked about the signage that MDOT would put on I-94 alerting motorists that despite the construction in Chelsea, stories and restaurants remain open.
For Parts Peddler owner Mark Lesser, this marks the second season of road construction his business has had to endure.
"I had to deal with Manchester construction traffic (on M-52) last year," he said. There will be no work during the Chelsea Community Fair, Summerfest, holidays or during NASCAR races at Michigan International Speedway, said Jim Daavettila, delivery engineer for MDOT.
Planned is the resurfacing of about a mile of M-52 from the I-94 interchange north to Old US-12. Improvements also include ramp reconstruction at the interchange, utility upgrades, and curb and gutter and sidewalk installation.
As part of the project, the ramps at I-94 and M-52 will be reconfigured.
"The slip ramps from eastbound and westbound I-94 will be eliminated and the new configuration will require traffic to come to a stop prior to turning onto M-52," Linfield said.
Sean Kennedy, legal and real estate director for Country Market, said he doesn't think the construction will be good for his grocery business and is concerned that regular customers might look elsewhere to avoid the road work.
In addition to the potential loss of revenue, "My biggest concern is getting out delivery trucks in and out," he said.
The resurfacing project on M-52 between Old US-12 and Brown Drive will take place primarily at night, between 8 p.m. and 5 a.m. There will be one lane open in each direction during construction, said Kari Arend, MDOT spokeswoman.
However, during center-turn lane resurfacing in this location, southbound M-52 traffic will be detoured overnight between 8 p.m. and 5 a.m.
In addition, eastbound Old US-12 will have short-term detours in place during work at the Old US-12/M-52 intersection, Arend said.
At the I-94 interchange, just south of McKernan Drive, one lane of traffic will be maintained by a temporary traffic signal.
In addition, one lane of traffic will be maintained in each direction between McKernan Drive at the eastbound I-94 ramps and Brown Drive.
All ramps at I-94 will remain open during construction, Arend said.
In addition to repaving M-52, the project calls for ramp reconstruction at the I-94 interchange, utility upgrades, new curb and gutter and sidewalk installation. Plus, Linfield said, there will be new street crossing signals with push buttons that will count down the seconds pedestrians have to cross the street.
Lisa Allmendinger is a regional reporter for AnnArbor.com. She can be reached at lisaallmendinger@annarbor.com. For more Chelsea stories, visit our Chelsea page.