Posted on
Mon, Oct 25, 2010 : 9:35 a.m.
U-M student body president Chris Armstrong drops restraining order request against Andrew Shirvell
By David Jesse
University of Michigan student body President Chris Armstrong has dropped his request for a personal protection order against Andrew Shirvell, Washtenaw County court officials confirmed this morning.
Armstrong requested it be dismissed because Shirvell "has not contacted me since service of the petition on him," court documents say.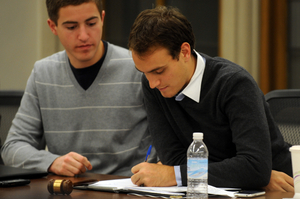 They were scheduled to be in court at 1:30 p.m. today for a hearing on the request. Washtenaw County Family Court Judge Nancy Francis dismissed the petition this morning.
Armstrong, who is the university's first openly gay student body president, filed the request after Shirvell launched a blog attacking him for his "radical homosexual agenda" and started showing up at various events and outside his house to protest and heckle him.
Armstrong and his attorney couldn't be reached for comment today.
Shirvell's attorney, Philip J. Thomas, said the dismissal was the result of conversations between the two sides.
"I think that what ocurred today was the result of a couple of clients and two lawyers working together to try and ensure that a matter is resolved without ... wasting a lot of court time," Thomas said. "I am very familiar with PPO law. The PPO is designed and intended to protect individuals. That's what PPOs were designed to protect against, not situations where individuals like Mr. Shirvell go out and protest because they believe that an individual may not be fit to serve as the president the student body of the University of Michigan."
Thomas stressed that Shirvell, a Michigan assistant attorney general, has free speech rights.
"If a person could get a PPO in the state of Michigan (for something like this), then President Obama should be able to get a PPO against Rush Limbaugh or members of the Tea Party or anybody else and I'm not being flippant or a wisecracker," he said. "I looked into this matter, I've considered what has been done and I want you to know that everything he did, he did on his own time and it was protected on his constitutional free speech rights."
Thomas also said there won't be any contact between Shirvell and Armstrong — but noted the matter isn't over.
"We have laid the PPO to rest, but this thing isn't over for him," he said.
Shirvell is on leave from his position. The university has banned Shirvell from its campus.
In the personal protection order application filed Sept. 13, Armstrong calls Shirvell "a threat to my own personal safety" and details several instances where Shirvell followed Armstrong's friends as they partied in various Ann Arbor locations, hoping to confront Armstrong.
Armstrong also wrotee that Shirvell called Speaker of the House Nancy Pelosi's office twice over the summer after Armstrong took a job there to lodge complaints against Armstrong.
Armstrong said in court documents that Shirvell showed up at 1:30 a.m. at a house party Armstrong was holding on Sept. 4.
In his application for a restraining order, Armstrong said Shirvell's actions made him fear for his safety.
"The actions that Mr. Shirvell has taken against me over the past four months have been incredibly distressing," Armstrong wrote. He added he might feel slightly different if Shirvell was a student.
"His actions … have been an outright attack on my ability to live my life openly and be honest about who I am," he wrote.
The hearing on the PPO was originally scheduled for Oct. 4, but was delayed because the papers had not been served properly on Shirvell.
Then on Oct. 13, Shirvell filed a motion asking Francis to recuse herself from the case, saying that because Shirvell had protested Francis' sister, Alma Wheeler-Smith, Francis wouldn't be able to be impartial.
AnnArbor.com reporters Juliana Keeping and Lee Higgins contributed to this article.