Posted on
Wed, Sep 5, 2012 : 12:17 p.m.
Mayor John Hieftje to Ann Arbor Connector project opponents: 'Just show a little bit of vision'
By Ryan J. Stanton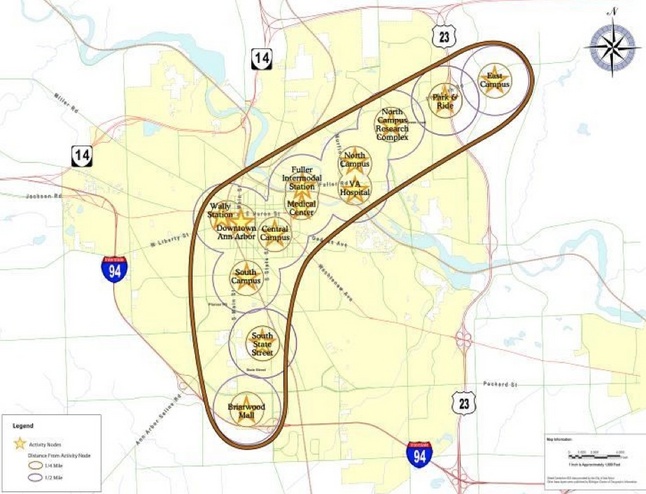 Image courtesy of URS Corp.
A proposal to continue studying options for
a new rapid-transit linkage
that connects major activity centers in Ann Arbor fell short of the eight votes required Tuesday night.
But it's still expected to come back up at the City Council's next meeting after at least two council members who support the Ann Arbor Connector project— Sandi Smith and Margie Teall — threw their votes and strategically voted against it when they saw it wasn't going to pass.
As members of the prevailing side of the 5-4 vote, they'll be able to bring the issue back up for reconsideration at the council's next meeting.
The proposal calls for spending $60,000 to continue studying options for bus rapid transit, light rail, streetcars and an elevated system such as a monorail to meet Ann Arbor's growing transportation needs. The 18-month alternatives analysis would help decide which of those options makes the most sense and would provide more information to help make a future decision about going forward.
Joining Smith and Teall in voting against spending $60,000 for the alternatives analysis were Council Members Mike Anglin, Jane Lumm and Sabra Briere.
Lumm expressed concerns about the unknown future costs of operating an advanced transit system, while Anglin said it seems like it mostly will benefit the University of Michigan.
Council Members Carsten Hohnke and Marcia Higgins were absent. With their two votes, plus Smith and Teall, the proposal could have the required eight votes at the next meeting.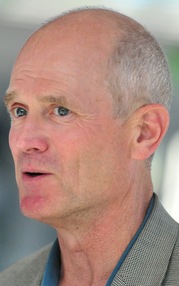 "The jobs picture for our community appears to be bright and that should be a good thing for most of us to consider. But I think with those jobs we have to also consider that traffic continues to grow in the city, congestion continues to grow," Mayor John Hieftje said during the meeting.
"If we want to back away from transit, and back away from furthering transit and have more congestion in the city, we're free to do that — or we could vote to say no more jobs in the city," he said, subtly criticizing council members opposed to the project.
"We can accept more traffic and parking structures or we can have transit," he concluded. "It seems very simple. And I would ask that council members just show a little bit of vision."
The Ann Arbor Connector project is separate from a handful of other transit initiatives under way, and specifically is focused on determining new transit options for a boomerang-shaped study area.
The area extends from northeast Ann Arbor, down through the area along Fuller Road where the city is planning a new train and bus station near the U-M medical complex, through Central Campus and downtown, and then south along State Street to Briarwood Mall and I-94.
The city has been working with the Ann Arbor Transportation Authority, Downtown Development Authority and U-M on the Ann Arbor Connector initiative since 2009.
Eli Cooper, the city's transportation program manager, said enhanced transit service can improve mobility, provide competitive alternatives to automobile travel and strengthen the economic competitiveness of the city and region while adding to Ann Arbor's sustainability.
He said higher-capacity systems are more energy efficient and generate fewer emissions than cars or lower-capacity transit. He also believes it would benefit both the city and the university.
The four parties involved in the Ann Arbor Connector project completed a feasibility study last year that concluded an advanced transit system for Ann Arbor is technically feasible and could take the form of bus rapid transit, light rail or an elevated automated guideway system.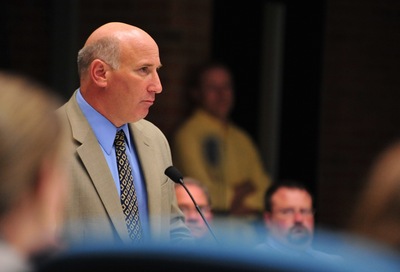 Ryan J. Stanton | AnnArbor.com
The study also found higher-capacity service is needed in the core between the U-M North Campus and Central Campus and downtown.
The next step in the planning process — which the council rejected going forward with Tuesday night but likely will reconsider — is to conduct the alternatives analysis.
That picks up where the feasibility study left off and would provide additional technical information to select the best of the options on the table, as well as more specific alignment and station locations.
The AATA was awarded a Federal Transit Authority grant for the preparation of the alternatives analysis. The total budget for the next phase is $1.5 million with $1.2 million being provided by the FTA and $300,000 coming in the form of a local match.
U-M has agreed to pay $150,000 of that, while the AATA is expected to contribute $90,000, with the remaining $60,000 coming from the city. According to Cooper, the DDA has communicated that it doesn't have money to contribute at this time given its current financial situation.
Though the $60,000 for the Ann Arbor Connector alternatives balance would dip into the city's cash reserves, Cooper pointed out the general fund netted $90,000 from the sale of a strip of land adjacent to the Blake Transit Center for the AATA's downtown transit center expansion project.
Counting the Connector project, Lumm said the city is talking about hundreds of millions of dollars in future capital costs for transit and she doesn't see where the money is going to come from.
"We have at least five major ongoing studies and initiatives on alternative transportation," she said, mentioning the city's train station project, the countywide expansion of AATA transit services, the WALLY north-south commuter rail project and Detroit-to-Ann Arbor commuter rail.
"We continue to proceed on these multiple fronts without answers to basic questions and I really feel strongly that needs to stop," she said. "Questions like: Do we know what all these will cost? No."
A consultant who worked on the Connector feasibility study told the City Council last year his firm's projections show capital costs of $15 million to $20 million per mile for bus rapid transit, $50 million to $60 million per mile for light rail and more than $200 million per mile for an elevated system.
The added cost of operating and maintaining such systems could range from $500,000 to $1.5 million annually per mile, according to the consultant's report.
Based on forecasts for continued growth in population and employment in Ann Arbor, Cooper said it would be unwise for the city not to be looking at alternative transportation options.
The do-nothing alternative, he said, would result in increased congestion on roads throughout the city and decreased quality of life for residents.
Though Lumm's list of transit initiatives under way was meant as a criticism, Hieftje said he thought she did a good of summing up the work the city is doing.
"We need to expand transit," he said. "If we were to take the AATA off the streets, I can't imagine what the gridlock would be like."
As for future costs not being pinned down yet, Hieftje and other supporters of the initiative said that's exactly the point of doing the alternative analysis.
"This study is an effort to obtain that data," said Council Member Christopher Taylor, D-3rd Ward. "This, in my view, is a deeply prudent and wise thing for us to proceed with."
Cooper said future funding for the chosen system would come from multiple sources. Based on the ridership forecasts developed as part of the study, he said, it appears that the Ann Arbor Connector could qualify for New Start or Small Start funding from the Federal Transit Administration.
He said the governance of the connector system, including responsibility for planning and design, construction and operation needs to be determined.
Ryan J. Stanton covers government and politics for AnnArbor.com. Reach him at ryanstanton@annarbor.com or 734-623-2529. You also can follow him on Twitter or subscribe to AnnArbor.com's email newsletters.