Posted on
Tue, Jan 10, 2012 : 3:09 p.m.
Coffee and a quickstep: My near-miss as a pedestrian in an Ann Arbor crosswalk
By Danielle Arndt
My life flashed before my eyes. And I almost spilled my coffee.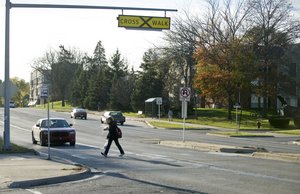 File photo
Ann Arbor's concerns about pedestrian safety became real to me this afternoon as I was scooped up, literally, by a white car making a right-on-red
at the corner of East Liberty Street and Fourth Avenue
.
I was walking along, enjoying every sip-step-sip of my Starbucks Raspberry White Mocha and the beautiful sunshine before returning to work, when my daydreams were interrupted by an awkward quickstep with a car.
The quickstep, which I assure you is an accurate description (I watch "Dancing with the Stars"), was slightly violating, considering I did not consent to the dance.
I was about two feet in the roadway when the driver of the car began inching slowly forward and I was forced to quick-quick-slow, quick-quick-slow sideways out of the vehicle's turn path.
From Access Hollywood
I had my hand on the hood of the car, trying to avoid losing my balance, as I attempted to make eye contact with the driver and to juggle my coffee and laptop bag.
But the driver was too busy looking north down South Fourth Avenue to notice little ol' me.
By the time we finally, albeit briefly, locked stares, I was resting on the hood of her car with my left tippy-toe on the pavement ("sloppy" would be Len Goodman's critique).
Our expressions, the driver's and mine, mirrored one another: She was as shocked to see me as I was to be sitting on her car.
I gave a wobbly, incredulous "ta-da!" type gesture and motioned to the pedestrian crossing sign, which clearly stated that I was not so lost in my daydreams that I should not have been in the crosswalk.
Having moved to Ann Arbor only about a month ago, I previously thought the city's two-legged commuters were a bit on the whiny side.
Near-death experiences walking to work? Pssch. Those people were obviously not obeying the crosswalks! But a series of events has since changed my mind.
First, two men in wheelchairs have been hit since I joined AnnArbor.com. (If we won't stop for them, whom will we stop for?) Second, I was nearly run down by a bicyclist last week in a similar scenario at South Fifth Avenue and East Liberty Street, when the cyclist blew through a stop sign while the cars around him obeyed it. And now today's incident.
In Grand Rapids, the bicyclist is fighting for his right to share the road. In Ann Arbor, apparently, the coffee-sipping, minding-my-own-business pedestrian must take a stand.
Do you have a near-death experience in a crosswalk you'd like to share?
Staff reporter Danielle Arndt covers K-12 education for AnnArbor.com. Follow her on Twitter @DanielleArndt or email her at daniellearndt@annarbor.com.