Posted on
Wed, May 30, 2012 : 9:03 a.m.
Conan Smith: Why Ann Arbor doesn't see itself as part of Metro Detroit - and why it should
By Ryan J. Stanton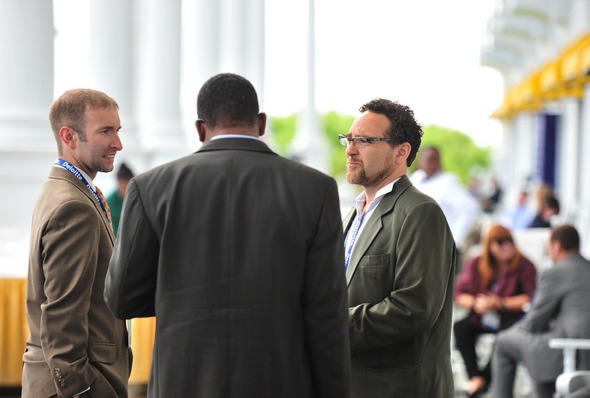 Ryan J. Stanton | AnnArbor.com
MACKINAC ISLAND — When
Conan Smith
joined the elite ranks of
Southeast Michigan's "Fab Five"
last year, it was a showing of
Washtenaw County
's role in the region's future.
Until that point, the marquee panel event at the Detroit Regional Chamber's annual Mackinac Policy Conference was known as the "Big Four," featuring the region's top four political leaders: Detroit's mayor and the county executives from Wayne, Oakland and Macomb.
But adding the chairman of the Washtenaw County Board of Commissioners to the mix made sense, given the increased emphasis on regional collaboration.
Many questions remain about how to bring Detroit and Ann Arbor together, though. For Washtenaw County's part, Smith said, the issue is as much about "should we be a part of the region" as it is about how it is governed.
"From a Washtenaw County standpoint, I think the biggest (roadblock) remains the lack of affinity that Washtenaw County as a whole has with Wayne County and Detroit or Oakland County and Macomb," he said. "We just don't yet see ourselves as a natural part of that region, so I think it feels a little forced to a lot of people, and they're scared about it."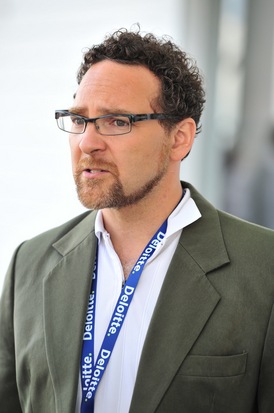 Smith and the four other leaders from Southeast Michigan will grace the stage on Mackinac Island once again on Thursday for a panel discussion dubbed "The Fab Five Return." Among the topics they're expected to talk about is a
regional transit authority for Southeast Michigan
.
Smith, executive director of the Michigan Suburbs Alliance, sat down with AnnArbor.com on the deck of the Grand Hotel to offer some insight on this year's conference, which is built around three main themes: innovation, collaboration and the global marketplace.
AnnArbor.com: What are the important issues facing Michigan that you expect to take center stage this week and how do Ann Arbor and Washtenaw County fit into the bigger picture?
Smith: The ongoing major issue for the state, of course, is around economic development and sort of the recovery of the state's economy. And what you're going to hear a lot up here this year is talk about innovation, entrepreneurship and then in particular this economic gardening strategy — the idea that we can leverage our strong corporations to help build other corporations, that community investments play a role in growing the job base.
For the relevance of Washtenaw County and the city of Ann Arbor to that conversation, I think you have to look to the University of Michigan and the role that a strong academic base plays in any future economy. We're no longer the manufacturing economy that we used to be for the region. We have to become more talent-oriented, more service-oriented, to succeed. So what I always say, and what I truly believe, is that Ann Arbor and Washtenaw County really is the metro area's crucible of talent. We draw the best and the brightest from around the world into the University of Michigan and into Eastern Michigan University and then we hone those talents and we send those people off into the world again to be leaders in the new economy. Unfortunately, nearly a majority of those folks leave the state of Michigan.
AnnArbor.com: What do you think the Fab Five will discuss on Thursday?
Smith: I think regional transit is probably going to be on the top of the agenda. The five of us have been working together with the governor's office for almost a year now to advance a model of regional transportation that can serve the metro area around key corridors. In the past, what we tried to do was create one holistic bus system and that idea is sort of off the table, but now we're looking more at inter-county connectivity. So how do you get from Ann Arbor or Ypsi into Detroit to access those cultural and economic amenities? How do you get your workers from Ann Arbor into Dearborn to Ford's headquarters or to Wayne to the plant there? So there are lots of interesting benefits and challenges to the RTA.
The chamber, I believe, has an interest in how regional decisions are made as well, regional governance, and they've seen some really good successes with the Cobo authority and are wondering can that be mimicked and be successful? Or how do we end up with good public governance of regional projects? They also have an interest in regional taxation, so funding the DIA on a more metropolitan level or the Detroit Zoo on a more metropolitan level. At this point, Washtenaw is not part of those particular conversations, but I know both those institutions are interested because they have a lot of members and attendees that come out of Washtenaw.
And then I think we're just going to talk about some of the policy challenges that local governments are facing right now, particularly county governments. So the proposal in the Legislature to reform personal property tax and a proposal that has been implemented with arguable success around the Economic Vitality Incentive Program, which was a morphing of the revenue sharing program that we've had for generations.
AnnArbor.com: Is Washtenaw County any more relevant to that discussion than it was at this time last year?
Smith: I don't think so. The interesting thing is we're small as a population. The difference is that we punch above our weight. So if you look at taxable value or SEV per capita, we're the highest in the metro region. We are a strong and prosperous community. Unfortunately our successes aren't often recognized at the metropolitan level and the experiences that we've had, folks have not been very enamored with duplicating them (in the region), so we end up with strong economic innovation engines like Ann Arbor SPARK and certainly there are those in the metro area as well — Automation Alley, the Detroit Economic Growth Corp., and Wayne County Edge — all doing smart, creative work. But the kind of strategy we brought to the table as Washtenaw County is now recognized at the state level, maybe because the governor is from Washtenaw County, and that model is now being replicated across the state of Michigan. But we still aren't actually recognized for the intelligence of our work and the relevance of our work to metropolitan Detroit, so that's going to be a consistent struggle for us.
AnnArbor.com: There have been questions about whether Washtenaw County should be considered part of Metro Detroit, whether we link up regionally when we talk about collaborative efforts. From a branding perspective, what is the benefit to Ann Arbor and Washtenaw County to linking up with Metro Detroit as opposed to branding Ann Arbor individually?
Smith: Certainly Detroit is our global brand for all of Michigan, and Ann Arbor can't really ever hope to have that same sort of presence on a global scale. Ann Arbor USA is a powerful national brand and certainly a very powerful state brand, but as our economy becomes more global, as our ability to attract talent from around the world and our ability to compete on a global scale grows, we're going to need to have a marker in that game and the city of Detroit or the Detroit name is that marker. So it's important for us from an economic standpoint to recognize that we are part of a bigger picture, that Ann Arbor can't stand alone for all things.
We have sort of three versions of Washtenaw County: east, middle and west. And the further west you go, the harder it is to build a cultural identity with the Detroit metropolitan area. We have a lot of economic commerce between our community and Wayne County, in particular, but not a lot of cultural commerce, so people are just as likely, for example, to go to the Toledo Zoo or art museum as they are to go to the DIA or the Detroit Zoo. So we have a decided economic interest in the metropolitan area that is confounded somewhat by the cultural separation.
AnnArbor.com: What other potential roadblocks stand in the way of some of these regional collaboration initiatives that we're talking about?
Smith: From a Washtenaw County standpoint, I think the biggest one remains the lack of affinity that Washtenaw County as a whole has with Wayne County and Detroit or Oakland County and Macomb. We just don't yet see ourselves as a natural part of that region, so I think it feels a little forced to a lot of people, and they're scared about it. It's easy to become overwhelmed in a system like that, so I think from our standpoint, the relationship barrier is still probably the biggest one. The other things people bring up about economic investment — whether we'd be a donor community or a recipient community, whether we would have independent power or not — those are all things to get worked out at the policy level. There's a much bigger, higher-level conversation about where we fit as part of the metro that hasn't really taken root in Washtenaw County yet and still needs to.
AnnArbor.com: But as you see it, Ann Arbor stands to benefit from Detroit's recovery and Detroit stands to benefit from a stronger Ann Arbor?
Smith: There's no question about that at all. Forty-six percent of the graduates from the University of Michigan leave the state of Michigan, and if we want to keep them here, we have to provide them a big city experience. We can only do that in the city of Detroit. So all the talent that we're investing in — and when I say investing, we're talking hundreds of millions of dollars of taxpayer money that goes into the universities in Washtenaw County to train young people — it really is an investment. And if we want to keep that investment here in the state of Michigan, we have to have a stronger, more vibrant city of Detroit and a metro region that is attractive to young professionals. And when the city of Detroit is strong and vibrant, it's going to attract a whole different kind of business investment — the kind of business investment that makes spinning off great things from the University of Michigan and Eastern Michigan University more likely, more exciting, more powerful. So the two are keenly interrelated and, if managed well, result in a cycle of growth and prosperity for all of the metro region.
Ryan J. Stanton covers government and politics for AnnArbor.com. Reach him at ryanstanton@annarbor.com or 734-623-2529. You also can follow him on Twitter or subscribe to AnnArbor.com's email newsletters.