Posted on
Mon, Oct 11, 2010 : 4:03 p.m.
Congressman John Dingell announces $1 million grant to rebuild Ann Arbor's Blake Transit Center
By Ryan J. Stanton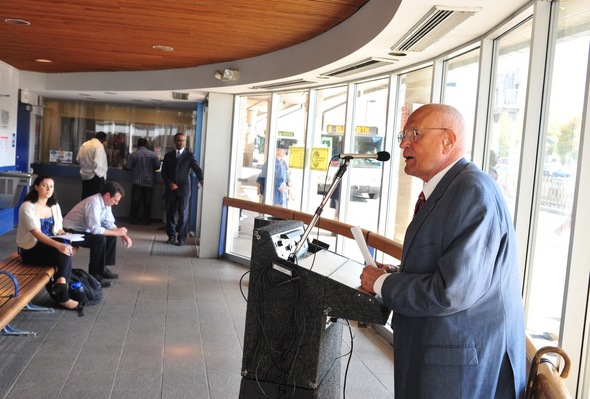 Ryan J. Stanton | AnnArbor.com
U.S. Congressman John Dingell appeared in Ann Arbor this afternoon to announce a $1 million federal grant that will help pay for a new Blake Transit Center downtown.
Addressing a small crowd gathered inside the lobby of the current transit center, Dingell, D-Dearborn, called it a project that benefits all of Washtenaw County.
"This exciting new transit center will help us retain, create, and attract jobs to Washtenaw County," he said after the announcement. "Employers can take comfort in knowing that their employees can get to and from work on a reliable public transportation system, and residents can be assured their families and neighbors will have somewhere safe to wait between trips."
Dingell also said public transit helps reduce greenhouse gases.
The Ann Arbor Transportation Authority, which received the grant, is planning to build the new facility on the same parcel of land at 331 S. Fourth Ave., replacing the current one-story, 2,000-square-foot building with a new two-story, 6,000-square-foot transit center that AATA official say will be a landmark building for downtown Ann Arbor.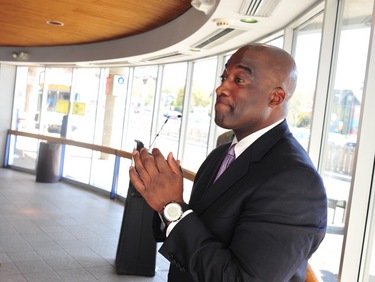 Ryan J. Stanton | AnnArbor.com
The new facility will feature a modernized ticket office, a spacious lobby area, training and meeting rooms and a break area for bus drivers.
AATA officials said today they expect the new building will cost about $4 million. The project is still in the design phase, and construction has not yet been approved by AATA's board.
When the project was presented to the board last December, it was estimated to cost somewhere between $2.7 million and $3.7 million. AATA officials noted at the time they already had $1.6 million in federal funds and $402,000 in state funds to put toward the project.
The $1 million Dingell announced today comes from the U.S. Department of Transportation's State of Good Repair Grant program. AATA officials said Dingell played a key role in securing the federal funding. The grant requires a state or local match of $253,000.
The Blake Transit Center, which opened in 1987, has had difficulties in recent years accommodating the growing volume of customers, AATA officials said today. Ridership has grown by 60 percent in the last 23 years, according to the agency.
"In the past five years, we've seen an increase in our ridership of 40 percent for our fixed-route service," said AATA board member Charles Griffith, adding that ridership of demand-response services for seniors and people with disabilities also rose 17 percent in the last three years.
"Today, we're especially grateful for the hard work that Congressman Dingell has provided in helping to bring federal funding to our community and for this facility," Griffith said. "His dedication to the reconstruction of the Blake Transit Center, we hope, will allow us to serve today's demand for transit and meet the needs of customers into the future."
Ann Arbor Mayor John Hieftje and Susan Pollay, executive director of the Ann Arbor Downtown Development Authority, also spoke at today's event.
"Here in downtown Ann Arbor, we know that the small independent businesses and the new economy companies are the groups that are going to be generating the jobs of the future," Pollay said. "And that means that we have to feed those businesses. We have to find a way to support them, and frankly one of the best ways we can is through transit."
Pollay said the number of participants in the DDA's go!pass program has jumped in the last decade from about 200 to more than 500. The go!pass is an unlimited usage bus pass available free to employees who work downtown, except University of Michigan employees. The passes are paid for by employers at a rate of $5 per employee.
"I believe that the mythology that transit benefits only a few needs to be talked about, because I see it actually very differently," Pollay said. "Even if you don't ride a bus, you benefit from less congested roads, you benefit from cleaner air, you benefit from economically vibrant communities. Every day, as we heard, 5,000 people are using this transit center. These are 5,000 people who are not pressing and pushing demands on our downtown parking system."
Hieftje said a new Blake Transit Center will be an active addition downtown.
"Ann Arbor is one of the highest-rated communities in the United States in the number of people that walk, bike, or use public transportation to get to their destination, and we certainly want to continue to move in that direction," Hieftje said.
Lansing-based engineering and architectural firm DLZ is designing the new facility and will work with a yet-to-be-named construction company.
The project schedule calls for starting construction next spring with completion targeted for summer 2012. Throughout construction, the current transit center will remain in operation.
Ryan J. Stanton covers government and politics for AnnArbor.com. Reach him at ryanstanton@annarbor.com or 734-623-2529.