Posted on
Sun, Jan 29, 2012 : 6 a.m.
Costs for repairs will go up if Michigan lawmakers don't fix our roads
By Tony Dearing
How hard is it to understand the problem with Michigan roads? Our roads are in terrible shape, it's going to take billions of dollars to fix them, and we don't have the money.
Really, it's as simple as that. Our elected officials have known that for years, and have failed abysmally in their responsibility to address it.
Recently though, we're hearing noises in Lansing that 2012 might be the year when the Legislature finally takes action. Understanding that talk is cheap, and that fixing roads isn't, we hope this is more than posturing. It's time to make hard decisions about how new revenue will be raised to address the estimated $22 billion shortfall we face in order to get our roads and bridges in adequate condition over the next 12 years.
File photo | AnnArbor.com
In his recent
State of the State message
, Gov. Rick Snyder said Michigan is under-investing in its roads by $1.4 billion a year, and also criticized the formula for funding roads. "The state cannot afford to neglect the health of its physical infrastructure,'' he said.
Last week, a package of bills aimed at raising the money to fix our roads was introduced with bi-partisan support that included state Rep. Rick Olson, a Republican who represents a portion of our readership area. Olson was among a group of lawmakers who issued a report last November that estimated Michigan would need to generate an additional $1.4 billion a year in revenue to put its roads and bridges in good shape in the coming years, a figure that would rise to $2.3 billion a year by 2023.
(To download a PDF of the Michigan Roads Crisis report, click here.)
The report documents what everyone in Michigan knows all too well. Our roads are in bad shape and deteriorating rapidly, while the amount being spent on them is woefully insufficient. That reality has been well-documented since 2008, when the state released a report by the Transportation Funding Task Force, often referred to as TF2, which did an excellent job of laying out the problems and analyzing possible solutions. And all we've done since then is lose ground as the Legislature failed to act.
It's too early to pass judgment on the package of bills introduced last week, or even to predict how it will advance through the legislative process -- if it moves at all. We look forward to fully reviewing the bills and editorializing on them in more detail in the near future.
But even at this early stage in the debate, it's clear there are tough issues the Legislature will have to tackle. The first is that there's no solution that doesn't involve a tax increase. The idea of raising taxes has been anathema to Republicans, but in this case they're going to have to accept that reality as part of the solution.
The bills call for raising the current 19-cent-a-gallon tax on gas to 28.3 cents per gallon at the wholesale level, while also raising the registration fee on vehicles by an average of about $60 a year. Generally speaking, we're supportive of looking to sources of revenue that are closely associated with use of roads, and both the gas tax and auto registrations fit that description.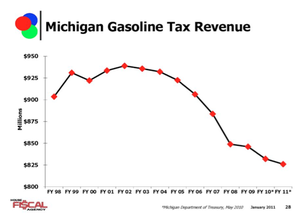 Source: Michigan Department of Treasury
We need to hear more about this proposed financing plan before we'd support it. Among other things, we want to see how it addresses the discrepancy between state taxes on gasoline and diesel. Right now, the tax on gasoline is 19 cents a gallon, but 15 cent a gallon on diesel. We understand that trucking interests don't want to pay more, but it's well documented that trucks are a significant contributor to the damaging of roadways, and the cost of repairing roads has to be shared fairly by all those who drive on them. We also don't see how the state can address the condition of roads without looking at the issue of weight limit on trucks.
The governor raised other interesting issues in his State of the State, including suggestions that more road money be directed to areas where the need is greater because traffic volumes are higher. And any comprehensive plan to fix Michigan roads must include strategies that use the money efficiently, and appropriate standards for rebuilding roads so that the repairs last. Nothing frustrates motorists more than seeing roads begin to crumble again a short time after they've been resurfaced.
One of Gov. Snyder's recurring themes is that the state must stop putting off action on issues that need to be addressed. He likes to refer to it as "kicking the can down the road.'' The governor's State of the State message and this package of bills have put the issue of roads squarely in front of the Legislature. Our fear is that lawmakers will try to duck the issue because it's an election year. Michigan can't afford that. The longer we defer on repairing our roads, the more it will cost to do the job. You can't keep kicking the can down the road when the road is already riddled with potholes and getting worse by the day.
(This editorial was published in today's paper and reflects the opinion of the Editorial Board at AnnArbor.com.)