Posted on
Tue, Mar 15, 2011 : 5:59 a.m.
Council members need more convincing on downtown Ann Arbor conference center proposal
By Ryan J. Stanton
Ryan J. Stanton | AnnArbor.com
Ann Arbor City Council members will be asked in the coming months to make one of the most difficult decisions of their political careers.
That is whether to allow New York-based Valiant Partners to build a 150-room hotel and 26,000-square-foot conference center on the city-owned Library Lot site — a prime piece of downtown real estate along South Fifth Avenue between William and Liberty streets.
Council members discussed the firm's proposal in detail for the first time publicly during a special work session Monday night. They're being asked to enter into a letter of intent, which would mark the start of negotiations on a formal development agreement with Valiant.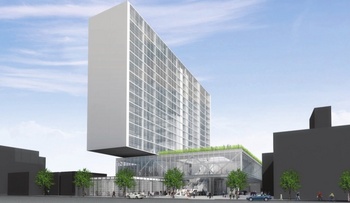 Ryan J. Stanton | AnnArbor.com
But it's apparent a number of council members have deep concerns.
Some still question whether the project is economically viable. Although Valiant no longer is asking the city to help finance the conference center, some council members fear the city will be left uncompensated for the property if the facility doesn't turn a profit.
Council Member Sabra Briere, D-1st Ward, said she thinks Valiant has been overly optimistic in its financial assumptions. She noted the developer assumed an average hotel occupancy rate of 75 percent in its original projections included in a report from late 2009.
Based on what she knows, Briere said, a best guess at the average hotel occupancy rate in the Ann Arbor area is closer to 60 percent. She concluded Valiant's revenue expectations could be $1.5 million too high for the second year after completion of construction.
"That's kind of scary to me," she said. "A million and a half less, which means that maybe their income stream is optimistic, and their ability to meet their obligations to the city, to their bills, to their creditors, might not be there. How can we evaluate this effectively?"
Council Members Mike Anglin, D-5th Ward, and Stephen Kunselman, D-3rd Ward, expressed similar concerns about financial aspects of the proposal.
Both had several questions for David Di Rita, an attorney and real estate professional with the Detroit-based Roxbury Group, a firm hired by the city to vet two competing proposals for the site. The consultant recommended Valiant's proposal late last year.
Kunselman called the letter of intent brought to the city by Roxbury "quite disappointing." He expressed concerns it had not been reviewed by the city attorney's office.
Suggesting a downtown hotel and conference center could be a money-losing venture, Kunselman read from an Oct. 21 news report out of Trenton, New Jersey. It talked about the city's attempts to sell a downtown hotel as it struggled to make the debt payments.
Kunselman noted that a nonprofit board formed by Trenton to oversee hotel construction is supposed to pay yearly debt payments of around $2 million from money the hotel earns. As the guarantor for the corporation's loan, the city is on the hook if the board can't pay.
"I think that says a lot about what we're dealing with," Kunselman said. "No, I don't want to own a conference center. I don't want to own a hotel. I don't think this has anything to do with public health, safety or welfare. We've been through these experiences with the Y lot. We've been through this experience with 415 W. Washington. We continue to go out and send RFPs and fish, and we catch nothing but leeches that want to suck on the public dollar."
Kunselman received a round of applause from several of the 20-plus people sitting in the audience Monday night. A loosely organized coalition of Ann Arbor residents has been working to stop the Valiant project and continues to question its economic viability.
Anglin said he's sympathetic to the residents' concerns. He raised numerous questions Monday night that he's heard asked by members of the community.
"Why doesn't Valiant have to pay real estate tax on the hotel?" he said. "Will we be just giving them payments in lieu of taxes and, in effect, we're paying them? Are the institutions we support going to lose taxes? Our schools possibly? City taxes — will we lose city taxes?"
Anglin said he's looked at local hotel occupancy statistics going back to 1999 and "they're very flat, all the way through 2009." He concluded there's no need for a new hotel. He also said the University of Michigan — which Valiant assumes will drive use of the new facilities — has given no assurances that it would use either the hotel or the conference center.
A report submitted by Roxbury concluded — based on interviews with community stakeholders — that there is at least an anecdotal need for a conference center in downtown Ann Arbor to meet an unmet demand, and that U-M's decentralized conference scheduling system creates a significant opportunity for someone like Valiant to step into the market.
Di Rita characterized U-M as "an enormous potential base."
"We're left to simply noodle on the rather noncontroversial notion that this massive university with no central conferencing facilities or capabilities of its own — which is routinely leaving Ann Arbor for events and is growing every year by some order of magnitude — might actually be able to use this place," he said. "I agree, it's vexing because you wish they would simply say it."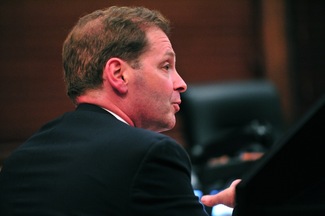 Ryan J. Stanton | AnnArbor.com
Di Rita, a U-M alumnus, acknowledged he's actually trying to help organize an upcoming conference for about 300 alumni in Ann Arbor.
"We've had to make 15 phone calls to connect the dots," he said. "And what we're finding is everything's booked. So I think all of us have that anecdotal experience that suggests Ann Arbor is both a strong driver of demand, as well as a partial satisfier of that demand."
No action was taken at Monday's meeting. City Administrator Roger Fraser said the plan is to bring the letter of intent back to council on April 18.
Council Member Stephen Rapundalo, D-2nd Ward and chairman of the advisory committee that recommended the letter of intent, said he's requesting a public hearing prior to the vote due to the high level of interest in the community.
Kunselman said the letter of intent reads like a formal contract. He feared the city could be sued by the developer if it walked away from the project after signing it. Di Rita said the letter is non-binding, and he thinks Valiant would be willing to sign a clause holding the city harmless.
Valiant's development would stand atop an underground parking structure being built by the Ann Arbor Downtown Development Authority. In addition to the hotel and conference center, it would feature a public plaza and 6,000 square feet of retail and restaurant space, as well as up to 48,000 square feet of office space and 22,000 square feet of condos.
The letter of intent does not offer figures for what Valiant might pay for air rights above the parking deck, but says the developer will pay the city or DDA "a mutually agreed-upon sum," as well as an unspecified percentage of gross sales revenue on the residential condominiums. Additionally, the city or a nonprofit of its choosing would own the conference center.
Revisions to Valiant's proposal, outlined in a report from Roxbury late last year, would increase the annual net cash flow to the city's general fund from $128,784 to $273,731.
The letter of intent states the developer would be solely responsible for the design, financing and development of the conference center. It also would be solely responsible for the operation and maintenance as long as it holds the management agreement.
Council Member Sandi Smith, D-1st Ward, said it seems there's no financial downside for the city as long as the developer holds the management agreement.
"I guess I'm questioning what would break that management agreement?" she asked. "Is it because we don't like their performance of it? I mean, what is their intent on that?"
Di Rita responded that's an issue that needs to be fleshed out in more detail as the city and the developer negotiate a formal development agreement.
"This is an idea that started in their earlier proposal when the city was still, in theory, financing a portion of the center," he said.
Di Rita said the project has evolved into "something quite short" of a true public-private partnership, which would have the city taking both financing and operational risk.
"This developer is simply not asking that of the city and knows very well there's no stomach for that," he assured council members.
Di Rita said whether the city ends up owning the conference center is another issue that will be decided in the development agreement. In deals like this, he said, a lot of communities prefer to have the conference center under some kind of independent or nonprofit control.
Nine council members were present for Monday's discussion. Mayor John Hieftje and Council Member Christopher Taylor, D-3rd Ward, were absent.
Ryan J. Stanton covers government and politics for AnnArbor.com. Reach him at ryanstanton@annarbor.com or 734-623-2529. You also can follow him on Twitter or subscribe to AnnArbor.com's e-mail newsletters.