Posted on
Mon, Mar 5, 2012 : 6:52 p.m.
Workers escape injury at fire at Broadway Auto Care in Ann Arbor
By Kyle Feldscher
This story has been updated.
A fire at Ann Arbor's Broadway Auto Care caused heavy damage Monday evening, but no one was injured in the blaze, according to fire department officials.
Emergency crews were dispatched to the Broadway Street auto shop sometime around 6:30 p.m., and the fire was out by 6:50 p.m. Ann Arbor Fire Department Assistant Chief Steven Lowe said the fire was heaviest in the center and northeast bays of the shop.
Lowe did not immediately have the exact time crews were sent to the scene available Monday evening.
Despite the large amounts of flammable materials, such as oil and tires, in the shop, Lowe said the first responders to the scene managed to keep the blaze under control and extinguish it quickly.
"It could've been a lot bigger, but the first responding crews did a great job of knocking it down," Lowe said.
Two auto shop employees were inside the garage when the fire started but they managed to escape unharmed, Lowe said.
Employees of Broadway Auto declined comment when approached by AnnArbor.com outside the scene Monday evening.
At around 7:30 p.m., Ann Arbor police were redirecting traffic at the Broadway and Maiden Lane, and Broadway and Swift intersections. The westbound lane of Broadway was closed over the Huron River.
The majority of the damage was on the northeast side of the building. One car that was being worked on was a burned out shell, while two others in the shop were damaged. The office side of the building appeared to be relatively undamaged.
Lowe said it was possible that firefighters could have been working three car fires, given the vehicles that were in the garage.
About half of the building was on fire when firefighters first arrived on scene, with the majority of flames and smoke coming from the roof above the center and northeast bays, Lowe said. The back of the building was also in flames, he said.
Huron Valley Ambulance crews responded to the scene and remained as firefighters stripped the building of anything flammable to keep the fire from rekindling.
DTE also was on scene to cut gas and power.
An investigation into what caused the fire will begin once crews are done clearing the scene, Lowe said.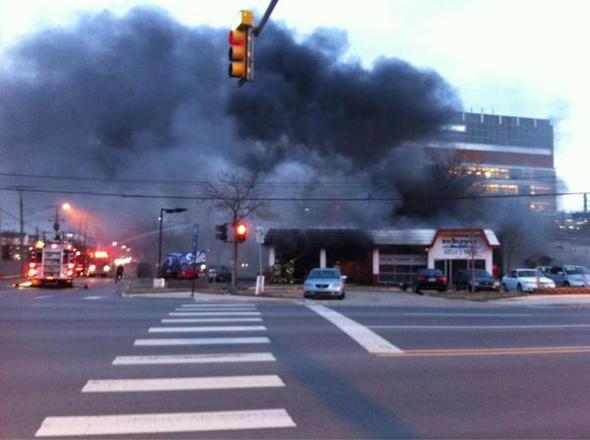 Courtesy photo